What we learnt at our 40-year Fellowship reunion about the future of news
These are a few highlights of our panel discussions on AI, mental health, newsroom diversity, reader revenue and foreign news
Almost 200 alumni of our Journalist Fellowship descended upon Oxford over a muggy September weekend to celebrate 40 years of a programme which has provided a life-changing opportunity for hundreds of journalists from around the world. 
Celebrations kicked off on Friday with a keynote speech by Irene Tracey, Vice-Chancellor of the University of Oxford, who took questions from alumni and spoke to the Institute's Acting Director Mitali Mukherjee about how to create a productive relationship between journalists and academics. On Saturday attendees moved to the Blavatnik School of Government, where we hosted five panel discussions on five key issues transforming journalism right now. Here are five takeaways from the sessions, which will soon be available on the Institute's YouTube channel.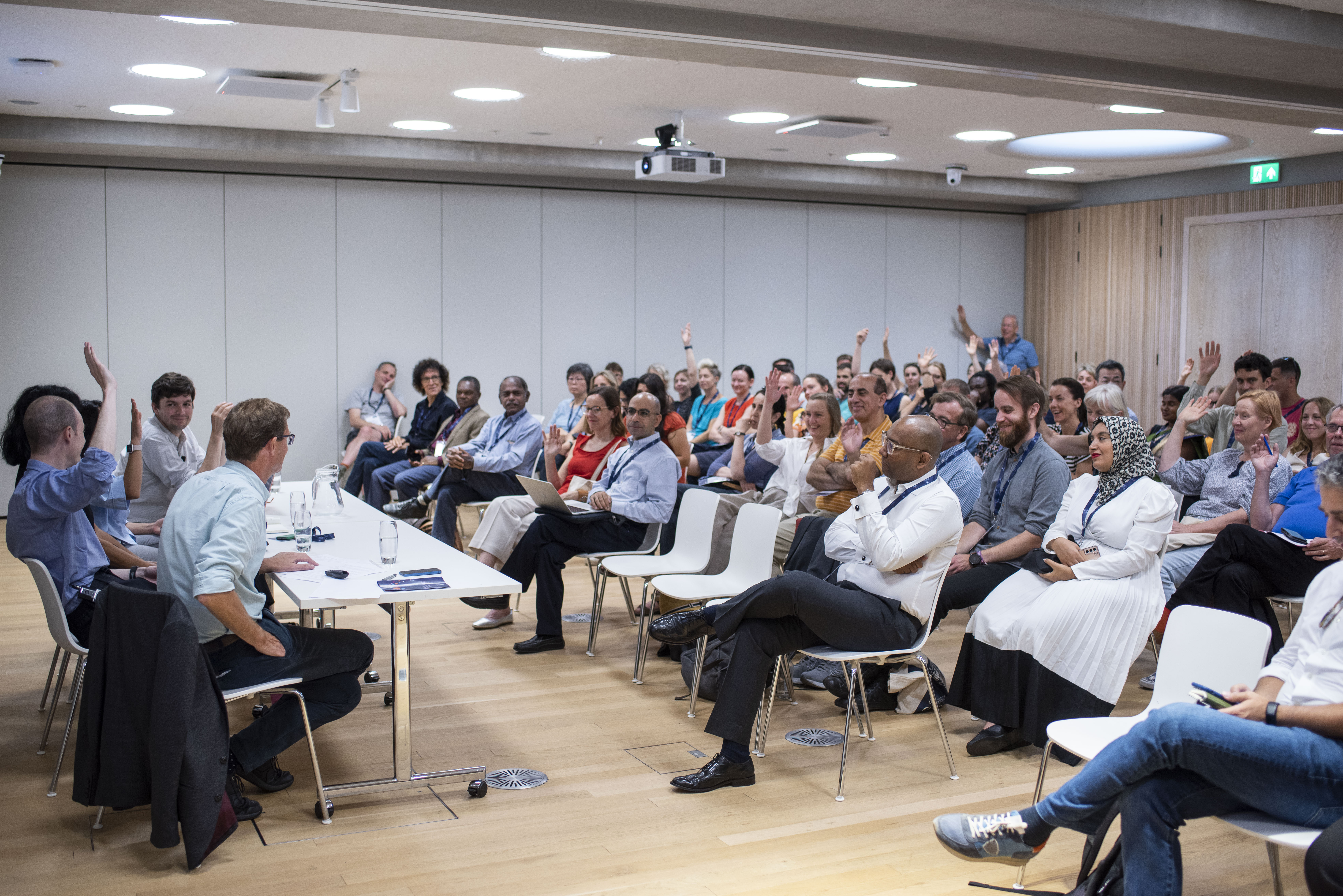 1. AI will change journalism, but perhaps not so fast as some people may think
The members of the panel on the impact of emerging technologies spent most of their discussion reflecting on the impact of artificial intelligence on journalism, and especially on the consequences of the rise of generative AI. 
Nic Newman, lead author of the Digital News Report and member of the Class of 2010-11, explained news publishers are already experimenting with AI for things like writing summaries, creating automated explainers and transforming text into audio. A few newsrooms are even using AI-created news readers. "They can work 24 hours a day and never ask for a holiday or a pay rise," Newman joked. 
Does this mean human journalists will soon be redundant? Our panellists don't think so. The rise of AI can help journalists with repetitive tasks such as transcripts or translations and help them focus on producing more original pieces. It can also put a premium on human touch and personality over the leaden prose of ChatGPT. 
Felix Simon, a PhD candidate at the Oxford Internet Institute and the co-author of this piece on journalism and AI, stressed we should be cautious when making predictions about the next few years and encouraged journalists to see AI in the context of other technological changes. 
"We have to understand the historical trajectory of these technologies and there is little reason to think this new version of AI is an exception to the hype curves we have seen in the past. For journalism the bigger change (the rise of digital media) has already happened. What we see with AI is certainly new and is going to be transformative, but strikes me for now as more small-scale in comparison," Simon said on this informative thread that he posted after the event. 
When polled by the moderator, most of the audience in the room said news publishers should embrace AI and experiment as much as possible while being cautious in sensitive areas. 
Panellist Paula Molina, a Chilean journalist and a member of the Class of 2021-22, shared her learnings as the co-founder of La Bot, a chatbot she launched with colleagues Francisca Skoknic and Andrea Insunza in 2016 inspired by Spanish chatbot Politibot. "We realised how audiences humanise chatbots," she said. "People sent La Bot really kind messages!"
Molina said journalists should be paralysed or overwhelmed by any new technology, but they shouldn't jump on any new shiny thing either. Ultimately innovation is not just about technology but about exploring new channels and reshaping news formats. 
Manjiri K. Carey, editor at the BBC News Labs, suggested journalists should review their playbook in the light of what audiences want. "Our research shows that the world has moved on from the inverted pyramid. People prefer a much more linear structure, with more context, a bit like a fairytale," she said.
2. To produce better journalism, foreign correspondents need to cooperate with local reporters
Foreign correspondence has been dominated historically by reporters from the Global North 'parachuting in' a foreign country for a particular story, without an in-depth understanding of the local context, often working with local journalists but not acknowledging their contributions. The members of our panel on this topic suggested that open collaboration with local sources and local journalists may be a good way to change this and to ensure foreign correspondence is accurate and representative of the situation being reported. 
"Listening is important and collaboration is important. We can only welcome when [global] newsrooms collaborate with Ukrainian newsrooms and fixers, and not only collaborate but listen," said Maryana Drach, RFE/RL's Ukrainian Service director and member of the Journalist Fellowship Class of 2019-20.
It's not only fair to any local journalists. It also provides knowledge and expertise, and it leads to better journalism. 
Speaking about reports on the Middle East by Western media, Saleh Al-Batati, a freelance journalist from Yemen and member of the Class of 2019-20, noted that "generalisation and simplification of reporting on conflict in the Middle East leads to missing the intricacies. There's also too much focus in Western media on conflict in the region. There's also a lack of context and neglect of local perspectives. All of this has a huge impact on the perception of the Middle East."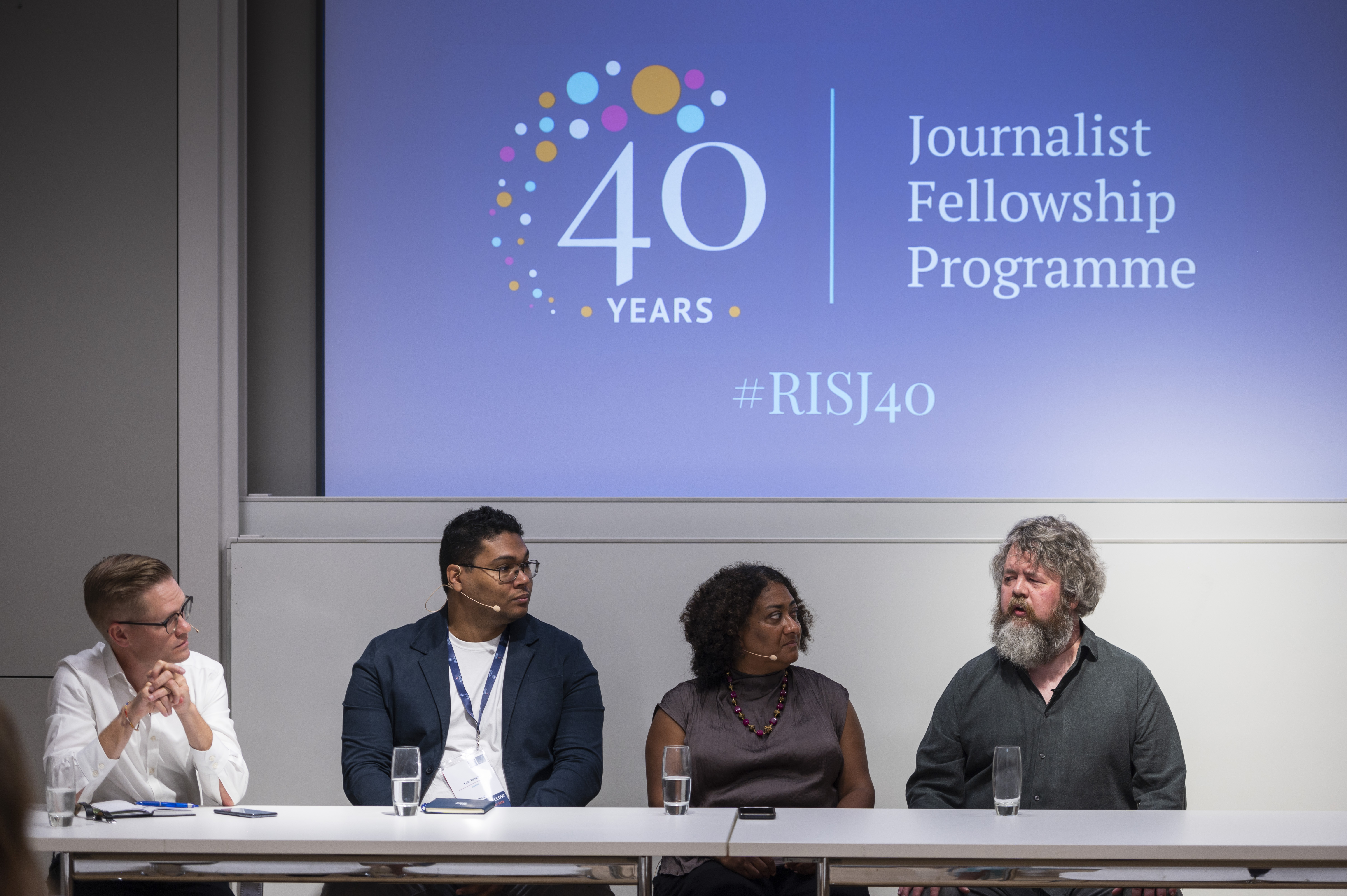 3. Improving diversity shouldn't be just an individual effort
If they really want to drive diversity and inclusion, newsroom leaders need to go beyond lip-service and produce real impact in their organisations both by hiring entry-level positions and by having a diverse leadership team, the members of our panel on this topic said. 
 "We're focusing on diversity in entry level positions but that's not enough because [journalists] don't see people that look like them so a lot of them end up giving up journalism altogether," said panellist Luiz F. Teixeira, member of the Class of 2021-22. "People need to see that they belong in leadership positions."
"We need that visibility of leadership that comes from diverse backgrounds," said BBC producer Johny Cassidy, member of the Class of 2022-23. 
While strides are being made to increase diversity in newsrooms, panellists agreed, people in leadership roles need to be representative, but they also need to drive changes in newsroom culture and accessibility needs. 
The panel highlighted the many things newsrooms lose when diversity is not prioritised. Meera Selva, CEO of Internews Europe, former Director of our Fellowship and member of the Class of 2007-08, pointed out that by ignoring diversity, you're not appealing to a variety of audiences, particularly young people and those in underrepresented communities. Most importantly, non-diverse newsrooms are doing a disservice to their own journalism by limiting their perspective. 
"If you don't have a diverse newsroom, you're going to get the news wrong," she said. 
4. There is not a single recipe to build a great reader revenue model
"We have to move on from the old revenue model," said Guillermo Draper, editor of the independent Uruguayan news outlet Búsqueda and member of the Class of 2021-22. The good thing about practising journalism in a small country like Uruguay, Draper explained, is that they can get closer to audiences and listen to them. "A way to avoid readers walking away from you is to be more open and engaged," he saud. 
For Chanpreet Arora, SVP & Business Head of JioCinema AVOD in India and member of the Class of 2018-2019, reader revenue and audience loyalty are inherently intertwined. But audience preference and habits need to be taken into account: reader revenue models that work in Estonia, for example, will be vastly different from those that work in India. 
If there is a relevance to what newsrooms are delivering to consumers, then there is a market. "Reader revenue ensures traffic," she said. "When you have audience loyalty, revenue comes. Reader loyalty, with a little bit of reader revenue, is the key as it guarantees a certain readership."
Eduardo Suárez, Head of Editorial at the Reuters Institute and member of the Class of 2018-2019, advocated for business models with several revenue streams as the Digital News Report figures show that only a minority in most countries are willing to pay for news. He pointed out that news publishers can expand their conception on how to make money from audience engagement by experimenting with innovative ways to make money: leaning into niches or even hosting sports tournaments. 
"Most news organisations have several revenue streams but they're still getting most of their money from advertising on digital and print," he said. "Reader revenue alone is not enough."
Similarly, panellist Peter Erdelyi, who's worked for 444 in Hungary and is a member of the Class of 2020-21, pointed out that outlets should look beyond classic advertisement revenue. "The ad battle was lost," he said. "News publishers will always be at a disadvantage when competing against big platforms." He predicts institutional funding will become a more important and popular source of revenue for news institutions, especially in regions like Central and Eastern Europe, where media capture makes things difficult for independent news organisations.
5. Trauma-informed practices help both reporters and the people whose stories they tell
As the members of our panel on mental health acknowledged in moving personal stories, many journalists are exposed to trauma as part of their own reporting, both their own and that of the people they are reporting on. 
Acknowledging this fact and putting in place trauma-informed practices both in the newsroom and while out in the field is a way to safeguard both the reporters and the ordinary people whose stories they are sharing.
Te Shima Brennen, an American documentary filmmaker and a member of the Class of 2022-23, shared some of the practices used while reporting on a marginalised community: "To them, trauma is so entrenched, so normal that we didn't want to be adding to that. So we started seeing them as collaborators rather than sources." 
Australian journalist Karen Percy, a member of the Class of 2005-06, agreed with Te Shima's points and added: "Understanding how you leave people [after you do your reporting] is so important. And as journalists, we always have an excuse to call back and check back in."
As Associate Director of the Journalist Fellowship Programme, Caithlin Mercer clarified that, when we talk about these practices, "we're not talking about the role of journalism in holding power to account, we're talking about journalism talking about lived experiences." 
The other side of well-being and mental health in journalism is the mental health of the journalists themselves. Despite the progress made in recent years, there are still newsrooms whose leaders are not doing anything to ensure their journalists' well-being.
"There's a stigma around acknowledging your mental health struggles in the newsroom. You can be labelled as a troublemaker, someone who can't handle things, an emotional woman, etcetera and you'll be sidelined. So you can't be comfortable talking about these things," said Bahaar Joya, a former multimedia journalist at BBC Persian and a member of the Class of 2015-16. 
Joya has now left journalism and retrained as an intensive care nurse. In her new role, mental health services are better, as is the awareness of the impact of the work on employees, she said.