Our funders enable us to fulfil our mission of exploring the future of journalism worldwide through debate, engagement, and research. Our core funding comes from the Thomson Reuters Foundation. Beyond this, we receive support from a wide range of other funders including academic funding bodies, foundations, non-profits, and industry partners, and earn income from leadership development programmes and other activities. Below is an overview of the Institute's funding since it was created in 2006.
Our core funder
The Thomson Reuters Foundation is the corporate foundation of Thomson Reuters and it works to advance media freedom, raise awareness of human rights issues, and foster more inclusive economies. The Foundation has funded activities at Oxford for over 30 years. It has provided £6.67 million in core funding to the Reuters Institute since 2006.
The Thomson Reuters Foundation is the only funder who has any role in our governance structure, which is set up to maintain our independence. More about our governance here.
Our other funders
The Institute is most grateful for the generous support of 32 other funders from whom we receive grants, donations, and in-kind support. They include universities, foundations, news organisations, individuals academic institutions, and technology companies. Below all our supporters for the academic year 2021-2022 (we update this overview annually). For more details, see our latest Annual Report.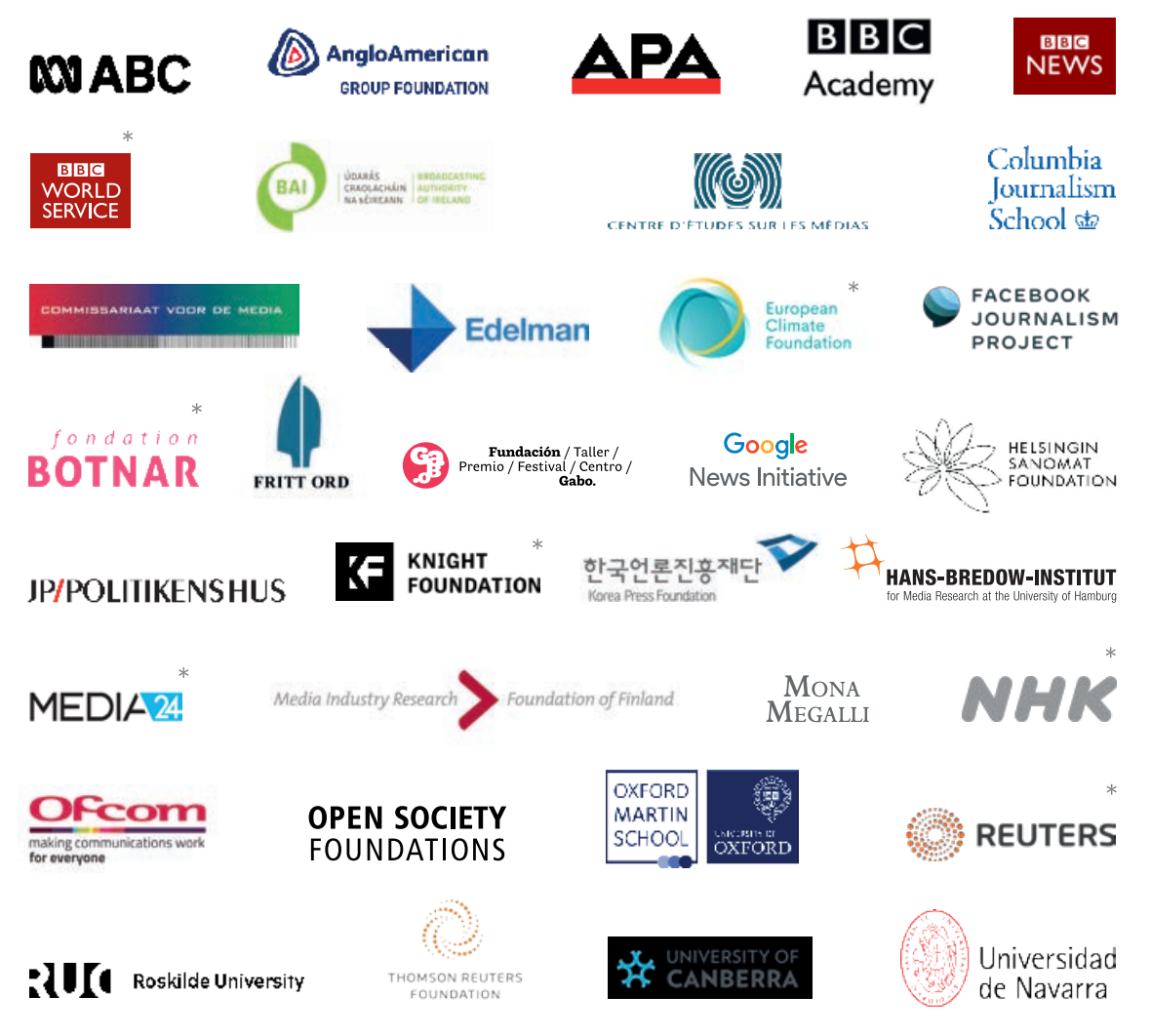 What the funding is for
Our funders help us fulfil our mission by funding our research projects, our events, our publications, and the Journalist Fellowship programme. The relative size of each of our core areas of activity for 2021-2022 (including core funding, other support, as well as earned income) can be seen below.
How much from every funder
As we are an integral part of the Department of Politics and International Relations at the University of Oxford, we do not have separate accounts.
Our total turnover in 2021-22 was approximately £4.5 million and the brackets below reflect the size of the contributions the Institute received from each funder in the academic year 2021-22. New sponsors for this year are indicated below with an asterisk.
£10k and under
ABC
Austria Press Agency  
BBC Academy  
Fundación Gabo
Between £10k and £50k 
Anglo American Group Foundation
BBC News
Broadcasting Authority of Ireland
Centre d'études sur les médias, Québec
Columbia Journalism School
Commissariaat voor de Media/Dutch Media Authority
Edelman UK
Fondation Botnar*
Fritt Ord
Foundation Helsingin Sanomat
Foundation JP Politikens Hus
Knight Foundation*
Korea Press Foundation
Leibniz Institute for Media Research │Hans-Bredow-Institut
Media 24*
Media Industry Research Foundation of Finland
NHK*
Ofcom
Open Society Foundations
Reuters*
Roskilde University
University of Canberra
University of Navarra
Between £50k and £200k
BBC World Service

Oxford Martin School
Between £200k and £500k
Thomson Reuters Foundation

European Climate Foundation*
Between £500k and £1m
None
Over £1m   
Google News Initiative

Facebook Journalism Project