Reuters Institute welcomes new Advisory Board members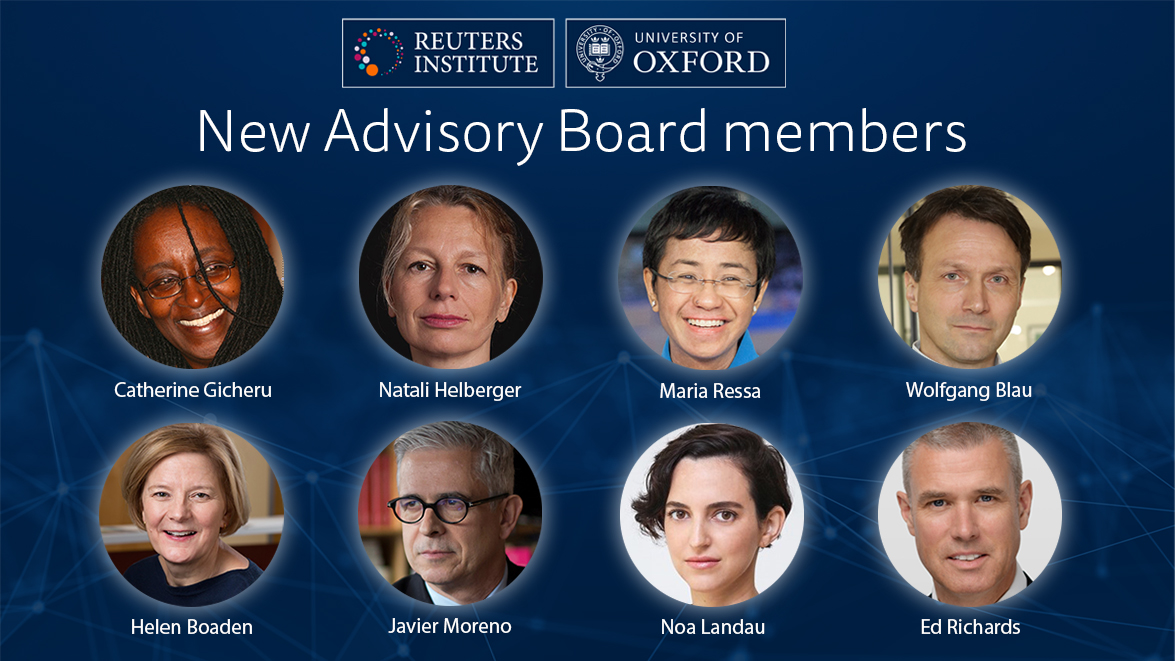 The Reuters Institute has welcomed eight new members to its Advisory Board. The individuals have worked at the highest level around the world in the fields of journalism, policy making, academia and business. Members of the board, chaired by Lord Patten, provide expert insights, and help develop valuable networks, to further the institute's research and fundraising activities.
The eight new members are:
Javier Moreno, editor-in-chief of EL PAÍS América since 2017, having previously served as editor-in-chief of EL PAÍS. He was also the Dean of the Universidad Autónoma de Madrid-EL PAÍS School of Journalism.
Catherine Gicheru, an ICFJ Knight Fellow working with Code for Africa's Academy and Communities Programme. She is the pan-African lead of WanaData, a network of women data journalists and data scientists. Gicheru was the first female bureau chief and the first female news editor of the Nation Media Group, and was founding editor of Kenyan daily newspaper, the Star. Gicheru was a Journalist Fellow at the Reuters Institute in 2013-14.
Maria Ressa, founder of Rappler.com, one of the Philippines' leading online news organisations. She has been lauded throughout the world for her journalism and for her part in supporting press freedom and tackling disinformation campaigns. Ressa was named a Time magazine Person of the Year in 2018, and has received accolades from organisations such as WAN-IFRA, the Committee to Protect Journalists and UNESCO.
Noa Landau, who covers foreign relations for Israel's Haaretz newspaper and sits on its editorial board. She worked previously as a reporter and editor for a number of other Israeli news outlets, and she founded Israel's Women Journalists Forum. Landau was a Journalist Fellow at the Reuters Institute in 2016.
Helen Boaden, who was the first female Director of BBC News, leading 8,000 news staff around the world. She held a number of other high profile roles at the corporation including Editor of File on 4, Head of BBC Current Affairs, and Controller of Radio 4. She sits on the boards and senior-level committees of a number of organisations including the Royal Academy, the Shorenstein Center, and the U.K. Statistics Authority.
Natali Helberger, University Professor of Law and Digital Technology, with a Special Focus on AI, at the University of Amsterdam (UvA), and affiliated with the Institute for Information Law. Her interest is in the interface between law, technology, humanities and social sciences. She has conducted research and provided opinions for international organisations including the European Commission, the European Parliament, the Council of Europe, OECD, UNESCO, OSCE as well as national governments and regulatory authorities.
Ed Richards, currently a Managing Partner at Flint Global Ltd, a business advisory firm specialising in policy and regulatory issues. Flint operates across Europe. Prior to this, Richards was Chief Executive of Ofcom, the UK media and telecoms regulator for eight years. Previously he was a Senior Policy Advisor to the British Prime Minister, and he also led the Corporate Strategy team at the BBC.
Wolfgang Blau is the Chief Operating Officer and President, International, at Condé Nast overseeing companies in Asia, Europe and Latin America as well as the following global functions: Product & Technology, Data & Insight, Licensing, Business Development, Delivery & Business Transformation and the Global Editorial Operations unit. He was previously Executive Director of Digital Strategy at The Guardian and Editor-in-chief of Zeit Online, where he won Chief Editor of the Year award. He has been a reporter, radio anchor and columnist.
The Director of the Reuters Institute, Rasmus Nielsen, said: "All our research suggests that news media require a diversity – including a mix of journalistic instinct, editorial experience, and commercial, technological and strategic insight – to thrive today. I'm proud to welcome eight new members of our advisory board all of whom contribute to that diverse mix and all of whom have generously agreed to help support our mission of exploring the future of journalism worldwide."