When Tucker Carlson met Javier Milei: Why the US right-wing pundit interviewed the eccentric frontrunner of Argentina's election
After speaking with leaders in Hungary, Brazil and El Salvador, Carlson flew to Buenos Aires to meet this outsider. Three experts explain why.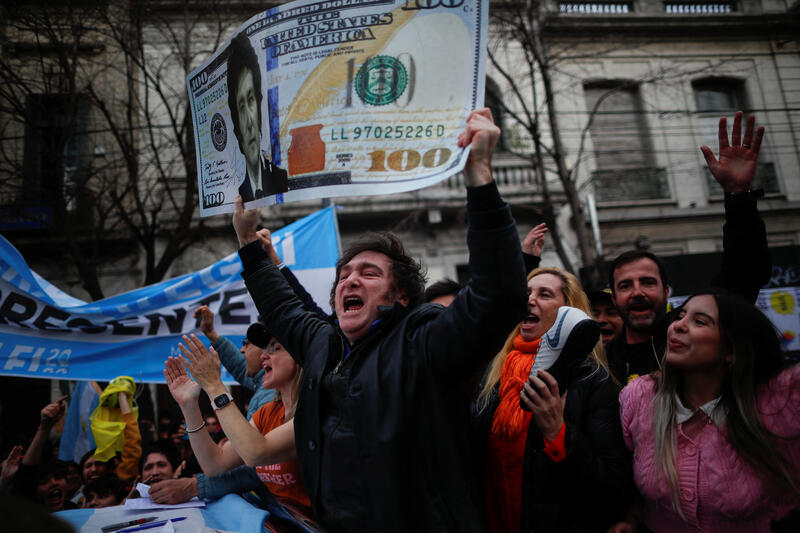 On the eve of the Argentinian presidential election, an unlikely candidate has a real chance of becoming the next president of the country. His name is Javier Milei and he is a self-described 'anarcho-capitalist' economist and one of the most eccentric politicians the world has ever seen.
With a haircut reminiscent of Austin Powers and often donning a leather jacket, Milei is a former goalkeeper and a member of Argentina's Parliament. A biography by journalist Juan Luis González revealed many of Milei's eccentricities, quoting the candidate as his source. He is the owner of five English Mastiffs, four of them named after conservative economists and all cloned from Conan, his dog who died in 2017. According to the book, Milei did manage to clone Conan in the US and claims to communicate with him in the afterlife. He also claims to be in touch with God, who he says entrusted him to run for president. 
More important than Milei's eccentricities are his politics, which includes dollarising the Argentinian economy, shutting down the Central Bank, and cutting down public spending radically. The candidate's rise in the polls has been fueled by Argentina's record inflation and a discredited political class. He's been described as a far-right populist by many global news outlets and his political coalition has been compared to Spain's far-right party Vox. 
It is in this context that American right-wing media figure Tucker Carlson arrived in Buenos Aires in mid-September to interview Milei for his show. Carlson, who has interviewed both Bolsonaro and Trump, has been taking a keen interest in platforming a certain type of politician, expanding internationally beyond of his home turf of American conservative politics: Bolsonaro in Brazil, Nayib Bukele in El Salvador, Viktor Orbán in Hungary, and now Milei in Argentina. 
Tucker Carlson: Live from Buenos Aires
Carlson introduced his interview with Milei by describing Argentina as a "desperate country", a portrait that many Argentinians would recognise. While most countries in Latin America are steadily growing, Argentina has the worst performing economy in the whole region: the value of its currency has plummeted, the inflation rate exceeds 100%, one out of every four Argentinians lives in poverty, and the national debt is 85% of their GDP.
Ep. 24 Argentina's next president could be Javier Milei. Who is he? We traveled to Buenos Aires to speak with him and find out. pic.twitter.com/4WwTZYoWHs

— Tucker Carlson (@TuckerCarlson) September 14, 2023
Milei's rise in the polls comes as no surprise for Iván Schargrodsky, the editor of independent news outlet Cenital. Schargrodsky attributes Milei's popularity partly to the failures of the current political system but also to his ability to engage with the backlash against feminism and identity politics. "Feminism and equality policies are often targeted by the new right," he says. A good example is abortion, which Argentina legalised in 2020.
Throughout the interview, both Milei and Carlson engage in bashing what they consider to be politics of 'social justice': abortion rights, climate change, "the LGBT agenda", the Argentinian Ministry of Women, and even the Pope and the Catholic Church. 
"Never let yourselves be seduced by the siren song of social justice," says Milei in the interview as a warning to American viewers. "You have to be prepared and fight the culture wars every day… because [socialists] have no problem getting inside the state and applying Gramsci's techniques: seducing artists, culture, the media and getting into educational content."
Natalí Schejtman is a journalist and a professor at the University of Torcuato Di Tella in Buenos Aires.  She agrees that part of Milei's voters are unhappy with the extension of social rights, she stresses that many are just disenchanted with recent governments and are very diverse in terms of geography and ideology. She also points at the media as a key factor in Milei's rise in the polls. "His popularity owes much to years of uncritical coverage," she says.
Carlson meets the world
In his signature style, Carlson asked Milei whether the movement against climate change is "part of the same socialist agenda," whether he "believes socialism produces ugliness" and what advice he would give Donald Trump for his 2024 bid for the White House. 
A. J. Bauer, an assistant professor of journalism at the University of Alabama, says that Carlson is increasingly interested in fostering collaboration among conservative movements all around the globe. Bauer is the co-author of the book News on the Right: Studying Conservative News Cultures, which analyses the impact of media figures in the conservative movement in the US and beyond.
"Carlson has been particularly invested in fostering a global dialogue on the right that's designed to build connections with the idea that a rising tide lifts all boats," he says. "Tucker is part of a bigger shift in conservative politics in the US."
The Conservative Political Action Conference (CPAC), the US' most prominent conservative gathering, has expanded abroad in the last few years. In 2022 CPAC held a conference in Budapest whose keynote speakers included Hungary's Orbán, Spain's far-right leader Santiago Abascal and Eduardo Bolsonaro, the son of Brazil's former president. Carlson himself also made an appearance through a pre-recorded message. 
Earlier that year, the organisation went to Brazil to organise another conference which included guests like Bolsonaro himself, Chilean far-right leader José Antonio Kast and Milei himself as an Argentine congressman preparing for his 2023 presidential run. 
"I see the kind of expansion of both CPAC and Tucker overseas as both related to a general tightening of the ideological similarities of the right-wing movements in different countries and an increasing effort to collaborate," Bauer says. 
Carlson has interviewed Orbán multiple times and has released a 'documentary' called Hungary vs. Soros: Fight for Civilization, which portrays the country as a right-wing utopia while parroting anti-semitic conspiracy theories. When he interviewed Bolsonaro, the same talking points came into focus: the 'globalist' agenda, identity politics, and the dangers of the left-wing in power. Most recently, Carlson also interviewed Polish member of the European Parliament Dominik Tarczyński, a member of the right-wing populist Law and Justice party. The interview revolves around how the politician is "protecting his country from radical demographic change" referring to the country's reluctance to take Muslim refugees.
The influence of Carlson  
For our Digital News Report 2022, we asked respondents to name up to five specific journalists they pay attention to, using an open-ended question in the survey. For respondents in the United States, Tucker Carlson was the most mentioned figure. However, these figures precede his untimely ousting from Fox News earlier this year. 
Since then, Carlson has been airing a show on X, the platform formerly known as Twitter. This makes it difficult to know who Carlson's audience is right now and how popular and influential he is. Bauer points out that now Carlson is in a weaker position, as mainstream audiences are less likely to seek him out on X. 
"He probably knows that he's reaching a more niche audience," he says. "Even in this role, he can still play a really important role in setting the agenda by saying: 'Hey, you may not have heard of what's going on in Argentina but this guy's got some interesting ideas that maybe we should apply here in the US.' I do see him as cultivating taste ideologically among his right-wing base in the US."
At the time of this writing, Milei's interview was the most viewed episode of the Carlson's new series, with more than 150 million more views on X than his interview with Trump, according to the platform's own viewing figures. 
Despite these jaw-dropping numbers, Carlson's stamp of approval will likely have a marginal effect on the results of Argentina's election. Domestically, Carlson's interview hasn't been particularly significant, Schargrodsky says, but it gives Milei a certain stature: "Tucker Carlson has interviewed Viktor Orbán in Hungary and supported Bolsonaro's ideas in Brazil, so for Milei this is important as it places him in the constellation of other right-wing leaders worldwide."
While the interview helps Milei gain international relevance, Schejtman argues that the interview also places Milei in the context of Western politics, giving him "a relevant place" in the US. "When Milei tells [Carlson] he's not going to do business with China or Russia, he knows he's speaking to a US audience. So [the interview] has a strategic and symbolic dimension too," she says.
While diminished, Carlson's profile is still relevant and his interviews are helpful to understand where the right-wing movement is headed and what its priorities are.
"What we're seeing is a rise of right-wing internationalism that we haven't really seen since the Second World War," Bauer says. "Part of what the right is trying to do is to create strong friend-enemy distinctions, so basically to relegate the whole spectrum of the left from liberals all the way to communists." 
In Carlson's interview with Milei, everyone from radical feminists to the Pope were deemed "socialists" to make the point that Argentina's embrace of socialism had bred poverty, aesthetic ugliness and even violence. 
"They're trying to build up a coalition of right-wingers who disagree ideologically on various points," Bauer says, "but who are united" in their fight against a common enemy and in their disdain of socialism, social justice and identity politics. We reached out to Carlson for a statement but did not hear back in time for this piece. 
Why Musk's platform matters
It comes as no surprise that voices like Tucker Carlson and conservative outlet The Daily Wire are gravitating to X. Since Elon Musk bought it, the platform has become much more friendly towards far-right figures and has seen an increase in hate speech according to the Network Contagion Research Institute, with its owner even engaging with far-right instigators and conspiracy theorists. Musk even shared the interview with his 159 million followers calling it a "very interesting talk that goes far beyond Argentina in subjects discussed." 
For Schejtman, the medium where many of these interviews are taking place also reflects the state of the media ecosystem. "There is an incipient intention [among right-wing figures] to unite internationally with a common message against the mainstream media that supposedly excludes them," she says. "There is already a connection of ideas among leaders from different countries, with similar strategies and facilitators."