Journalism, Media, and Technology Trends and Predictions 2020
Here are the key findings from 'Journalism, Media, and Technology Trends and Predictions 2020', our annual report on the state of the industry. The report is based on a closed survey completed by 233 senior executives from 32 countries and is complemented by five essays that look at the year ahead.
Leading publishers say they are confident about their own business prospects but are deeply worried about the wider state of journalism, according to Journalism, Media, and Technology Trends and Predictions 2020, an annual report published by the Reuters Institute for the Study of Journalism. The report is based on a survey of 230 CEOs, editors and digital leaders from 32 different countries. Here are its key findings.
1. There's a confidence gap in the industry
Almost three quarters of our respondents (73%) say they feel confident or very confident about their company's prospects in 2020. It's a surprisingly upbeat assessment given continuing political and commercial uncertainty. But it reflects optimism amongst many publishers that reader revenue and diversification strategies are starting to pay off. 
These same media executives, however, are less confident about journalism in general (46%) and public interest journalism in particular. There is widespread disquiet about the decline of local news, and the growing pressures in many countries on journalists trying to hold the rich and powerful to account.
One notable trend is the lack of confidence from public service broadcasters (PSBs), many of whom face rapidly falling audiences for linear output, growing competition from Netflix and Spotify, and attacks on news output from populist politicians and commercial media owners.
2. Reader payment focus intensifies. 
Publishers continue to bet strongly on reader revenue, with half (50%) saying this will be their main income stream going forward. Around a third (35%) think that both advertising and reader revenue will be equally important, with just one in seven (14%) pinning their hopes on advertising alone. 
"Growth engines, reader revenue specifically, has very positive prospects; advertising revenue remains a major concern," says Jon Slade, FT's Chief Commercial Officer.
This year will see southern European media houses leaning more heavily on subscription. In Spain, El Mundo has already started to charge for premium content, with El País set to follow early in 2020. Smaller publications are also finding success through a variety of subscription and membership models. However, success is not guaranteed:
"Growing competition for a limited pool of people prepared to pay for news is likely to be a challenge this year as subscription models mature. Heavy discounting is already widespread and churn rates are likely to become an increasing worry for those that can't prove consistent value to audiences," warns the report's author, Nic Newman.
The report suggests that collecting first-party data will become a key focus for publishers this year, following reduced cookie support from leading browsers and tightening privacy regulations in Europe and the United States. But the combination of paywalls and registration barriers risks putting further barriers in the way of casual news users.
3. Google is more popular than Facebook.
Our digital leaders' survey shows publishers remain more positive about Google and Twitter than Apple, Facebook, Snapchat and Amazon when it comes to initiatives to support journalism. Over half of respondents rated Google as average or better, but all other platforms attracted more negative than positive sentiment, and there is a considerable amount of cynicism about underlying motives across the board.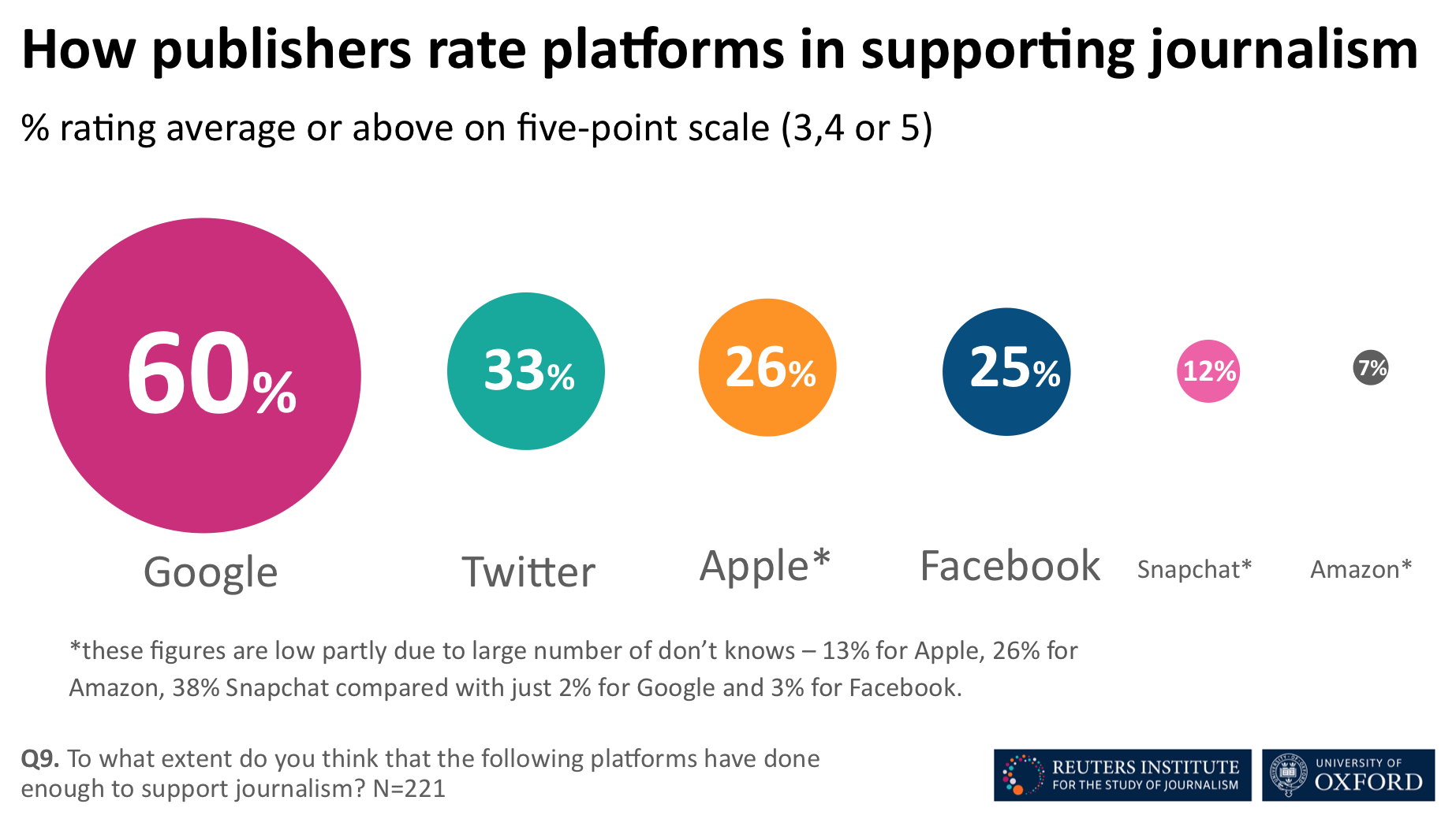 Google's higher score reflects the large number of publishers in our survey who are current or past recipients of Google's innovation funds (DNI or GNI), and who collaborate with the company on various news-related products. Facebook's lower score may reflect historic distrust from publishers after a series of changes of product strategy which left some publishers financially exposed. 
The overall sense from our survey, however, is that publishers do not want hand-outs from platforms but would prefer a level playing field where they can compete fairly and get proper compensation for the value their content brings. 
Publishers are not holding out hopes that governments or regulators can help much with new initiatives such as the controversial EU directive known as "the link tax". Publishers feel that interventions by policy makers are more likely to hurt (25%) rather than help (18%) journalism with the majority feeling that they will make no difference (56%)
4. Big strides over diversity but not in every area.
Our publisher respondents say they have made big strides over gender diversity with three quarters (76%) believing their organisation is doing a good job. However, they rate themselves less well on diversity from non-metropolitan areas (55%), on political diversity (48%), and racial diversity (33%). 
Within these averages we can detect significant regional differences, with Scandinavian publishers much more confident about gender diversity than publishers in other parts of Europe. Overall, women were more sceptical about the rate of progress than men.
Lack of diversity may also be a factor in bringing new talent into the industry. Publishers have very low confidence that they can attract and retain talent in technology (24%) and data science (24%) as well as product management (39%). There was more confidence in editorial areas (76%).
5. Podcasts remain a hot topic.
It looks set to be another big year for podcasting with over half of our publisher respondents saying they would be pushing various types of podcast initiatives this year. The Times of London is one of many that will launch a daily news podcast in 2020. Others are investing in chat/interview formats or documentaries with Le Monde, for example, recently releasing three new podcast series adapted from investigative articles.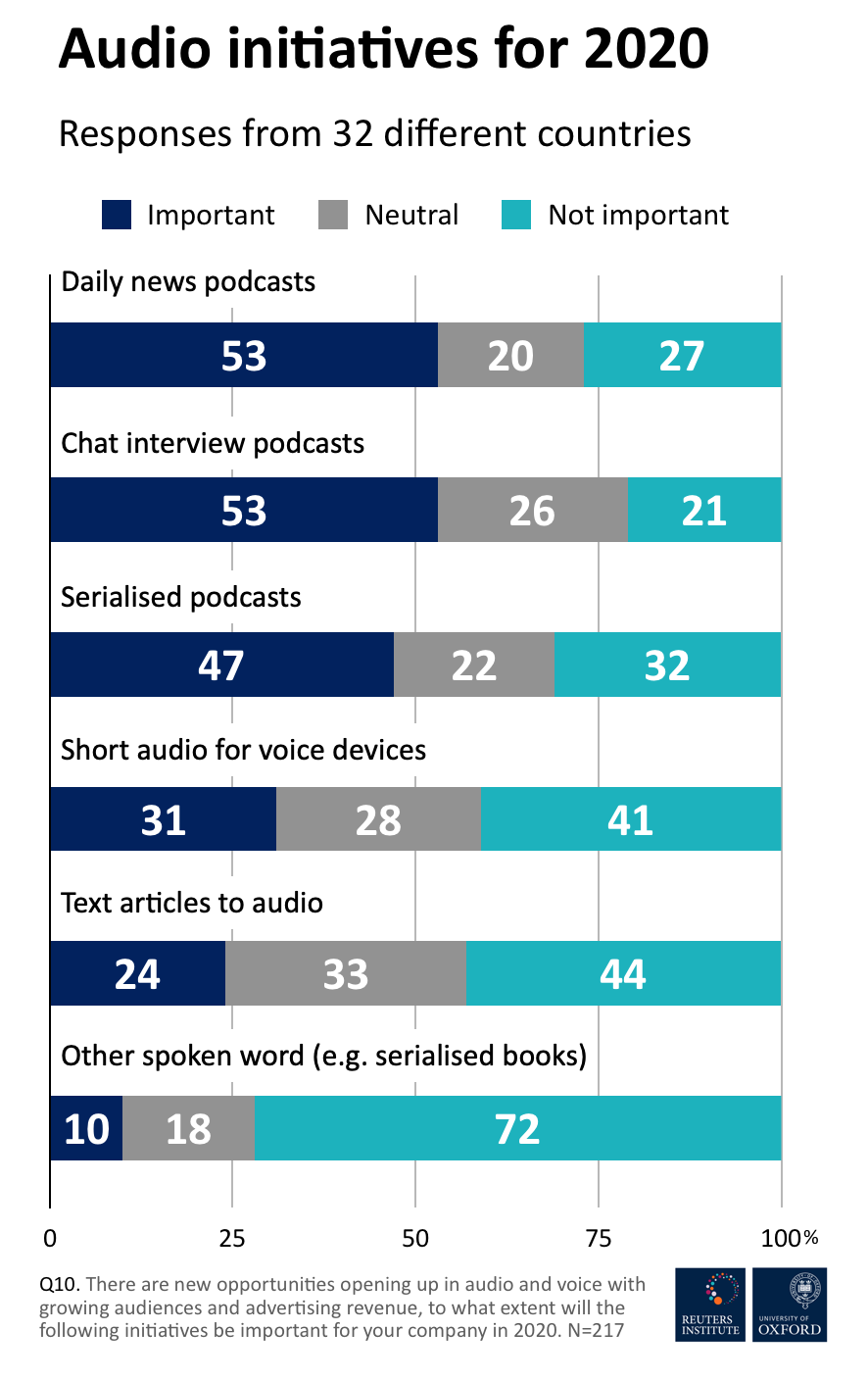 Podcasting revenue is projected to grow by around 30% a year to reach over $1bn by 2021 in the US. Elsewhere, revenues have been slower to build and, despite the clear audience opportunity, many publishers are still holding back. Others are looking at creating new services for voice devices or turning text articles into audio to capitalise on growing listening amongst the young.
6. Publishers step up the use of AI in their newsrooms.
Publishers have plans to step up the use of artificial intelligence in driving more effective distribution of content. Over half of our respondents say creating better recommendations will be very important this year, followed by commercial uses such as using AI to target potential subscribers and optimise paywalls (47%), and driving greater efficiency in the newsroom through AI assisted subbing or tagging (39%). Only a minority of publishers felt that robo-journalism (12%) or newsgathering (16%) would be important areas to explore this year.
Survey Methodology
233 people completed a closed survey in December 2019. Participants, drawn from 32 countries were selected because they held senior positions (editorial, commercial, or product) in traditional or digital-born publishing companies and were responsible for aspects of digital or wider media strategy. The results reflect this strategic sample of select industry leaders, not a representative sample.
Typical job titles included Editor in Chief/Executive Editor, CEO, Head of Digital, Head of Innovation, Chief Product Officer, Director of Multimedia etc. Just over half of the participants were from organisations with a print background (54%), around a quarter (26%) represented commercial or public service broadcasters, more than one in ten came from digital-born media (14%), and a further 6% from B2B companies or news agencies. 32 countries were represented in the survey, including the US, Australia, Kenya, South Africa, Mexico, Argentina, and Japan, but the majority came from European countries such as the UK, Germany, Spain, France, Austria, Poland, Finland, Norway, and Denmark.
Participants filled out an online survey with specific questions around strategic digital intent in 2020. Around 95% answered most questions, although response rates vary. The majority (80%) contributed comments and ideas in open questions and some of these are quoted with permission in the report.
The report also includes essays from staff and contributors at the Reuters Institute. It was published with the support of Google's Global News Initiative.
This report is supplemented with the following essays:
Published by the Reuters Institute for the Study of Journalism with the support of the Google News Initiative.

This report can be reproduced under the Creative Commons licence CC BY.  For more information please go to this link.