The most dangerous place to be a journalist is not an active war zone but Latin America
2022 was the deadliest year for journalists in the region in two decades, with Mexico and Haiti leading the count. Will this change in 2023?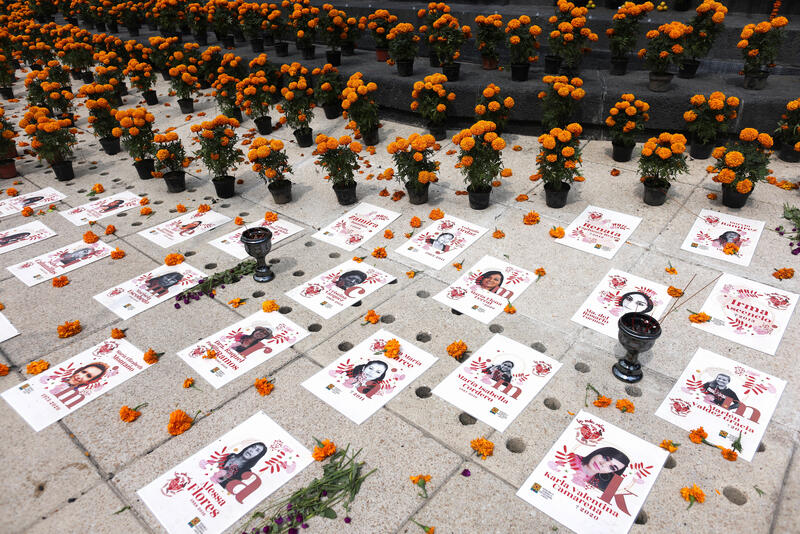 In the afternoon of 18 December 2022, Haitian journalist Francklin Tamar was shot and killed by two unidentified individuals near his home in Port-au-Prince, according to local news reports. Tamar, an arts and culture journalist for Radio Solidarité, would become the last journalist killed in a particularly lethal year for media workers in Latin America. 
Violence against journalists is often difficult to categorise due to the limitations in assessing whether it is a direct retaliation for the victims' journalistic activity. However, the numbers of journalists killed this year in the region are staggering, with estimates ranging from thirty to forty-two. This makes 2022 the deadliest year on record for Latin America, and Latin America the deadliest region for journalists worldwide. 
In a continent with no active war zones and where there is widespread freedom of expression and democratic institutions, how did it get to this point? And what does it mean for journalism in the region in 2023? 
Breakdown of safe journalistic conditions
For Carlos Martínez de la Serna, program director at the Committee to Protect Journalists, these figures do not come as a surprise, but as the imminent culmination of a series of factors. "This happens in a context of the decline of press freedom, increasingly more authoritarian states, more aggressive states against unionism and journalism, and also in the context of impunity," he says. "So it is not a surprise, unfortunately, that Mexico, where there is a vast prevalence in the context of impunity, leads the count."
Even though there are issues of press freedom throughout the region, two countries glaringly lead the count: Mexico and Haiti. Eleven journalists have been killed in Mexico in 2022, making it the world's most dangerous country for journalists, surpassing active war zones such as Ukraine and Syria. 
For Rocío Gallegos, a journalist and co-founder of La Verdad Juárez, an investigative journalism outlet in Ciudad Juárez, Mexico, the situation is desperate. "Doing journalism is very complex nowadays, not only due to these growing conditions (of violence), but also because there is less and less support from society towards journalists and journalism," she says. 
Gallegos, who has been a journalist in the border city of Ciudad Juárez since 1994, is no stranger to violence. Her city has often been the backdrop to an outsized number of murders of women, bursts of intense narco violence and a persistent presence of gangs and cartels.  
Her outlet has been subjected to threats which forced them to establish security protocols like the constant monitoring of those that write articles on sensitive subjects, which range from organised crime to the environment. 
She fears that this violence is driving people away from the profession and thus eroding community-building and democracy. 
"There are fewer and fewer journalists reporting not only because they have been killed, silenced or imprisoned, but also because there are fewer opportunities to practise journalism in a dignified manner," Gallegos said. 
One of the reasons why these opportunities are being diminished is the growing villainisation of journalists by government officials. Former Brazilian President Jair Bolsonaro has called journalists "despicable bastards". Nayib Bukele, President of El Salvador, has repeatedly tweeted that journalists are "political activists for the opposition". Nicaraguan Vice President Rosario Murillo has referred to journalists as "criminals" and "information terrorists."
"[We are seeing] increasingly more aggressive rhetoric from both democratic and authoritarian governments against the press," says Martínez de la Serna, from the Committee to Protect Journalists.
A leader against journalists
In an open letter published last month, more than 170 Mexican journalists demanded that President Andrés Manuel López Obrador ceases "his harassment of critical journalists" as they fear Mexico will enter an "even bloodier phase" where journalists continue to be killed. 
The Mexican President is not known for mincing words when it comes to describing journalists, calling them "hypocrites", "puppets" and "elitists". AMLO, as the Mexican president is known, dismissed the letter, saying that the signatory journalists had not written unbiased reports on his government.
Javier Garza is one of the signatories of that letter. He works as a journalist in the Northern Mexican city of Torreón and is the founder and editor of EnRe2 Laguna, a local news platform on radio and social networks in the region of La Laguna, in northern Mexico.
"The government doesn't seem to be very interested in solving the problem of violence against journalists and that lack of interest is what empowers a potential aggressor to attack us," he says. Garza has seen the impact of this violent environment first-hand. He mentions colleagues that are forced to self-censor and others who have abandoned the profession due to fear of attacks.
"Because the profession is much less attractive, investigative journalism is being inhibited," says Garza. "Independent journalism is being inhibited."
A 2020 report on freedom of expression made by Mexican NGO Colectivo de Análisis de la Seguridad con Democracia (CASEDE) identifies the precariousness of journalistic work as a key factor that inhibits the safety of journalists. 
Part-time contracts with no benefits and a lack of resources contribute to a situation in which a number of journalists have to take additional jobs to make ends meet. This is much more common amongst those journalists working in rural communities and far from the big urban centres.  
Both Garza and Gallegos allude to the responsibility of employers when it comes to investing in their workers and to the structural inequalities amongst the people working for a single media outlet in different regions of the country. "We have to be juggling between seeking income [and] staying in the trenches to continue to report independently," says Gallegos. 
Journalists targeted in Haiti
This situation is mirrored in Haiti, the second deadliest country in the region with nine journalists killed in 2022, and a place where conditions for the press have deteriorated rapidly in the last few years. 
Raoul Junior Lorfils is a journalist in Port-au-Prince and the editor-in-chief of Loop Haiti, a media news outlet in the country. One of his colleagues disappeared while on a reporting trip. Another one was shot while leaving the newsroom. 
"The political situation has become more chaotic than ever and journalists are among the most targeted," he says.
Lorfils describes an environment where journalists are afraid to cover certain issues, which leaves a gap in coverage as fewer voices are willing to put their lives at risk to report. This has resulted in fewer investigative journalists in the country, which ultimately undermines the fabric of democracy and press freedom. 
"Many journalists do not develop an interest in investigations because of what journalists are experiencing," says Lorfils. "[The government] makes you sound like an enemy or someone who is just doing the work of the opposition."
An environment of impunity
For all the journalists I spoke to, the biggest factor behind this environment of violence is impunity. In its annual report, the Committee to Protect Journalists found that no one had been convicted for nearly 80% of journalists' murders during the last 10 years.
"We've seen cases of journalists killed in countries with total impunity, with no significant improvement in the protection of journalists and no efforts to protect journalists," says Martínez de la Serna, program director at the Committee to Protect Journalists. 
Mexican journalists Javier Garza and Rocío Gallegos agree that it is the responsibility of the government to ensure that these crimes are persecuted and tried. Garza describes how he worked for a newspaper whose office was shot at on five occasions in a period of three consecutive days. 
"The cause of each aggression was the fact that the previous aggression remained impune," says Garza. "Impunity is the motor of attacks against journalists." 
Since the assassination of Haitian President Jovenel Moïse in 2021, there has been increasing political and institutional fragmentation in the country. The United Nations has described the judicial system of the country as suffering from "grave structural weaknesses". Lorfils describes Haiti's justice system as "almost non-existent," which exacerbates the issue of impunity. 
"One of the main reasons journalists continue to be killed in the country is because those who are behind these actions don't fear anything from the justice system," says Lorfils.
Looking towards 2023
The journalists interviewed for this piece don't think there will be major improvements to the climate of journalism in Latin America if impunity rates remain unchanged and government leaders continue with antagonising rhetoric against the press. 
"I don't think we will have a substantial lowering in homicides or crimes against journalists in general because what would really lower them is an intervention from the authorities," says Garza. 
For Lorfils, a lot has to change institutionally in 2023 for the killings of journalists in the region to stop: from a stronger judicial action from the government to a halt in antagonising rhetoric towards the press by government officials. However, he also wants to see members of civil society support journalists and take a stand against their treatment. 
"Journalists and freedom of the press are a big pillar in democracy," says Lorfils. "If there are no journalists, the people will not have access to the useful information they need to guide their democratic decisions."
The Committee to Protect Journalists has not only been seeing an increase in violence against journalists but also more diversity in terms of which beats are now considered vulnerable to violence. Not only are those journalists covering political corruption or organised crimes being threatened, but also those covering issues that intersect with local and indigenous communities like environmental issues and immigration. 
"Without effective protection mechanisms, without political will and resources to effectively protect journalists, without a change in rhetoric about how governments both democratic and authoritarian in the region refer to journalists," says Martínez de la Serna. "There is no reason for us to be optimistic because there is no change we are seeing."