Forced into exile by Putin's war, Russian journalists are rebuilding their lives in Riga
The Latvian capital has become a safe haven for reporters fleeing Kremlin's oppression. Here's how they are adjusting to their new life
It's a Friday evening in late April, and the auditorium of the Stockholm School of Economics in Riga feels like a microcosm of Russia's media scene. Around 50 journalists have gathered here for the first welcome and networking event put on specifically for them since many Russian reporters started arriving in the Latvian capital around two and a half months ago.
The atmosphere at the gathering is relaxed, even jovial at times. "You are warmly welcome to Riga", a sign reads in Latvian and Russian.
"It is really pleasant to meet colleagues here in Riga for the first time, especially Alexey Kovalev of Meduza. He created the first Russian website to expose Kremlin propaganda lies," said Yuri Bershidsky, a fact-checker who works for Russian-language The Insider, an online publication known for its joint investigation with Bellingcat into the poisoning of Russian opposition politician Alexey Navalny.
A clarinet solo, lively conversations over buffet dinner and wine, a speech by the Dutch ambassador and children playing ping pong in the courtyard create an aura of normalcy. But the exiles' situation is anything but. Many were forced to leave everything behind, possibly for good.
The journalists join an exodus of hundreds of thousands of young and highly educated Russians who have fled the country since the invasion of Ukraine on 24 February. Some are activists and people who protested against the war. But there are also tech workers, entrepreneurs, designers and actors who've decided they would prefer exile to living in an authoritarian state.
Starting from scratch
Continuing to tell the uncensored truth about the situation in Russia and Ukraine is a motivating factor for many Russian journalists in exile, including Kovalev. The investigative editor at Meduza arrived in Riga on March 4, the same day his publication was blocked in Russia.
"On that day, the Russian Parliament adopted a law that made our profession a criminal offence," the 41-year-old said, referring to the law under which publishing something described as "fake news" about the war in Ukraine is punishable with up to 15 years in prison. "If I go back to Russia, there's probably a criminal case waiting for me."
Even after two months in Latvia, Kovalev still doesn't have health insurance or a bank account, let alone a permanent residence permit. "Only then I can start to slowly build my life back from scratch," he told me.
Local journalists have been very supportive to newcomers like him, Kovalev said. Reporters with the weekly magazine Ir, for instance, told him he could do interviews at their office. "It's very encouraging to know people really care and sympathise with us," he said.
A reporter's odyssey
What were the struggles of journalists who needed to relocate from one day to the next? Here's what happened with Victoria Lee, special correspondent for small Moscow-based online publication Holod who writes about topics related to social injustice like the prison system and domestic violence. On March 5, she and her husband were supposed to go to Yerevan, but their €1,400 flights were cancelled. So they went to Kaliningrad instead and crossed into Lithuania by foot. After spending a couple of days in Vilnius, they flew to Georgia, where her publication Holod's new office was supposed to be. When a colleague and others had trouble getting into Georgia, they decided to go to Riga instead.
"We first wanted to wait for our pets and the Pfizer vaccine, but there were problems with both," the 24-year-old said. "The special pet delivery service from Moscow to Tbilisi was delayed as the border was closed from time to time due to snowy weather. But at least we got the first shot of Pfizer. Then we found out that pets need a rabies certificate when entering the EU from Georgia. So we arranged for our pets to be brought straight to Riga, which cost even more money. Around €900! Our apartment with a windowless bedroom in Tbilisi wasn't much cheaper."
On April 21, they tried three different vaccination points in Tbilisi for their second shots, but without success. The Georgian government had banned people without Georgian passports or at least three months of residence from getting vaccinated. Two days later, they found out their flight was delayed when they were already at the airport. So they went back to bed.
"We still made it to Riga that day," she said. "After living in my colleague's apartment for a week, we now have our own place and our pets finally arrived on 3 May! It was such a joy to see them again. We are still waiting for the second Pfizer shot though. Here in Riga I feel comfortable and free. It reminds me of St. Petersburg, where I always wanted to live."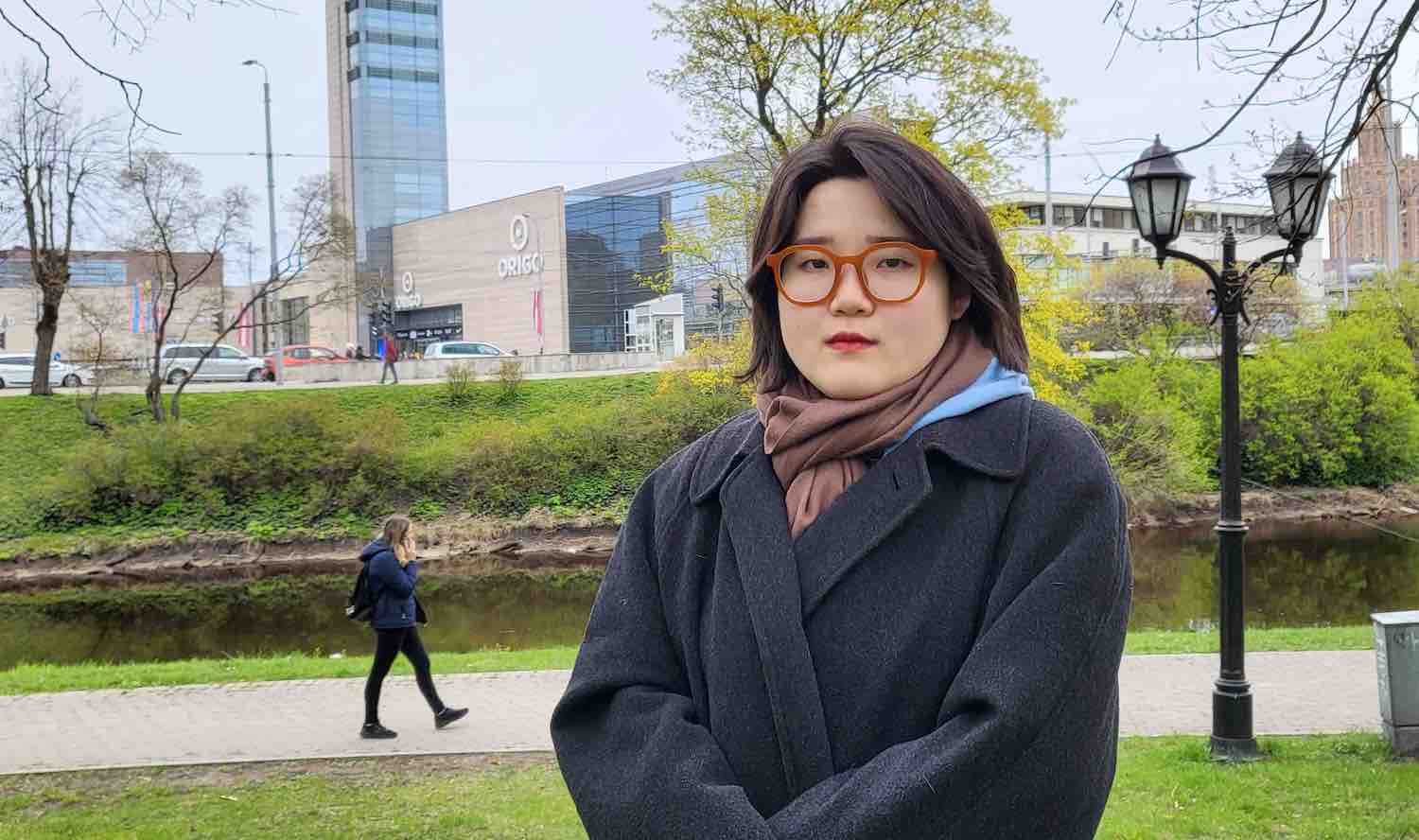 A support hub
At least several hundred Russian journalists have arrived in Riga since late February. An even greater number of them, possibly thousands, are said to have fled to Georgia and Armenia, where Russian citizens neither need a visa nor a travel passport.
Kovalev believes the options people had dictated the destination. "I couldn't go to Tbilisi or Yerevan as plane tickets were already prohibitively expensive. And we had a dog, which we couldn't just take on any flight." These circumstances made him leave Russia in the middle of the night through the Estonian border city of Narva.
Aside from Meduza, around two dozen other Russian media organisations and their staff went into Latvian exile, including major ones like Novaya Gazeta, The Moscow Times, TV Rain and Echo of Moscow. 
According to Gunta Sloga, executive director of the Baltic Centre for Media Excellence, Russian media workers have also gone to Turkey, Israel and the Czech Republic. Together with three other media NGOs, Sloga created a "support hub for exiled media representatives" in Riga. These organisations have thus far helped some 170 media workers with language classes, short-term accommodation, food, visas, work permits, bank accounts, schooling needs as well as medical and psychological support.
"We have a wide-ranging spectrum of journalists and media outlets here with different needs," Sloga told me. "If you're from Novaya Gazeta, every big media in Latvia will promise you support. But if you are a small media outlet in Siberia and also had to shut down, you might not have the experience in attracting donor money and fundraising." What's more, a series of money laundering scandals in Latvia means "quite a lot of extra scrutiny" for any Russian journalists on top of the security checks resulting from the Western sanctions levelled at Russia.
This week, Holod's Victoria Lee and her husband were informed that their visas were approved, which means they can now stay in Latvia for at least one year. "I don't have long-term goals," she told us. "All I can do is work, sleep and rest. But I know that the Latvian government and NGOs are doing everything to help Russian journalists, and we're very grateful to them." As a Russian citizen, getting a residence permit is out of the question at the moment. At some point, she and hundreds of other Russian media workers likely have to apply for either asylum or a humanitarian visa.
Working under censorship
Moscow-based online publication Sota, which has been covering cultural, political and ecological issues since 2015, is something of an exception. While founder and owner Aleksandra Ageeva arrived in Riga on 17 April, the rest of Sota's 40-member staff is still in Russia publishing content. But they no longer use bylines and only use Telegram and YouTube for their currently around 300,000 subscribers, who have actually grown in numbers since Ageeva was labelled a foreign agent in February, Ageeva said. Sota completely relies on donations from subscribers at the moment.
В Санкт-Петербурге активистка Кристина Рамирес провела одиночный пикет в поддержку Алексея Навального, за что была тут же задержана сотрудниками полиции.

Фото: SOTA pic.twitter.com/uwDYAJgBRq

— SOTA (@SotaVision) May 2, 2022

Among all the Russian media in Latvian exile, Meduza is a special case. Faced with losing their editorial independence, several staffers left Lenta.ru in 2014 and launched Meduza as an independent media outlet in Latvia. Although almost all of the editorial staff has been working out of the Moscow bureau, having a legal entity in Latvia and people on the ground is paying off now.
This is not the first time journalists have gone into exile in Riga. In the months following Russia's annexation of Crimea in 2014, a few dozen came.
According to Ageeva, Latvian media organisations paid for the flight to Riga and for a hotel, where she stayed with her mother and her son for almost a month. "Seeing a lot of familiar people is very important now, as many did not want to leave Russia," Ageeva told me a few days after the welcome event.
A hub for international media
A number of major Western media outlets have also relocated their staff and operations from Moscow to Riga. In a press release from March 17, Radio Free Europe/Radio Liberty (RFE/RL) announced it would open offices in Riga for its Russia services, its 24/7 Russian-language network Current Time and "a base for new investigative journalism projects and digital innovation hubs."
RFE/RL is opening bureaus in Latvia & Lithuania. Per @RFERL's @jamiemfly: "[The bureaus] will allow RFE/RL to continue to engage with audiences in Russia and Belarus, despite those government's best efforts to silence independent journalism." https://t.co/mkXtTfJIJZ

— RFE/RL Pressroom (@RFERLPress) March 17, 2022

According to President Jamie Fly, the deciding factors for the US nonprofit headquartered in Prague to relocate "scores" of staff to Riga were the "sizeable Russian-speaking diaspora" – about a quarter of Latvia's population of 1.9 million are ethnically Russian – and the presence of other media organisations "focused on the Russian audience".
And unlike Russia, where 24 journalists have been murdered since 2000, according to the Committee to Protect Journalists, Latvia is a safe country to report from: The EU country had the 22nd-best rating in RSF's 2022 World Press Freedom Index. Russia ranked 155th.
A spokesperson for Germany's international broadcaster Deutsche Welle (DW), banned from broadcasting in Russia since February 3, cited similar reasons as RFE/RL. Other Western media outlets are more tight-lipped about their relocation. A BBC spokesperson, for instance, said the British public broadcaster temporarily moved its Russian Service staff to other locations.
Threats at home
One of the most prominent Russian journalists to have sought refuge in Riga is film critic Anton Dolin. When he started receiving anonymous threats on Facebook in the days after Russia's invasion of Ukraine, Dolin decided to take his family to Riga – initially just for a couple of weeks.
But when they wanted to leave their house on the evening of 5 March, the electricity went out and they discovered a big 'Z' on their front door. "It was clear they knew where we lived. The children were really afraid, and so was I. At that point, we thought: 'We'll probably stay in Riga for much longer.'"
Following a train and bus ride to the Estonian border, where the family was interrogated for four hours, they were allowed to cross, coincidentally together with the Nobel laureate and editor-in-chief of Novaya Gazeta, Dmitry Muratov. Once in Estonia, a friend picked the family up and brought them to Riga, Dolin recounted.
Overnight, Dolin lost his status as one of Russia's pre-eminent cultural journalists and all the privileges that came with it. He also gave up his job as editor-in-chief for Europe's oldest film magazine. "I've completely disappeared from cultural life in Russia, and I haven't appeared yet in the cultural life of Latvia," he said. "I'm struggling, but my situation is not the worst and I didn't sell my soul." For now, he focuses on his YouTube channel and on writing film reviews and festival reports for Meduza.
A future in Latvia? 
Most journalists I spoke to don't have plans to return to Russia – at least as long as the man who forced them to leave is still in power. Many said they face prison time or other forms of oppression in their home country. "I'd only go back if there's a regime change," said Dolin. "It would be an opportunity to forgive all so-called traitors and ask them to please come home and start over."
According to Gunta Sloga, the toughest part of being uprooted is uncertainty. "Some of it is very practical, like taking care of their legal status or finding schools for their children. Then of course they ask themselves: 'How long do I stay here – two months, one year, or five years?' And they also wonder how to proceed with their media outlets," she said. All said they generally feel welcome and safe and haven't experienced any discrimination in their daily lives due to their citizenship.
As for Radio Free Europe/Radio Liberty, President Jamie Fly said the new "Russia hub" will grow "significantly" in the next few years. To that end, RFE/RL will hire Russian journalists and social media experts. While having set up a Latvian legal entity helps with their employment and legal status, according to Fly, overall progress is slow: Seven weeks after the relocation, RFE/RL are still looking for a permanent office space.  
Alexey Kovalev, Meduza's investigative editor, said being in exile brought him a lot closer to his colleagues, especially since he had mostly worked remotely before. "Being in the same room for the first time made me realise how important camaraderie is as a source of emotional support. It's great that you can hug someone," he said. "My wife and I just wanted to use Riga as a launching pad, but we decided to stay because it's so nice to be around people you know and trust."
Benjamin Bathke is a Berlin-based entrepreneurial freelance journalist. He has worked in online and radio journalism for the past six years. He's currently covering migration, media innovation and technology for Germany's international broadcaster Deutsche Welle (DW) and other global publications. In 2015-2016, he was a Global Journalism Fellow at the Munk School of Global Affairs and a multimedia storyteller for Washington University in St. Louis. You can find him and his musings on Twitter @BenjaminBathke.