How a pioneering Italian podcaster is leading innovation in a print-focused media industry
"The idea for the podcast was to tell a story from the world every day," says Cecilia Sala, the 26-year-old Italian journalist behind 'Stories'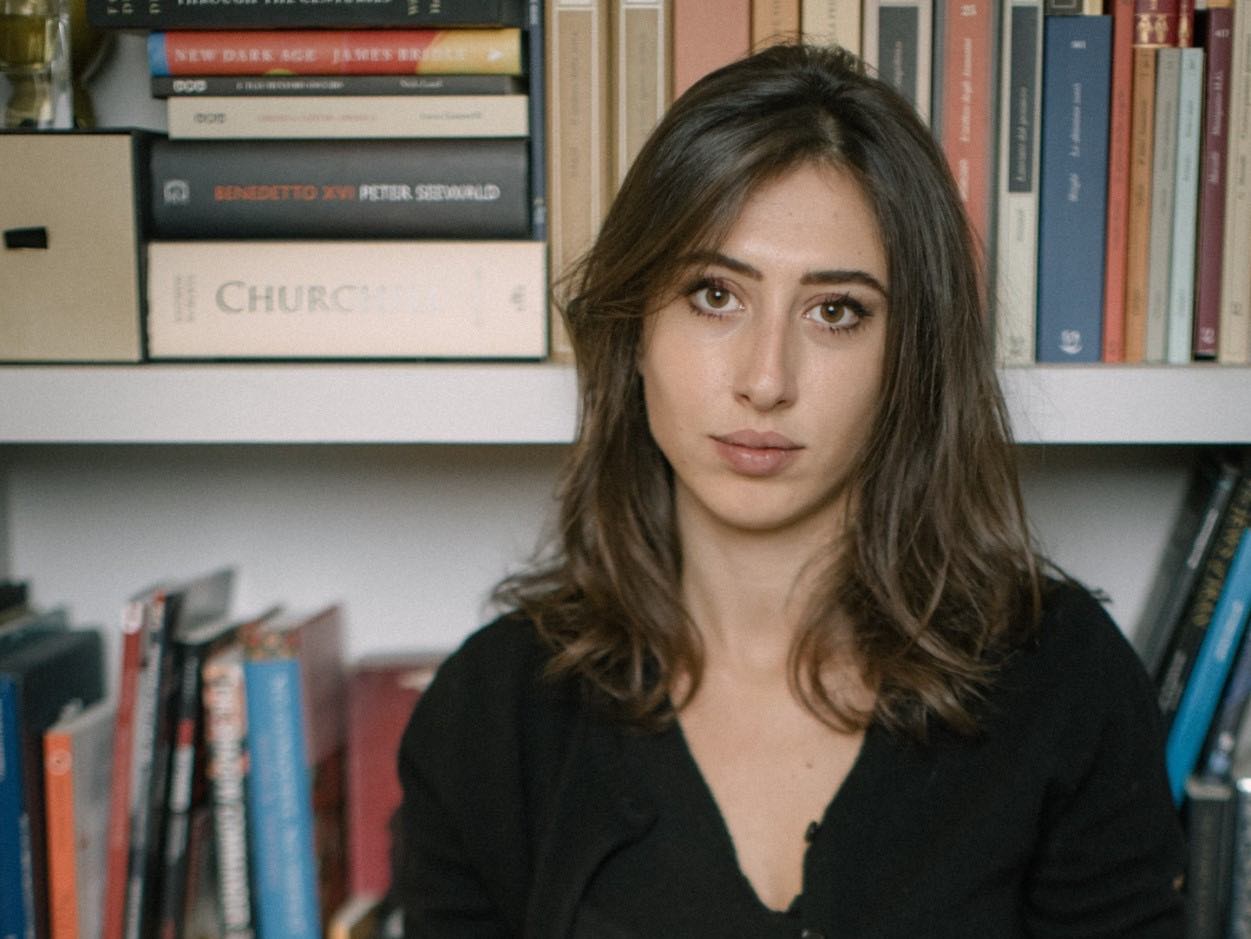 The news industry in Italy is changing very slowly. As outlined in Italy's page in the Digital News Report 2022, news kiosks selling newspapers and magazines, which traditionally have been the way most people have accessed news, are closing down in large numbers. A news industry that has been slow to pivot to digital is now welcoming new initiatives. A particularly successful new entrant has been Stories, a podcast series hosted by Cecilia Sala, a 26-year-old foreign correspondent who also writes for the daily newspaper Il Foglio. 
Stories is produced by Chora Media, a podcast company launched in 2020 and directed by Mario Calabresi, a well-known Italian journalist and former editor-in-chief of La Repubblica and La Stampa, two legacy newspapers. Chora is growing fast. It recently paid €5 million to buy rival media startup Will Media. Will Media started as an Instagram page, and is now known for its "What subject would you like to use to impress people at dinner tonight?" content search, with which users choose a subject, such as sustainability or foreign affairs, and are directed to a variety of text, image and video posts by Will Media profiles across popular platforms. These can be, for example, an Instagram carousel about water use, or a YouTube video explaining who Julian Assange is. The overarching idea is to supply concise, easy-to-understand information packaged in a way that appeals to younger generations, a similar concept to that behind Stories.
Chora's audience is growing and has reached between 1.5 and 3 million podcast downloads per month, according to the FT. Stories is now a Spotify exclusive and among the most popular podcasts in a country in which 29% of people have listened to a podcast in the last month. 
I spoke to Italian journalist Cecilia Sala to find out more about Stories' success, her experience as a podcast foreign correspondent, and what's next for news innovation in her home country.
The idea 
"It was Mario Calabresi's idea," Sala said. "He decided to experiment after having led the newsrooms of large, traditional legacy titles. We spoke when I was in Afghanistan to cover the Taliban's seizure of power and the evacuations. Chora had been founded not long before and he said to me, 'Why don't you do something for us from there?' I wasn't used to live podcasts, I'd never done one before in my life. I had made a podcast, but behind it was a year and a half of work, an investigation, so I declined. Then I saw him when I got back and he proposed first a foreign news weekly, and then he said, 'I'd like it to be a daily.' I said, 'Wow, a daily would be quite demanding.' And it's also hard to differentiate it from other news, the continuous flow of updates from the world, from agencies, radio, from this kind of traditional news source. And Mario's idea was to tell stories."
This idea turned into Stories, a podcast with daily episodes released from Monday to Friday. Episodes are usually around seven minutes long, although some recorded in Ukraine reach the 15-minute mark. Along with Sala, there is a wider team working on Stories, including journalists Francesca Milano, Simone Pieranni and Pablo Trincia, as well as producers and sound designers. What makes the podcast unique is its focus on human stories. 
An international summit itself, Sala said, is not the kind of story they are looking for. Instead, she tells stories of people, places, institutions, and even weapons. "The idea is always to start with a scene, a detail or a character, famous or unknown, that is symbolic in some way and is an instrument to tell a larger, more universal story." 
The way stories are chosen varies. On busy news days, it may be obvious what the story is, such as when UK prime minister Boris Johnson resigned. But there is also some planning ahead, as some stories are less time-sensitive. For example, Episode 131 tells the story of Florida governor and possible 2024 presidential candidate Ron DeSantis; Episode 125 is about Brittney Griner, the US basketball star detained in Russia; and Episode 119 tells the story of a neonazi private security group operating in Iraq. 
"The idea for the podcast was to tell a story from the world every day and to be the first podcast foreign correspondent," Sala said. "The idea was to tell stories from the world from [our base in] Italy or whenever possible from the field. So part of the project is that I travel, that I tell stories with my voice when I'm in Rome and sometimes with the live voice of a protagonist who is in Ukraine, in Texas, in Iran or elsewhere." 
So far, Sala's main reporting trips have been to Ukraine. She visited the country three times, the first one right after the war broke out. And it is her episodes from Ukraine that won her notoriety and a wider audience.
Reporting from Ukraine
Ukraine wasn't Sala's first overseas reporting trip, but it was the first one she did for a podcast. "I wanted to be a journalist, a foreign correspondent. I knew it wasn't the easiest thing in the world, because a lot of editors believe that foreign news generates little interest and costs a lot of money, especially if you want to follow parts of the world that are in crisis," Sala said.
As she interned in various newsrooms, she also worked freelance for newspapers, magazines and TV channels and tried to travel as much as possible. The first tough reporting trips brought her to Venezuela, Iran and Afghanistan, where she arrived right after the fall of Kabul. 
Ukraine was the first active war zone she visited, and organising a reporting trip was not simple. "When I arrived on 24 February, nobody knew if the Russians would be able to surround Kyiv or cut the Internet connection," Sala said. "The first hours, the first days were definitely the tensest. I was staying at a really beautiful hotel with a good bomb shelter. But even there were ten clients for 500 rooms, and the hotel staff was obviously saying, 'If the Russians come, if they surround us, I'm going home, I'm going to my wife, my husband, my mother, I'm not staying here to work.'"
"That stage was the most difficult," she said. "It was also maybe the moment when I showed my emotions the most in the episodes. I talked about my difficulties in travelling, in finding solutions… At one point I understood that it was safer to leave the city to sleep. If [the Russian army] managed to surround it in one night, if the hotel made us leave, I wouldn't have anywhere else to go." 
Cecilia left to sleep out of Kyiv, taking trains packed with people and arriving in villages and small towns where all the Airbnbs and the hotels were taken. So she went to sleep in a church. "This is something I talked about on the podcast," she said. "Afterwards I discovered that it caused listeners to worry, but I was doing something for my safety. I was being careful. I was leaving the most dangerous zone."
Sala went on three separate reporting trips to Ukraine, spending three weeks each time in the country, followed by a week in Italy. The first one was to Kyiv and the north of Ukraine. Then Sala went to the south, to Odesa, Mykolaiv and the border to the occupied Kherson region. There, she spoke to people who had fled Kherson and Mariupol. The third trip brought her to the Donbas after Russia refocused its efforts on the region. 
Sala is passionate about the power of audio in storytelling. She believes that it can reach beyond video in some situations, accessing places and people in ways that cameras would not. She gives the example of Chernihiv, a northern Ukrainian city that was encircled by Russian forces in the early weeks of the war. 
"I arrived on 2 April and it was a city not a single journalist had been to," she said. "It was completely isolated. There were bombings in the queues for rationed bread. People were obviously very afraid. There was no connection and no running water. This means that for weeks the toilets are the streets. It means you have rationed water and you use it to brush your teeth but not to have a shower. So if someone arrives with a camera, for the boys and girls and adults that I found there, that would have been a violation. For podcasts, you can chat using your voice notes, with an iPhone that's not filming, laid on a table. You just ask if you can press record. It's much more intimate. It creates much less of a distance than a camera pointed in someone's face."
Stories' popularity
Stories is a popular podcast and it's clear that the war in Ukraine generated a lot of interest in Sala's reporting, particularly in the first weeks and months of the invasion. And yet, there's a wide variety in the number of listens each episode receives.
Some episodes, such as those from Ukraine right after the outbreak of the war, even reached 200,000 listens in one day. A particularly popular one is Episode 64, in which Sala tracks down the 96-year-old grandfather of a Ukrainian woman living in Italy, from whom she had not heard in a month. Other episodes have a tenth of those daily listens.
When Sala first went to Ukraine, Stories held the top spot on Italian Spotify for two months straight. Since coming back, both listening numbers and places on this table have varied a lot.
There's no interaction with listeners on Spotify itself, no possibility to post comments or direct messages. This is why Sala frequently engages with her followers on social media. Around 58% of her followers on Instagram are people under 35. Those who send her messages or approach her in real life tend to be younger, and those who follow and share her episodes on Twitter tend to be older, Sala said. On those platforms, she answers comments and DMs and occasionally asks for feedback through the Instagram stories' question box feature. She listens to comments about topics listeners want to hear more about, as well as topics covered they may have been less interested in. 
The other side of social media engagement for journalists is, sadly, online abuse. For Sala, the main problem is the bots inundating the comment section on posts relating to her episodes on Ukraine. "I'd post a picture from Ukraine, even a picture of a train, and get an avalanche of comments from accounts that had as a profile picture the Nokia dolphin wallpaper from ten years ago, always zero or three or eight followers, complete fakes." 
These accounts tended to arrive all at the same time and left insulting comments under her posts. Of course, she also receives nasty comments from real people, but the surges of bot comments are what she found most disturbing.
Journalism innovation in Italy
As the Digital News Report 2022's Italy page notes, 1,500 Italian news kiosks (around 10% in the country) closed in the first six months of 2020. That in itself wouldn't be so absurd, Sala said, if it wasn't for the fact that print newspapers and news agencies are still doing most of the journalism in Italy. 
Digital journalism has yet to take off in the way it has in other European countries, and online news outlets tend to be small and assign their limited resources to newsroom desks rather than sending people out to the field. News sites like Il Post and Linkiesta have been quite successful. But most online outlets are specialised in a particular field, for example, gender issues or the environment, and don't cover topics such as justice or the economy at all.
"I hope that the closure of all the news kiosks doesn't happen before Italian newspapers succeed in having a real digital transition, one that isn't having a website and treating it really badly because you use all your best resources for paper, or having journalists who want to stay in print and get offended if you make them write an article for the website," Sala said.
If this doesn't happen, if writing for the website doesn't become more important than writing for print, then that old world will be over, she said, and the news industry in Italy needs to find a new market before that happens. Online journalism should have correspondents on the ground, just like legacy newspapers: science, justice, politics. At this stage, many online news outlets in Italy can't afford this yet, she explained.
Established journalists should also take on a different attitude, she said, and no longer resist writing for the online version of their newspaper. "It's like if a New York Times journalist said, 'No! Don't put my article online!'" she joked. Newspapers should pay much more attention to their digital products. Not just their websites but also the audio versions of their articles, which Sala said are sometimes read out by the journalists themselves in a way that makes it clear they were told to do this and aren't very happy about it.  
Podcast is a growing medium in Italy, but Sala says that a lot of podcasts are not well produced. News organisations should invest in the technical side as well as in journalism: producers, sound designers and original music lead to a better product, she said. 
Stories is only one of many popular podcasts in Italy. Il podcast di Alessandro Barbero: Lezioni e Conferenze di Storia  (Alessandro Barbero's podcast: history lessons and conferences) is an independent collection of historian and teacher Barbero's lessons. There's also Il Post's monthly podcast Indagini, which delves into well-known Italian true crime cases, and Chora's Ex Voto, which analyses past Italian elections to make sense of disillusionment in politics and low voter participation.
As the Italian media landscape further focuses on digital, opportunities to innovate and experiment emerge. Both sides have something to offer: young digital news startups may lack resources and experience covering traditional news beats, but have the necessary skills to thrive in the online world and a strong social media presence. On the other hand, the household names in Italian journalism have the funding and contacts to report widely but are struggling to move their offerings online. Italian journalism seems to be waiting for these two worlds to merge.
For Sala, the next step in Italian journalism's digital transition could be in audio: looking to the US, she likes the idea behind Audm, a subscription service owned by the New York Times that offers narrated long-form articles from the likes of The Atlantic. A similar initiative with Italian titles would "let people read, in inverted commas, in many more situations, because nobody has the time to dedicate two hours to read every morning, as maybe we would like to."