"The Harvey Weinstein story made it safer for women to speak out"
On 2 March The New York Times's Rebecca Corbett delivered the 2020 Reuters Memorial Lecture. Here's the transcript of her talk.
Rebecca Corbett, Investigations Editor at The New York Times, delivered the annual Reuters Memorial Lecture on 2 March 2020 at Lady Margaret Hall, University of Oxford. Corbett oversaw the NYT's investigations into allegations of rape and sexual abuse by Harvey Weinstein which led to a series of women telling their stories as part of the #MeToo movement. Below is a transcript of her talk.
---
Just a week ago, Harvey Weinstein was convicted of rape. The outcome of his trial was by no means a foregone conclusion: His accusers' stories were complicated, and the defense seized on those vulnerabilities, arguing that the Hollywood producer was the victim of a backlash against men. 
While allegations against Weinstein had set off a global reckoning about workplace sexual harassment and abuses in 2017, the legal case against him was a narrow one, centered on two women. 
But the trial inevitably took on a larger meaning. After the verdict was delivered, many of Weinstein's accusers reacted with relief and tears. Lawyers called it a risky, boundary-pushing prosecution that showed that the criminal justice system, which had often failed victims of sex crimes, could actually work. Women around the world declared it a victory for the #MeToo movement, and for the power of speaking out. 
I'd like to discuss how we got here. The story of Harvey Weinstein's sexual predation —he has now been accused of misconduct by more than 90 women— resulted from dogged reporting by journalists. I'd like to step back a moment to discuss how investigative journalism works, what it requires and why it is more important than ever. 
We are living in an age when journalism is under attack around the globe, sometimes costing reporters their lives. It is also an assault on the public's right to know.  The very idea of a consensus on truth is fracturing. Powerful forces — from governments to corporations to individuals — are sowing confusion and skepticism by promoting rumors, false narratives, propaganda and hate. And the brutal economics of the industry make it harder than ever to find reliable information: Newsrooms across the United States are stripped down or shutting down. Local journalism is under grave threat. Entire towns and cities get little or no scrutiny from reporters, so residents do not have basic information about what is going on in their own communities, or any accountability from their government leaders. And a rise of legal efforts - from whistle-blower prosecutions to libel suits - aims to weaken longstanding safeguards for journalists and their sources.
Watch the lecture here
Investigative reporting matters
Investigative reporting is evidence-based journalism. It is not opinion. It is not advocacy. It is not fake news. Its only purpose is to find truth, and its only power is in bringing it to light. 
That kind of journalism can be hard. It can take time. It requires a variety of information — documents, data, interviews, witness testimony, visual evidence — and editorial rigor to make a compelling journalistic case. And there is almost always one person or institution  — if not many — that does not want the story told. 
But it matters. 
Our job is not to tell people what to think, but to inform them about hidden information and actions that have consequence of public interest. Such stories can hold the powerful to account. They can bring justice. They can change lives.
As investigative journalists, we don't ask readers to just believe what we say. We offer evidence, and try to be as transparent as possible about where it comes from. 
The visual investigations team at The New York Times, for instance, proved last year that Russia had repeatedly bombed civilians at Syrian hospitals and other sites — something Russia had long been suspected of doing. The journalists did so by acquiring thousands of cockpit recordings and analyzing on the ground videos, capturing the voice of a pilot as he calmly acknowledged dropping his deadly weapons on people below. 
Another story featured secret audio recordings that had been sent to a Times reporter, capturing doctors at an American children's hospital expressing deep concerns to their bosses about heart surgery results there. Even as the doctors asked each other: "Would I have my children have surgery here?," the institution continued to send more babies and toddlers to the operating room. 
And we showed document after document laying out financial information about Donald Trump in a 14,000-word, Pulitzer Prize-winning feat of forensic reporting on how he acquired his wealth. It was an entirely different story from the one he tells about being a self-made billionaire. Instead, it showed how his father gave him hundreds of millions of dollars over his lifetime, a fortune enhanced through fraud.
Over the years, I've edited investigative stories on a wide range of subjects, from abusive workplace practices at Amazon to a global industry that killed workers as they dismantled the world's discarded ships, from police abuses to lawlessness on the high seas. Reporters I've worked with disclosed American military cover-ups of civilian deaths, Russian interference in the 2016 U.S. election and the Cambridge Analytica scandal, in partnership with The Observer and The Guardian. 
Not long after I joined The New York Times, I edited the story of the National Security Agency's warrantless wiretapping of Americans. There was extraordinary resistance from the government: the president of the United States called the publisher and the editor of The Times to the Oval Office and warned that they would have blood on their hands if the story were published. It was, and no blood was spilled. But the story changed laws, practices and attitudes about government surveillance in the West. It eventually led to the document leak by Edward Snowden, an N.S.A. contractor, and later to scrutiny of the tech industry's failure to protect vast amounts of personal data. 
Investigative stories typically start with a reporter's idea, an editor's assignment or an intriguing piece of information. The Times maintains an elaborate tip line, overseen by my department. Thousands pour in each month. We identify those that seem promising, distribute them across the newsroom and winnow them down. Some tips come in encrypted messages from anonymous people. Many arrive in emails. And a surprising number show up in brown paper envelopes.
One, for example, contained three pages of a 1995 tax return for Donald Trump, which led to the story I mentioned earlier. Another package contained a court document that led us to break the story last summer that Neil Armstrong, the first man on the moon, had died from what his family claimed was botched medical care. The hospital where he was treated had paid $6 million to keep that information quiet.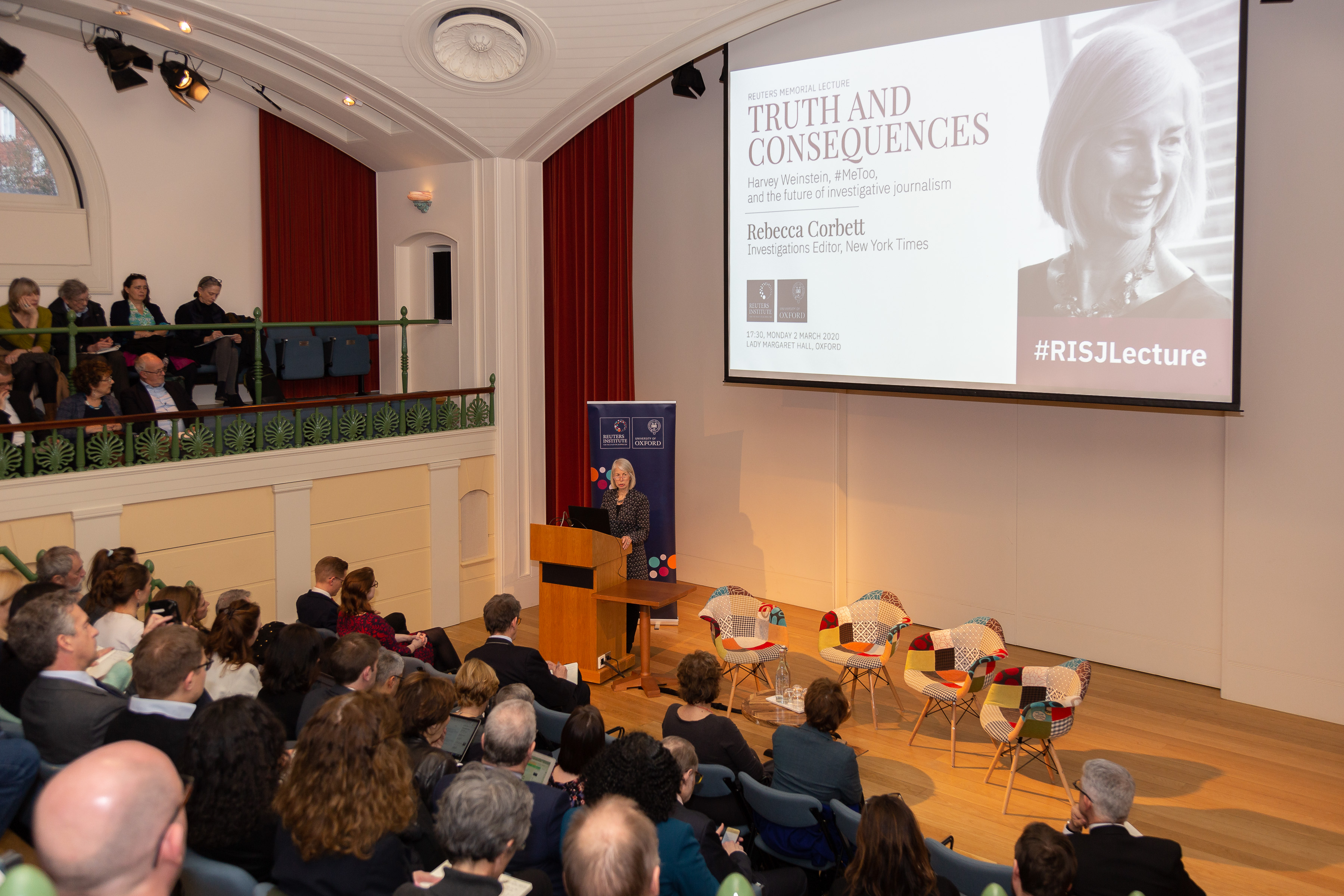 How the Weinstein story unfolded
The Weinstein story, though, did not begin with a tip. It began with a question. 
In the spring of 2017, a Times investigation revealed that Bill O'Reilly, the Fox News host, had been accused of sexually harassing women in work situations for decades, but had covered the behavior with multimillion-dollar settlements. Within weeks of the story, O'Reilly, who was cable TV's biggest star, was fired. It wasn't because Fox News was surprised by any of this: officials there knew of the payments. It was because he had become a liability. Advertisers had revolted, worried that female consumers would turn on them. Money talked. 
Soon after that, a small group of reporters and editors at The Times met, asking the question: Were there other men, in other industries, with similar secret histories of alleged misconduct? We talked about Silicon Valley, Wall Street, businesses that employed low-wage workers, like the hospitality industry or manufacturers. We also discussed men about whom there had been vague rumors. Jodi Kantor, a member of the investigations team, brought up Harvey Weinstein. She, like some others in the room, knew that several news organizations had tried to investigate the Hollywood producer, but nothing had ever come of it. 
After the session, I asked Jodi to do some initial reporting —a couple of weeks or so— to see what she could find. (Megan Twohey, who would become her reporting partner, was on maternity leave then but would join several months later.) I also asked her, if there were allegations about sexual misconduct by Weinstein, to look more broadly at Hollywood. Was there complicity by others in the entertainment industry —agents, directors, corporations that owned studios? How could Hollywood's casting-couch culture —men offering work by soliciting sexual favors from women— persist for more than a century? Beyond Hollywood, what were the systemic reasons that allowed sexual harassment to continue? 
The joy of being an editor is that you can make things happen, and there is great satisfaction in that. The sad thing about being an editor is that you spend much of your time in meetings, trapped in the office. I survive at work by living vicariously through my reporters. 
I function variously as a supporter, a strategist, a skeptic and a safety net. Editors have to push to make the story as powerful as it can be, while also pushing back to make sure the material is solid and the premise is correct. It probably helps to be a little bit obsessive as an investigative editor, though not, I hope, in a weird way. On big stories, I try to be there with reporters — sometimes literally, joining interviews with story subjects or institutions that are the reporting targets — but most often by immersing myself in the material, checking in frequently, walking over after an interview and asking: What did you just hear? 
Asking questions, in fact, is probably the most important part of the job. 
I think about investigative stories in stages, and the decision points along the way. 
First, is there a there there? Is there something to pursue? And if so, would it be of public interest? 
At the beginning of the Weinstein investigation, we had no idea whether the producer had done anything wrong. He cast himself as a champion of actresses, a Democratic Party fundraiser, a feminist who joined marches —a man considered reliable enough that Barack Obama's older daughter had worked as a summer intern at his studio. 
Jodi began reporting in May 2017, and after several weeks had nothing usable. We did a lot of strategizing about how to build trust with potential victims, how to reach out directly to actresses to avoid being blocked by their publicists, or avoid inquiring about information that the women might not have shared with those around them. We conferred on how to write emails that were intriguing but didn't scare anyone off. 
Over the next month or so, Jodi heard from three prominent actresses —Rose McGowan, Ashley Judd and Gwyneth Paltrow— about disturbing hotel room encounters they had with Weinstein. And McGowan said she had a settlement from the producer, a vital piece of information. Settlements are a way to hold perpetrators accountable and to protect victims' privacy, but they also often allowed predators to hide their histories and continue to do harm. 
None of the actresses were willing to talk on the record at that point. But if Weinstein had a pattern of sexual misconduct with women in the workplace, that would be an important story. The effort was worth pursuing. 
Second, is the story gettable? How would we go about the reporting?
Not all stories that we have good reason to believe are true can be adequately reported; sometimes the obstacles are insurmountable. Almost every investigative reporter I know is haunted by a story that got away. 
From the start, our goal was to get beyond the he-said-she-said dynamic of sexual harassment or misconduct accusations, relying on two people's conflicting versions of what usually is a private encounter with no witnesses. Such claims and denials often produced no resolution. Our intent was to apply the tools of investigative journalism to see if there had been misconduct, and to gather an array of evidence —settlement records; nondisclosure agreements; company memos; emails; interviews with victims, witnesses and other people who knew of any incidents— to document it.
"I've been waiting for 25 years"
Several months later, the contours of the story changed significantly. While calling former employees of Weinstein's two film companies, Megan and Jodi learned about a young assistant who had suddenly disappeared from Weinstein's business more than two decades earlier. After trying to contact her and getting no response, Megan decided to go to the assistant's mother's house in a New York suburb. When she arrived, the former employee was there. "I've been waiting for this knock on the door for 25 years," she said. 
Megan chatted with her for a while, but the woman would not say anything about Weinstein or why she quit. She did provide an important clue, though: Choosing her words carefully, she said she'd had a business dispute with Weinstein's company, and that it had been resolved. Megan realized that was the language of someone who'd had a settlement. That meant that the producer might have victimized his own employees, in addition to actresses. 
That set in motion an intensified effort to pursue possible victims of both sorts. Jodi went to the West Coast and to the U.K. to interview women. Both she and Megan found more current and former employees. Then they found an insider: Weinstein's longtime accountant, who eventually shared a damning memo that had circulated among the company's leadership about Weinstein's mistreatment of women. 
By then, the reporters had learned from a Weinstein adviser that the producer had reached at least eight to 12 settlements with women who claimed he'd abused them, a remarkable number. 
The third question: Is the story publishable? 
Many times with investigative stories, people who have information want the story to be told. They just don't want to be the ones helping tell it. As journalists, we often can navigate around that. But one night when Megan and Jodi presented all their evidence to me, I responded that we did not yet have a story we could publish, given the reporting gaps. 
They had done impressive work, but they would have to do more. Some women with settlements and nondisclosure agreements would not cooperate, terrified of the repercussions, including financial penalties or legal action, for breaking their silence. None of the accusers wanted to be the first to go on the record or to be the only one named in a story. Some hoped that everyone would jump in together, an impractical option since their encounters with Weinstein reached across decades and continents, and most did not know one another. And we didn't know the details of some of the settlements, including the identities of the women involved or the allegations they had made. 
Harvey Weinstein had declined to be interviewed, because we insisted that any discussion with him be on the record, which we typically require of an investigative story subject. He called The Times's publisher and the top editor to make his case, only to be told that he had to speak to the reporters and the editor. 
Meanwhile, he had been working against us. Weinstein loyalists, either current or former employees, called some of the women he suspected might be talking to journalists, bringing up old times and asking to be kept informed if reporters reached out. (One of the Weinstein callers described the Times team as "cockroach journalists.") The intent, it seemed clear to the accusers, was to intimidate. 
Only later did we learn that Weinstein and his lawyer also hired private intelligence services, including the Israeli firm Black Cube, to try to kill our story —achieving that would earn a $300,000 bonus, the contract showed. One ex-Mossad agent pretended to befriend Rose McGowan to find out what she was saying about Weinstein to reporters and in a memoir, then paint her as a liar. The same agent, posing as a women's rights advocate, contacted Jodi, on the pretext of a speaking invitation. 
We knew that Weinstein had hired a stable of advisers. In the days before publication, one of his lawyers wrote an 18-page letter threatening to sue The Times. 
Finally, how do we write the story? How do we make a persuasive case that the evidence is strong, the conclusions are justified, the story is fair? How do we take every step to get it right? 
Investigative stories are a mixture of assertions and proofs — the evidence that support a conclusion. Every word has to be fact-checked, and every assertion has to be challenged and defended. As an editor, my role is to help make stories as strong as possible, but also to question everything in them, effectively interrogating the story and excising anything that doesn't hold up. 
The reporters had gathered more information that allowed us to press toward publication, while newly aware of competition from Ronan Farrow, at The New Yorker.
A victim speaks out
We had to present the findings of our investigation, in considerable detail, of course, to Weinstein and allow him time to respond to the allegations. His career, his reputation and possibly his freedom were at risk. Not unexpectedly, it was a contentious process to the very end. All the while, the top leadership had our backs. Dean Baquet, the editor, had met with us along the way and even joined in the last call to Weinstein's team to tell them they had to get their statements to us. Our terrific First Amendment lawyer read every draft behind me. 
Just days before publication, the reporters finally got their answer to whether any of the alleged victims would go on the record for the story. All were worried about the consequences, but several said they felt a duty to speak out to protect others. Ashley Judd became the first high-profile actress to be quoted for our story,  which also named a half-dozen other women.   
As Jodi and Megan worked to write and pushed ahead on final reporting, there was another important last step. We had to vet the accusers. The purpose was to make sure nothing surprising turned up after the fact — a criminal record, previous allegations of sexual harassment or misconduct against someone else, a messy personal history. 
None of those things would necessarily be disqualifying, but they might have to be disclosed to readers lest they be later used as ammunition against them and undermine the accounts of others. The effort, the reporters explained to the women, was to protect them and the story. 
As journalists at an independent news organization, we are neither advocates nor prosecutors. We have to meet standards of fairness and pursue no specific outcome or agenda other than unearthing truth and seeking accountability. 
The impact of the investigation
The #MeToo movement, which exploded after the Weinstein story, provided a forum for women around the world to express grievance, to speak out, to expose people they claimed had done them harm. Many of those accounts were compelling, and provoked action by employers, investigations by governments, attention by reporters. But they were not acts of journalism —constrained by tough standards, including getting response from the accused— and they weren't pretending to be.
People often ask if we expected the outpouring that came after the Weinstein story ran, and subsequent stories by news outlets the world over. The answer is, of course not. The global response showed how pervasive and persistent workplace sexual harassment and abuses are. It awakened men to the fact that women they knew —wives, daughters, sisters and colleagues— had endured mistreatment so commonplace that the women didn't even talk about it. It helped provoke a broad cultural consensus that women should not have to trade sex to do their jobs. 
But how to address the problem is still very much in dispute. In many countries, women still don't dare speak out. Those who hold low-paying jobs largely say nothing has changed for them. Even in wealthy countries, the shift in attitudes vary. 
Our reporting and that of others led to a broad examination of how institutions, including the criminal justice system, had long failed to protect women in the workplace. Sexual harassment and misconduct are systemic problems and will require systemic change to be curbed. That involves everything from changes in criminal and civil laws, to limiting agreements that seal women into silence, to enforcing corporate rules on misconduct. There is robust debate about what accountability should look like. What kinds of offences merit what type of penalty? Can someone who has fallen be redeemed? 
Harvey Weinstein is awaiting sentencing, and plans to appeal the verdict. His legal troubles are not over. He faces other criminal charges in Los Angeles. Several civil cases, including one brought by Ashley Judd, are pending. And he has yet to sign a $25 million settlement of civil lawsuits brought by some of his accusers. 
Weinstein's defense lawyers argued that he was a victim of the #MeToo movement gone too far. The case was risky for the prosecution because the two women at the center of it both claimed that they had been assaulted by Weinstein but later had consensual sex with him. That type of behavior is not uncommon, according to police, prosecutors and rape experts. But prosecutors almost never bring charges in such cases, worried that juries will find that behavior bewildering. 
With their verdict, though. the jury of seven men and five women in effect agreed to cross a new frontier in sex crimes prosecution. "It's a new day," the district attorney proclaimed. 
The only journalistic verdict on the Weinstein story was one of impact. The reporting brought to light hidden harm. It provided a path to accountability. And it made it safer for women to speak out, giving the phrase "She Said" a new meaning: a chance to be heard.