Four Journalist Fellows from Australia, Denmark, Japan and South Africa join the Reuters Institute in April 2023
The global cohort will explore the future of journalism through discussions, seminars and a personal project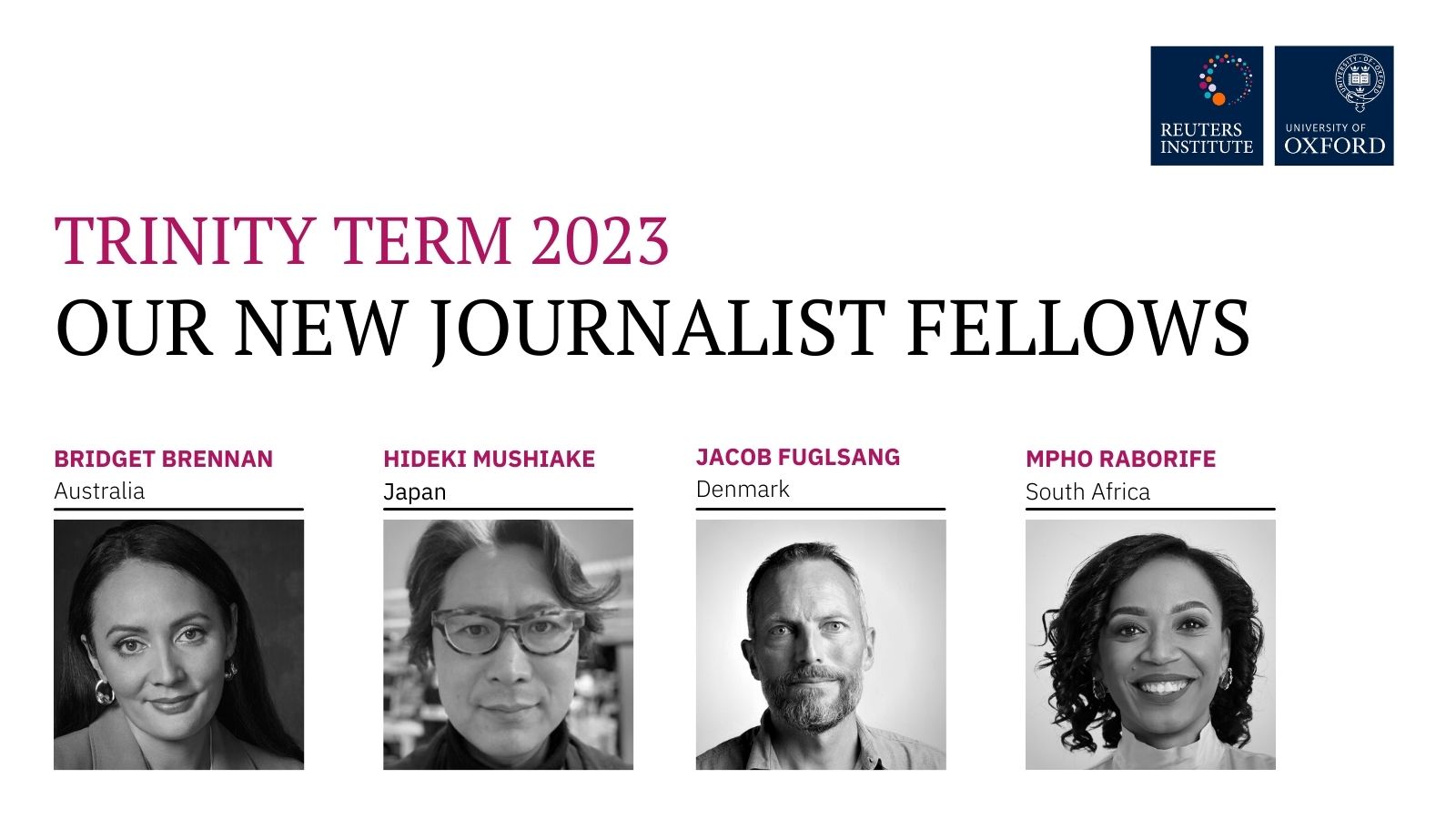 Four journalists from four countries spanning four continents have joined the Reuters Institute to join our Journalist Fellowship Programme this term. The new cohort includes reporters and editors from news websites, public broadcasters and legacy newspapers. All of them will take part in an engaging programme of activities to allow them to explore the challenges facing journalism right now.
Our new Journalist Fellows will join nine colleagues that remain in Oxford from last term and will undertake an in-depth personal project relevant to their professional interests. Projects of the Fellows joining us this term include topics such as solutions journalism, reaching young audiences, covering Indigenous peoples and digital transformation.
Jussi Latvala, Natalia Zhdanova, Abu Sayeed Asiful Islam, Ayen Bior, Fisayo Soyombo, Phillippe Watanabe, Radheshyam Jadhav, ThuThu Aung and Tarjei Leer-Salvesen stay with us from the previous term.
Read more about each of our new Journalist Fellows below:
Indigenous Affairs Editor, ABC
Australia
Sponsor: Australian Broadcasting Corporation
Bridget Brennan is Indigenous Affairs Editor at the Australian Broadcasting Corporation. She was the first Indigenous journalist to be appointed a foreign correspondent for the ABC. Recently she's been investigating the crisis of missing and murdered First Nations women.
Project topic: Building best practice to support First Nations journalists.
More on Bridget's work:
Executive Reporter, NHK
Japan
Sponsor: Japan Broadcasting Corporation (NHK)
Hideki leads science division of NHK as vice head. In 1991, he started his work as journalist in Ukraine to cover the Chernobyl disaster and has 28 years of experience as TV reporter and chief editor. His documentary programs have urged Japan to brace for pandemic and won an ABU Award.
Project topic: How can public broadcasters navigate the digital media transition? Lessons from European public broadcasters for Japan.
More on Hideki's work: 
Education Editor, Politiken
Denmark
Sponsor: Politiken
Jacob graduated at Roskilde University and is the editor of education at Politiken, the largest Danish daily newspaper.
Project topic: Solution-oriented journalism from why to how.
More on Jacob's work: 
News editor, News 24
South Africa
Sponsor: News 24
Mpho Raborife is a Managing Editor for a premium South African news site in South Africa called News24, where she manages a newsroom of more than 100 people. She is passionate about representation, transformation, young people and the future of journalism as an industry.
Project topic: In a bid to attract a Gen Z readership to their platforms, are newsrooms internally ready to accommodate Gen Z journalists who can connect more authentically to that audience?
More on Jacob's work: