News Podcasts and the Opportunities for Publishers
DOI: 10.60625/risj-dzsp-n335
This report, the most comprehensive study to-date on the growth of news podcasts, explores their prevalence worldwide, what they are offering to audiences and how publishers and platforms stand to benefit.
The number of news podcasts globally rose by almost 12,000 between January and October 2019 – an increase of around a third (32%), according to a new report from the Reuters Institute, News Podcasts and the Opportunities for Publishers, one of the first to try to categorise this emerging sector. Talk and interview shows are the most popular sub-genre within news, along with one-off narrative series, but daily news has become an increasingly important focus.
The report has identified almost 60 daily news podcasts in five countries studied (US, UK, Australia, France and Sweden) – the majority of which have launched in the last 18 months. Some of the most popular news podcasts in the United States – such as The Daily from the New York Times – are attracting audiences of millions while others are struggling in an increasingly competitive market. The report finds that publishers are making significant investments in news podcasting hoping to attract younger audiences, build habit, and bring in additional revenue. Lead author Nic Newman says news podcasting is a rare bright spot for the news industry:
"Bigger audiences, better measurement and easier access have combined to change the economics of news podcasting. In turn this is encouraging publishers to invest in creating more quality content, and platforms to invest in better distribution and monetisation, in a virtuous circle of growth."
The report finds that interest from advertisers is much higher in the United States than in other countries, where so far there has also been less investment in original (native) news content. Although listening to news podcasts does attract younger audiences these tend to be richer and better educated. Unlike radio, podcasting has not yet broken through with mainstream audiences.
News podcasting takes off following the success of The Daily
The report documents the evolution of daily news podcasts starting with The Gist (Slate) in 2014. The format of one big story pioneered by The Daily has inspired similar shows in other countries including in the UK (Today in Focus/The Guardian), Sweden (Aftonbladet Daily) and France (La Story/Les Echos and Code Source/Le Parisien).
The research identifies three sub-categories of daily news podcasts.
Micro-bulletins

with a length of between 1 and 5 minutes e.g. BBC Minute.

News round-ups

with a length of between 6 and 15 minutes e.g. Up First (NPR)

Deep dives

with a length of between 15 and 30 minutes e.g. The Daily (The New York Times)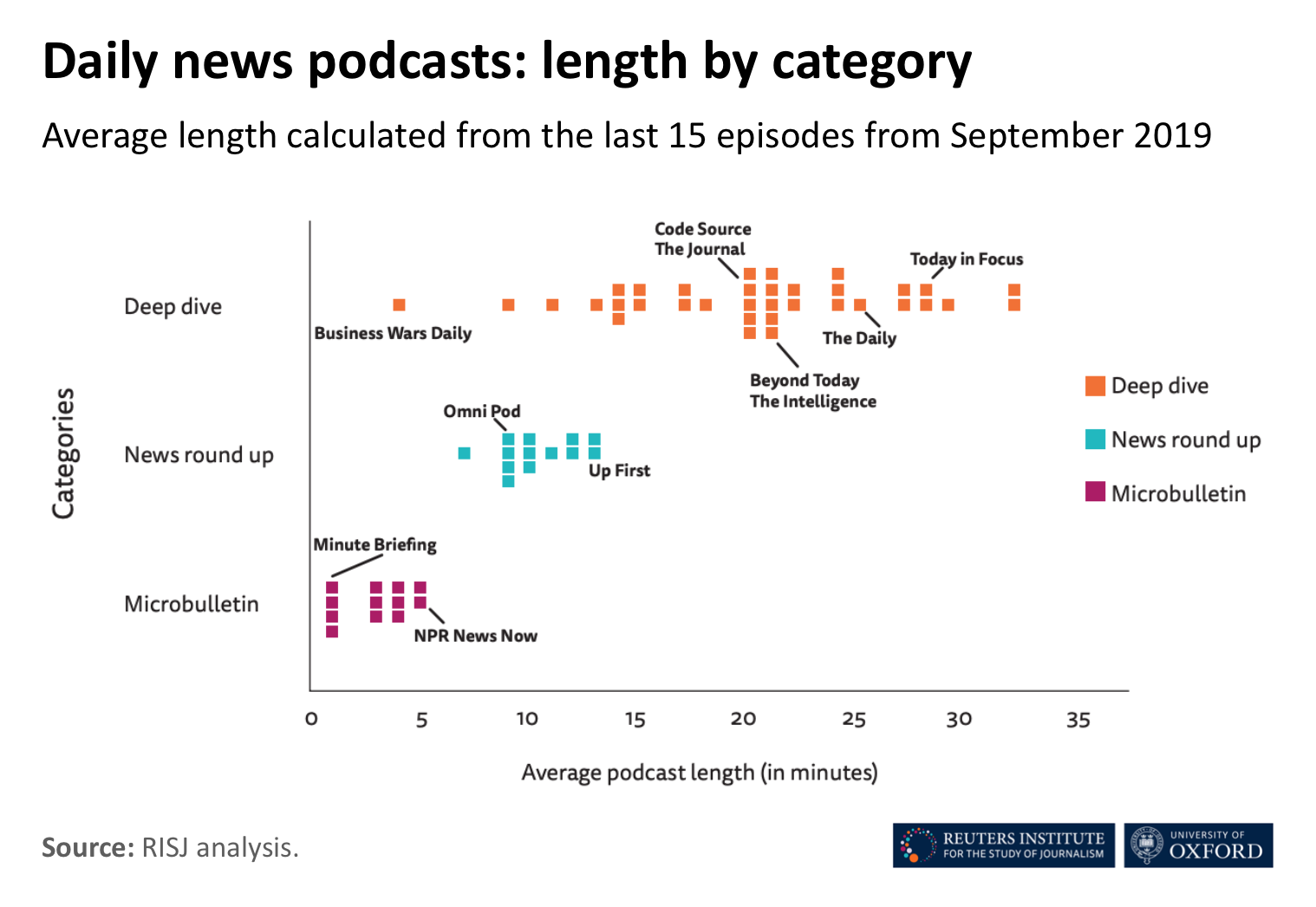 Production and editorial strategies
The New York Times employs around 15 dedicated people on The Daily. The Guardian employs ten for Today in Focus and The Economist eight. At the other end of the scale, Schwartz Media in Australia, Le Parisien, and Les Echos in France, all produce their daily podcasts with four or five – a more typical number for smaller publications starting out. The skillset tends to include one or two hosts, an executive producer, one or two producers, and a sound engineer/sound designer.
Bigger audiences, better measurement and easier access have combined to change the economics of news podcasting.
The report finds publishers from print or digital-born backgrounds focussing more on deep dives that play to their strengths in analysis and explanation. By contrast, many broadcasters have focused on producing micro-bulletins and redistributing existing radio news programmes as podcasts. Where they have commissioned digital-born or native podcasts, these have often been aimed at younger and more diverse audiences that they are finding hard to reach through linear channels.
News podcasts in the wider ecosystem
News podcasts make up a small proportion (6%) of the 770,000 existing podcasts, as categorised by Apple, but the general appeal and stickiness of news content means that the category outperforms other types of content in terms of consumption. News makes up around a fifth (21%) of the most popular episodes in the United States Apple charts according to the analytics company Chartable. It is a similar picture in other countries, with a third (34%) of the top podcast episodes in France categorised as news, just under a fifth in Sweden (18%), Australia (18%), and the United Kingdom (16%).  Across all genres, the number of new podcasts is growing at a rate of more than 200,000 a year, though this rate has started to slow a little.
Future prospects
The report documents how new platforms are shaking up the podcast market, bringing new ideas and extra investment. Apple still accounts for the majority of podcast use but music services are helping to popularise content with Spotify doubling its market share in the last year. A number of podcast specific paid content providers are commissioning original content and offering significant sums for the production of exclusive content. This is opening up new opportunities for publishers around comedy, sport, lifestyle, and high-quality narrative series. Co-author Nathan Gallo notes:
"In the United States, new platforms like Luminary and Stitcher Premium are trying to build a new business model based on premium subscriptions while in Europe, we are seeing the emergence of new services like Majelan and Sybel in France, or Podimo in Denmark. All these actors have the ambition to become the 'Netflix of podcasting'  as they invest in original audio content and try to bring podcasting to a wider public."
But the growing influence of tech companies and other intermediaries is bringing familiar challenges. Many publishers fear that they could be helping platforms build profitable businesses on the back of their content. Others worry that they could lose their direct relationship with audiences, including first-party data, as platforms take the credit for content. Public broadcasters in particular are trying to develop their own destinations for audio content and a number have started to publish first in their own platforms or are withholding content altogether from third parties.
The report concludes that there is still significant room for growth with voice-driven interfaces promising to make it easier to access on-demand audio in the home and on the move. But the scale of the opportunity remains unclear for publishers with revenue still relatively modest and increasing competition from platforms and independent producers.
Published by the Reuters Institute for the Study of Journalism with the support of the Google News Initiative.


This report can be reproduced under the Creative Commons licence CC BY.  For more information please go to this link.