Third-Party Web Content on EU News Sites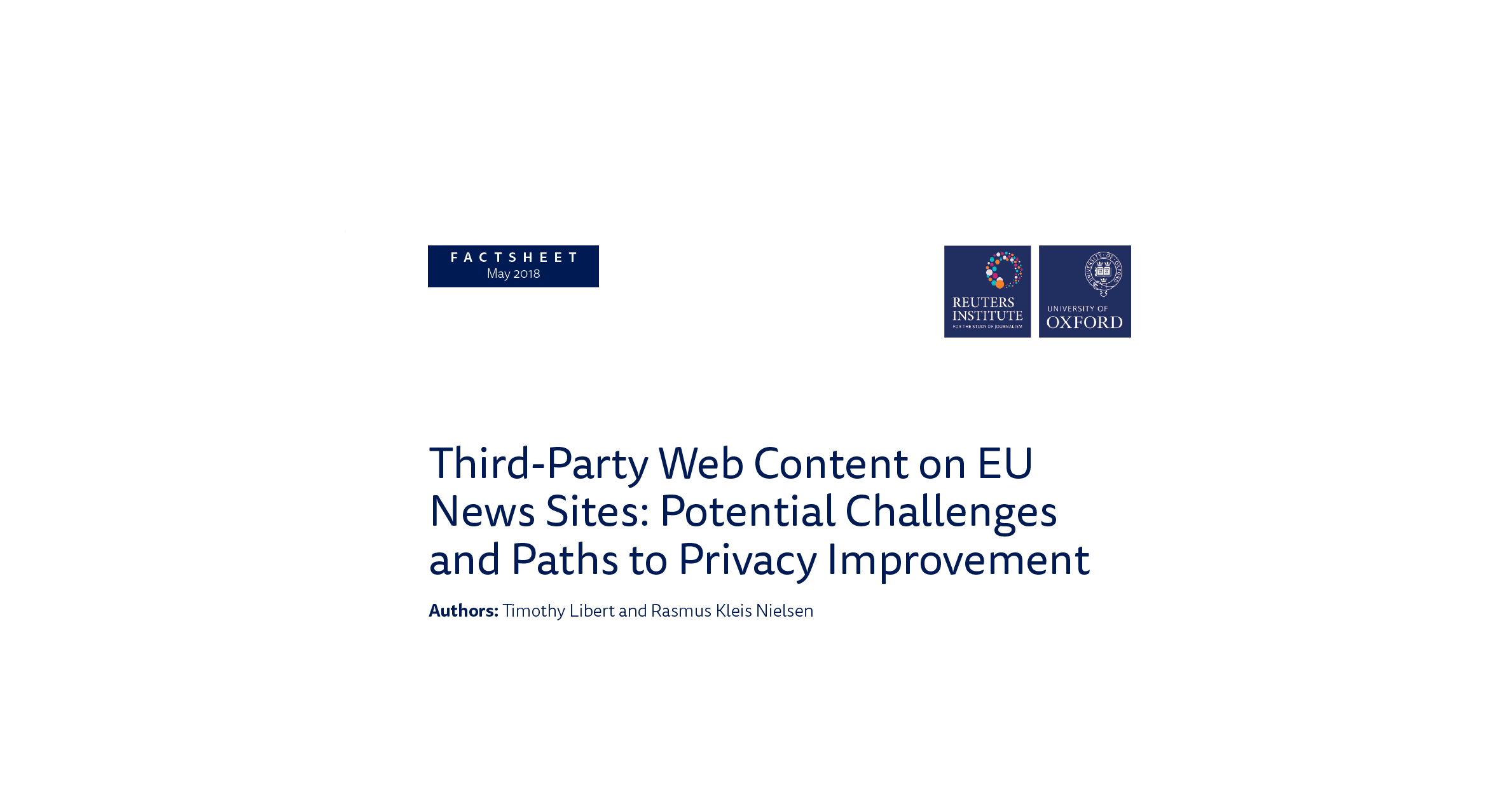 The introduction of the new European Union General Data Protection Regulation (GDPR) has brought issues of online privacy to the forefront of debates over the future of journalism.  For this factsheet we examine third-party content found on both news and popular websites in seven EU countries (Finland, France, Germany, Italy, Poland, Spain and the UK). The factsheet identifies a range of urgent data protection, transparency and privacy issues facing news sites and how they can be addressed as the GDPR regulation comes into force on May 25th 2018.  
We find that:
Third-party content is present on the vast majority of websites and is especially prevalent on news sites.

The amount of third-party content on news sites varies by country.

News sites have many third-party cookies on each page, ranging from an average of 90 per page on UK news sites to an average of 42 per page in Italy.

Among sites that have some form of advertising and marketing content, news sites have 17 different domains per page, compared with four on popular sites.

For many news sites, advertising income from third-party marketing content is an essential source of revenue, and those sites that are most reliant on advertising contain the most third-party content and cookies, whilst non-reliant sites have the least.

US technology companies have third-party content on most of the pages analysed.
We conclude that news sites are deeply intertwined with a wider digital advertising and media ecosystem that involves data collection and sharing with numerous third-parties, sometimes without disclosing this to users. Some of the practices documented here are in potential conflict with the impending GDPR, and, it is clear that bringing online marketing practices in line with the GDPR will in most cases require at the very least tackling issues of user consent to the collection, sharing and processing of personal information.
Published by the Reuters Institute for the Study of Journalism.

This report can be reproduced under the Creative Commons licence CC BY.  For more information please go to this link.