Not just Shireen: how Israel has attacked journalists and newsrooms in Palestine
"This was not a one-time incident. Palestinian journalists have long been subjected to arrests and attacks," Haya Abushkhaidem writes
11 May 2022 was a day that will forever be etched in my memory. It was about six in the morning when I woke up to the ringing of my phone. Struggling to open my eyes and scrabbling under my pillow, a slight sense of uneasiness suddenly arose within me. When I finally glanced at the screen, I read a text message from a friend in Palestine, "Are you okay, Haya? May her soul rest in peace. All our hearts are broken".
I jumped out of bed in a panic, my heart pounding and my hands shaking as I typed my response, "Who died?"   
Shireen Abu Akleh had been killed.  
Shireen was not a family member and I hadn't known her or worked with her in real life. But my friends knew very well what she meant to me. Like most Palestinians my age, I grew up watching her on TV. When I was too distressed to watch anything but the news during the gloomy years of the Second Intifada, Shireen was present in every household. She was the brave voice that exposed to the world the horror stories of our life in Palestine. Her courage and composure filled us with a sense of serenity despite the chaos in which we lived. She was a superhuman and a true role model that an entire generation looked up to, and one of the reasons why I found my purpose in journalism.  
To the last moment of her life, Shireen fulfilled her duty to report from the ground. Wearing her press blue protective vest and helmet, she was preparing to report on an Israeli raid on the West Bank city of Jenin when an Israeli sniper fired a bullet into her face, killing her instantly.  
Shireen's murder provoked outrage throughout Palestine. The pain of her loss was collective. All Palestinians, regardless of religion or political affiliation, mourned her together in a funeral described as the longest in contemporary Palestinian history. Palestinian mourners were attacked by Israeli forces as they tried to bring her coffin out of the hospital. It was a scene that took the world by a shock.  
The same scene was repeated a few weeks later. On 1 June Israeli forces killed Palestinian journalist Ghofran Warasna on her first day at a local radio station. They attacked her funeral too.
The Israeli government has refused to take responsibility for Shireen's murder and has been changing its version of what happened, suggesting first that Palestinians killed her and then saying it wouldn't investigate the murder. Video footage and recent reports from CNN and the New York Times prove that the bullet that killed Shireen was fired from the approximate position of an Israeli military vehicle and suggest it was an Israeli soldier who killed her.
Not an isolated case
Despite the trauma Palestinians endured as a result of Shireen's murder, this was not a one-time incident. According to RSF, at least 30 journalists have been killed by the Israeli security forces since 2000. Some of these journalists were foreigners, including Italian AP journalist Simone Camilli and British cameraman and filmmaker James Miller. But most of them were Palestinian like Shireen. 
In addition to assassinations, Palestinian journalists have long been subjected to various forms of human rights violations by the Israeli government, such as arrests, destruction of equipment and physical attacks.  
According to MADA, the Palestinian Center for Development and Media Freedom, violations against Palestinian journalists more than tripled over the past decade. At its 2021 annual report, MADA documented 368 Israeli violations against Palestinian journalists in 2021 alone. A report from the International Federation of Journalists (IFJ) states that the violations are "a clear attempt by Israel to silence media reporting on the ground" and that "no one has been held to account".  
A reporter shot in the face
Three years before the attack on Shireen, Palestinian photojournalist Moath Amarneh was shot in the face by Israeli forces in 2019. Unlike Shireen, he miraculously survived. Amarneh, a refugee living in the Duheisha Refugee Camp in Bethlehem, went to Surif, a town in the southern West Bank, to cover a demonstration on 11 November 2019. He didn't know that day would change his life forever.
"It was the most intense time of my 13-year career," Amarneh told me. "I knew something was going to happen because I heard the Israeli commander speaking in Hebrew and giving the green light."  
Amarneh was wearing his helmet and a blue bulletproof vest vividly labelled as press. Thinking that he and his colleagues on the ground were being targeted by the Israeli soldiers, he hid behind a wall to protect the lower part of his body that the vest did not cover. He never thought the bullet would be directed towards his face.  
"The moment I got shot, I knelt down trying to process what had just happened," he told me. Aware that a bullet had entered his head through his eye, he found it hard to comprehend that it had not killed him. "I was trying to figure out whether I was alive or dead, whether I was awake or dreaming. In that moment, my whole life appeared before me, I thought about my mother, my wife and my children, while I was surrendering to death," he said.  
When asked about the incident back in 2019 by the Committee to Protect Journalists, the Israeli Defence Forces didn't respond.
Miraculously, the bullet was lodged in his head only 1 mm from Amarneh's brain. His left eye, however, was lost. For a photojournalist, it was a challenge to hold his camera again and train to use it with a single eye. Activists and journalists around the world launched an online campaign in 2019 to support him. They posted photos of themselves covering one eye with their hands under the hashtag #كلنا_معاذ (#WeareMoath in English).
Stripped to their underwear
Amarneh's colleague and former Reuters cameraman Mamoun Wazwaz suffered another Israeli attack. It happened in 2012 when he and his colleagues went to report on a Palestinian boy who had been killed by Israeli soldiers while playing with a toy gun on his birthday in southern Hebron. "As soon as we arrived in the area," he said, "they immediately forced us out of the cars and brutally beat us up and shot in the air just to scare us." 
It was a dark, cold December night in Hebron. Israeli soldiers stripped the journalists down to their underwear, held them in a circle and threw a teargas bomb in the middle of that circle. "As we ran away, they threw more and more teargas bombs at us," Wazwaz said. "I was terrified and suffocating. I thought I was going to die."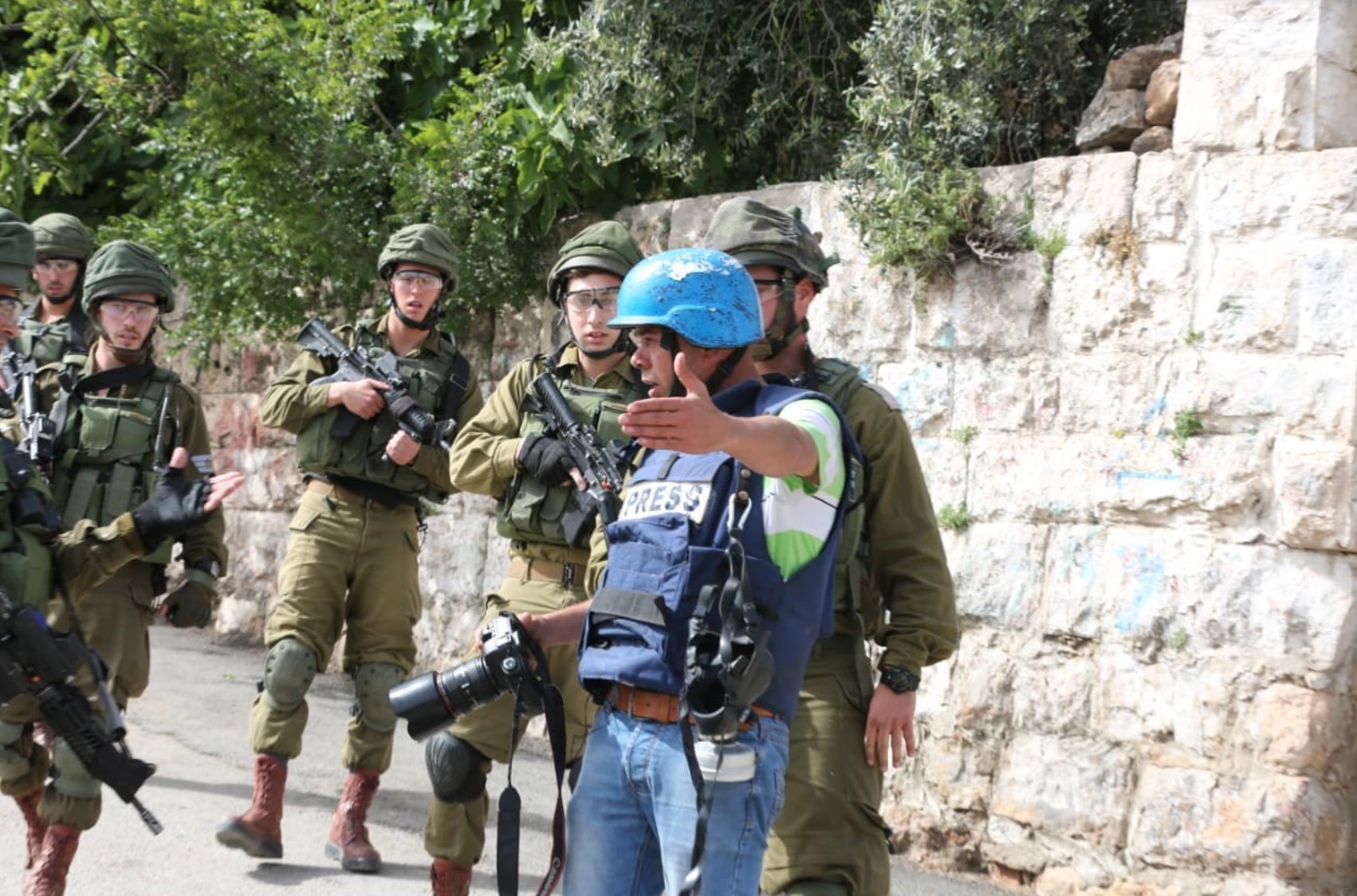 Wazwaz filed a complaint with an Israeli court through Reuters, but so far no one has been held accountable. He hasn't been offered any compensation, not even an apology for what happened to him.  
Israeli soldiers assaulted and shot Wazwaz several times with rubber bullets in his legs and his arms. They confiscated his equipment and arrested him multiple times. He thinks it was part of a strategy to prevent journalists from covering the events that shall expose the Israeli occupation crimes. 
"We deplore the mistreatment of our journalists and have registered our extreme dismay with the Israeli military authorities," said Stephen Adler, then editor-in-chief of Reuters, right after the attack. The Israeli army said it would open an investigation with no results. According to a report published in May 2022 by Israeli human rights group Yesh Din, only 2% of abuse complaints filed against Israeli soldiers lead to any criminal prosecution. According to this recent piece by AFP, Israel's record of accountability in these cases is dismal.
MADA's 2021 report says that the Israeli government has arrested at least 248 journalists over the course of the past decade. Some of these arrests and detentions were accompanied by severe attacks.  
The report also considers administrative detention (imprisonment without charge or trial) as one of the most dangerous types of detention for journalists and press freedom. According a piece published by RSF, for example, 13 Palestinian journalists were held administratively in Israeli jails in May 2021.   
One of the most famous stories from 2021 was the arrest of Al-Kofiya TV correspondent Zeina Al-Halawani by the Israeli police. Al-Halawani was arrested in Jerusalem along with her colleague, photojournalist Wahbi Makiya. Both of them were beaten during the arrest, while covering events in the Sheikh Jarrah neighbourhood, where an uprising sparked as Palestinians protested the Israeli forced displacement of Palestinians from their homes in Jerusalem. Both journalists were released after three days. Both were placed under 30 days of house confinement and issued a fine of 200 NIS (around $60). 
Destroying social life  
The violations not only affect the careers of Palestinian journalists. They also extend to destroy their social lives. Israel banned Palestinian journalist Majdoleen Hassouneh from leaving the country, a decision that turned her life upside down. 
Hassouneh, a successful and award-winning journalist with 14 years of experience in investigative journalism, has always excelled in her work. Fearless to touch on sensitive issues that expose both Israeli war crimes and human rights violations as well as Palestinian Authority corruption, she became a target for both. 
Her work has led to numerous arrests and interrogations, making her work with local media almost impossible. In 2015, Hassouneh began working for the Turkish news agency Al-Anadolu in Turkey, where she met Mohammad, who is now her husband, and planned to build a new life with him. 
In 2019, Hassouneh returned to Palestine to celebrate her engagement to Mohammad with her family and friends. When she attempted to travel back to Turkey, she was told that she was barred from leaving the country by Israeli intelligence. They didn't reveal why. 
This devastating decision left her with only one option: to stay in the West Bank and leave the life she had built in Turkey: her house, her university, where she had started pursuing a master's degree at, and even her clothes and belongings.  
Her husband, who is a Palestinian citizen of Israel, hasn't been granted family reunification so she can move in with him to Baqa al-Gharbiyye- She hasn't been granted an entry permit to Israel either, causing hardship for a couple who can't live together in the same home.  
In 2021, Hassouneh won the RSF Press Freedom Award, but again was unable to travel to receive it.  "I am imprisoned," she said. "Only this prison is bigger and has no walls. I can't move in with Mohammad in Baqa Al-Gharbiyye, and I can't travel anywhere else where we can live together." 
In addition to the Israeli restrictions, she told me that the Palestinian Authority has summoned her for interrogation several times, assaulted her during protests, and imprisoned her brothers in attempts to silence her. Despite all the pressure and attacks she faces, she and her husband continue to work and fight for their right to press freedom. 
Targeting newsrooms
Palestinian news organisations have been subjected to closure or complete destructions by Israel, resulting in the loss of financial resources and jobs. According to MADA, 31 news organisations were either closed or destroyed by Israel in 2021, 30 of them during the latest Israeli attack on Gaza in May 2021. Some were hit at the attack on the Al-Jalaa Tower, which housed the offices of AP and Al Jazeera and which was completely destroyed.  
In Hebron, photojournalist Shurooq Sharif, managing director of Al-Hurriyya Radio, told me that the radio office has been destroyed four times by Israeli forces since 2002. She recalls that the most difficult time was in 2018. They arrested the journalists and attacked them, confiscating all their equipment including their personal mobile phones under the pretext that the radio mobilises Palestinians in the streets. 
Shurooq and her husband, the founder of the radio station, decided to name the station Al-Huriyya, which means "freedom" in Arabic. They fought for their right to report freely, "a right that is constantly suppressed by the occupation, which tries to silence our voices," she said.
Despite everything the Israeli regime does to silence Palestinian voices, journalism is more a duty to deliver our stories to the world than simply a profession. Palestinian journalists who pay the price for their work are still fighting for their right to report freely and continue to work on the ground. 
Haya Abushkahidem was a Journalist Fellow of the Reuters Institute from January to June 2022. She is a Palestinian freelance reporter and producer with more than six years of professional experience working for well-known local and regional organisations and news outlets, such as Palestine News Network, 10Mojo, and Middle East Eye.