To make climate change resonate with audiences, connect it to heritage and culture
Stories that touch on our identities convey the toll of climate change in new ways, argues Lameez Omarjee, from South Africa's News24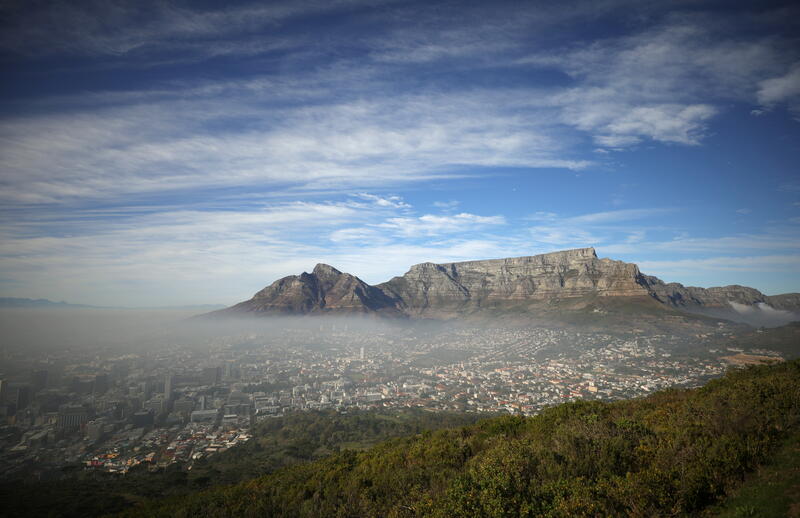 "Find something that people care about and explain to them why climate change is going to put that at risk." 
This was the advice South African climate scientist Nicholas Simpson shared with me in October 2022, during an interview about how climate change threatens the loss of world heritage sites in South Africa's national parks. 
Simpson is one of the authors of a February 2022 research paper that showed that by 2050, if we keep climate emissions unchecked, nearly 200 heritage sites in Africa could be exposed to extreme events such as flooding and erosion: from the Tipasa ruins in Algeria to the ruins of the fishing village Curral Velho in Cabo Verde.  
"To lose all of that heritage would be losing a lot of our memory, our identity and who we are, going forward," Simpson said. 
I knew that would be an important quote to include in my article, because it linked something people care about—their heritage—to the climate crisis. 
Since I started working as a sustainability reporter for South Africa's largest news site, News24, I've been trying to communicate the links between climate change and the experiences of our audience so that it seems less abstract and distant.
The Reuters Institute's 2022 Digital News Report showed that less than 50% of audiences surveyed in South Africa, Kenya and Nigeria are interested in climate change as a news topic. The same report concluded that it's harder to engage audiences globally in the science behind climate change, especially given other daily challenges they're facing.  
But climate change is already affecting so many Africans, and exacerbating existing challenges, even though the continent is responsible for less than 4% of global emissions. Earlier this year, Cyclone Freddy struck the southern coast of the continent twice, with the death toll in Malawi, Mozambique and Madagascar exceeding 500 people. 
Losing heritage and cultural sites to climate change is also part of the toll. In some cases, it is a practical loss—of livelihoods for local communities that would have benefited from tourism. In others, it is an emotional loss, one of identity and the stories of generations that came before us that make us the people we are today. 
As a person of colour growing up in South Africa, I and many others had parts of our heritage taken away by the apartheid regime. My parents and grandparents had their identity dictated to them, based on the colour of their skin. Entire communities were displaced and their cultural backgrounds diluted because of oppression. There are now parts of my family tree, my heritage, that are missing. I carry that loss now, and I wouldn't want others and future generations to experience the same thing, especially if it can be avoided with meaningful action to limit climate impacts. 
To tell these stories, I've relied on not just personal stories but on emerging scientific research. That includes a separate September 2022 study about climate impacts on heritage sites within South Africa's Table Mountain, Mapungubwe and Kruger national parks. The results of the study indicate that heritage sites in all three parks have a high vulnerability to climate-related events.  
Mapungubwe National Park is located in northern South Africa on the borders of Botswana and Zimbabwe. It is known for its cultural significance and remnants of an ancient civilisation, trade and development, as is the Thulamela ruins, located in the Kruger National Park, in the same region. These heritage sites are vulnerable to floods and extreme heat that could damage ancient structures, or wash away undiscovered artefacts and fade rock art. 
As for Table Mountain, in the south-western region of the country, its "natural" heritage such as indigenous plant life is at risk of extinction due to the impacts of drought and warming temperatures. 
I also reached out to scientists I knew who could recommend other researchers with interest in the topic, which is how I found Simpson, a senior advisor to the Africa Climate Mobility Initiative—a global partnership of the United Nations, World Bank, and the African Union to address climate-forced displacement and migration on the African continent. 
Some of this research may have on-the-ground impact. The August 2022 study was approved by the SANParks—the South African government agency which manages national parks—and will hopefully guide their actions to protect Table Mountain, Mapungubwe and the Kruger. 
Not everyone spends their days trawling through journal articles to learn about climate change. But journalists can build bridges between science and people.
Our storytelling can give these research papers legs so the message of the reality of climate change can reach audiences far and wide.