The journalists we lost in Ukraine
We remember the work of the brave and talented journalists who lost their lives while documenting the Russian invasion
This piece remembers the journalists killed while doing their job during the war in Ukraine. They were reporting, filming and photographing the events of the invasion. They were war correspondents, local producers, photojournalists and videojournalists. Here are brief profiles of these journalists, with links to their work before and during the war.
Arman Soldin
French journalist Arman Soldin was killed in a rocket attack in Chasiv Yar, near the embattled city of Bakhmut, on 9 May 2023. Soldin, who worked for Agence France-Presse (AFP), came under fire with his team while they were with a group of Ukrainian soldiers and was killed when a rocket struck close to him, according to AFP.
We are devastated to learn of the death of AFP video journalist Arman Soldin in eastern Ukraine today.

All of our thoughts go out to his family and loved ones. pic.twitter.com/T2y449o1Ry

— AFP News Agency (@AFP) May 9, 2023
"He was a real on-the-ground reporter, always ready to work even in the most difficult places," AFP's Europe Director Christine Buhagiar said. "He was totally devoted to his craft."
Arman was the kind of guy who saved hurt hedgehogs in war zones. He was an incredible and vibrant personality and a great journalist. We miss him. We are mourning him. Rest in peace https://t.co/96sXE2xrzM

— Jonathan Brown (@jonathaneebrown) May 9, 2023
Soldin, a French national with Bosnian origins, had recently celebrated his 32nd birthday, on March 21, in Ukraine. Born in Sarajevo, he had been evacuated to France aged one due to the outbreak of the Bosnian war. "Stories about refugees affect me," he had told AFP in a blog interview last year.
Soldin had worked for AFP since joining as an intern in Rome in 2015 and then going on to work for the agency in London as a video coordinator.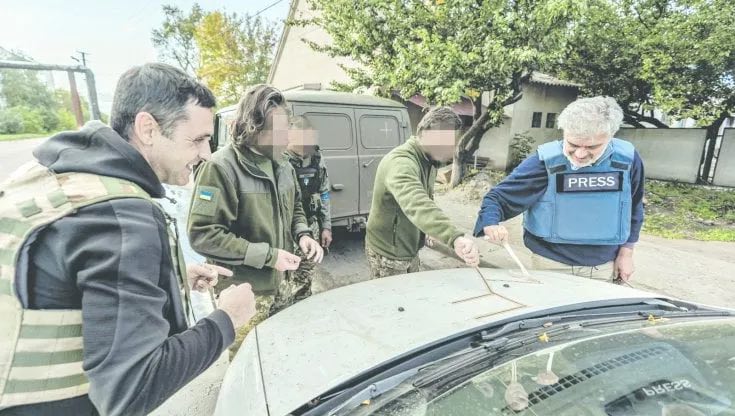 Bogdan Bitik
Ukrainian journalist Bogdan Bitik was shot dead by Russian snipers near a bridge in the Kherson region on 26 April 2023. At the time when he was shot, Bitik was working as a field producer for Italian reporter Corrado Zunino, who was also shot and survived the attack. According to Italian newspaper La Repubblica, the outlet they were working for, both journalists were wearing bulletproof vests with "Press" written on them.
Bitik and Zunino were targeted near the Antonivskyi bridge that crosses the Dnipro river near the Southern city of Kherson. The city was reconquered by Ukrainian forces back in November after being occupied by the Russian army in the spring of 2022.  
In viaggio da Kherson verso Odessa. Sto bene, ho una ferita alla spalla destra, sfiorata dal proiettile che ha centrato il mio grande amico Bogdan. Credo sia morto, all'inizio del Ponte di Kherson. Un dolore infinito. Avevo il giubbotto con la scritta Press.

— Corrado Zunino (@corzunino) April 26, 2023
"I'm fine. But I'm sad to have lost a friend," Zunino said. "I went on five missions with Bogdan. I've known him since I first arrived in Ukraine. He had returned to Ukraine from Indonesia where he has a wife and a son. I have just spoken to his wife. They are all extraordinary, kind and generous people," Zunino said during an interview with Radio Capital.
Bogdan, whose dream was to go back to Indonesia to work as a kite-surf instructor, is survived by his wife Sofia and a 22-year-old son. 
Zunino explained they were both on the Ukrainian side of the bridge when they were shot. "I felt my shoulder burn," he said. "I only heard a whistle. The same bullet that grazed my shoulder hit Bogdan. He was only a metre away. Bogdan fell to the ground without a moan. I turned around to see if he was following me, but he didn't move. At that moment, I fell and got three small wounds. Then we hear another shot."
"I had a blue vest with 'PRESS' written in big letters and the two Ukrainian soldiers who told us to leave understood we were journalists," Zunino said. "But the Russians shoot at everything. They opened fire on doctors and now on the press. We have never exposed ourselves to gratuitous risks. There was no war atmosphere. It was silent on that bridge, but now I'm in a military hospital."
Frédéric Leclerc-Imhoff
French journalist Frédéric Leclerc-Imhoff was killed after an evacuation car was hit on 30 May 2022. He died near Sievierodonetsk, one of the last Ukrainian-held cities in the country's eastern Luhansk region and the focus of heavy fighting in late May. According to French newspaper Le Parisien, he was 32 years old.
Leclerc-Imhoff worked for French cable channel BFM TV and also freelanced as a videographer, editor and reporter. As well as BFM TV, he'd also worked for FranceTV as an image reporter, covering news, politics, social issues and climate for the TV channels. Between 2014 and 2018, Leclerc-Imhoff worked as an editor at production company Agence CAPA, where he edited short and long-form video, including documentaries.
According to Luhansk's regional governnor Serhiy Gaidai, as quoted by the Guardian, Leclerc-Imhoff was covering the civilian evacuation of Sievierodonetsk when the armoured evacuation vehicle he was in came under attack. Gaidai said that Leclerc-Imhoff suffered a fatal neck wound from shrapnel that pierced the car.
French President Emmanuel Macron tweeted: "Journalist Frédéric Leclerc-Imhoff was in Ukraine to show the reality of war. On board of a humanitarian bus, at the side of civilians forced to flee to escape Russian bombs, he was fatally struck."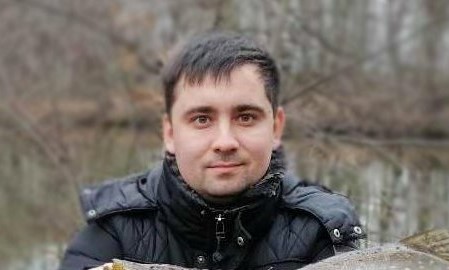 Roman Nezhyborets
Ukrainian film technician Roman Nezhyborets was found dead in a grave in Yahidne, a village in northern Ukraine, on 6 April 2022.
Nezhyborets worked as a video editor in Chernihiv for the privately owned TV broadcaster Dytynets until the start of the invasion. On February 24, he left the city for Yahidne with his family. According to local sources, he attempted to hide evidence of his work with Dytynets and called his mother to ask that friends and colleagues remove him from group chats. Dytynets director Tatyana Zdor told CPJ that Russian troops caught Nezhyborets talking on the phone with his mother on 5 March and took him away. His family believes he died between March 5 and March 9. According to Zdor and Dytynets, Nezhyborets' body was found with gunshot wounds to his knees and his hands tied.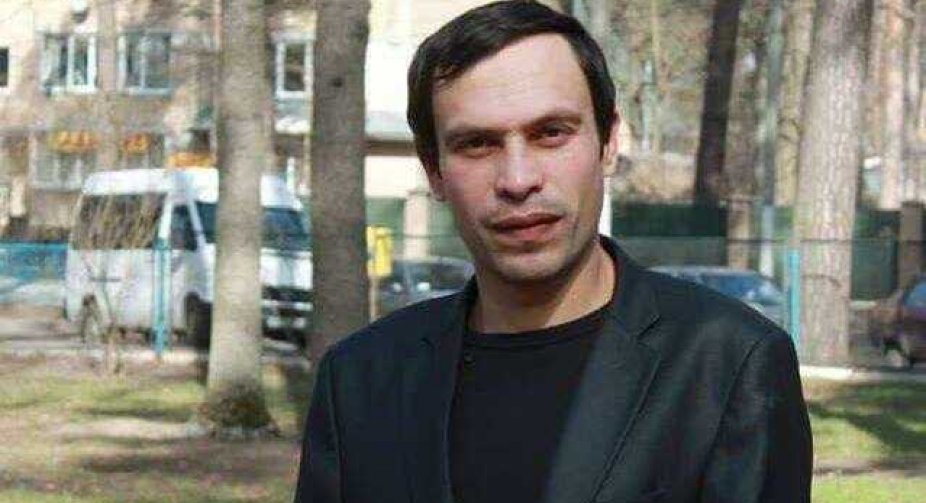 Zoreslav Zamoysky
Zoreslav Zamoysky was a Ukrainian freelance journalist. He was found dead on a street in Bucha in early April 2022.
Zamoysky covered the activities of local authorities in the region around Bucha and Irpin for the news website Hromada Priirpinnya and other outlets, the site's founder Iryna Fedorov said. He also documented his experiences of the war on his Facebook page. Zamoysky's last post was published on 4 March. The commuter town of Bucha has become synonymous with atrocities against civilians as evidence of widespread brutality and killings by the Russian army is uncovered after its withdrawal away from the Kyiv region. 
"We are profoundly saddened by the deaths of journalists Roman Nezhyborets and Zoreslav Zamoysky in #Ukraine, and call on Ukrainian authorities to promptly investigate and determine whether they were killed in retaliation for their work." @gulnozas https://t.co/wXCGjqph1E

— Committee to Protect Journalists (@pressfreedom) April 13, 2022
Mantas Kvedaravičius
Lithuanian documentary filmmaker, anthropologist and archeologist Mantas Kvedaravičius was killed in Mariupol on 2 April 2022, according to the Ukrainian Defence Ministry. He leaves behind his wife and two children. Kvedaravičius was 45.
While trying to leave #Mariupol, the ?? occupiers killed Lithuanian director Mantas Kvedaravičius, who is the author of the documentary Mariupolis.
RIP #StopRussia #RussianWarCrimes pic.twitter.com/5EfZ9jEWQU

— ArmyInform (@armyinformcomua) April 2, 2022
He was well-known for directing "Mariupolis", a 2016 documentary about daily life amid conflict in Mariupol, as eastern Ukraine witnessed fighting between Russian-backed separatists and national forces. Kvedaravičius had returned to Mariupol shortly after the 2022 invasion began and was directing a second documentary about the city when he was killed. Mariupol has now been under siege by Russian forces for several weeks. Ukrainian president Volodymyr Zelensky said he believes tens of thousands of people have died there since the beginning of the all-out invasion on February 24. 
Kvedaravičius was born on 23 June 1976 in what is now Lithuania. He held a PhD in social anthropology from the University of Cambridge and was an associate professor at Vilnius University.  Among his most-celebrated films is "Barzakh", a documentary covertly filmed in Chechnya after an 8-year insurgency in the early 2000s was brutally crushed by Russia. The film won the Amnesty International Film Prize in 2011. Kvedaravičius had recently expanded into fiction, with his first fiction feature, "Parthenon", premiering in 2019. Before returning to Ukraine, Kvedaravičius had been shooting a new fiction feature film in Uganda.
Speaking about "Barzakh," Germany's deputy secretary general of Amnesty International, Julia Duchrow, said: "Mantas Kvedaravičius has shown great courage for this: The film was shot without permission and at great personal risk. This courage, this unconditional will to show human rights violations and make them accessible to the public, distinguished Mantas Kvedaravičius."
Producer Giedre Zickyte said: "Some people in their grief are asking why Mantas went back. Knowing Mantas and how he was connected to his characters, and his great, true soul, I imagine he couldn't stay away from this tragedy. Mariupol was so dear to him. He was never afraid of anything. He would always go wherever he felt he needed to go, and now we've lost him."
Maks Levin
Ukrainian photojournalist and documentary filmmaker Maks Levin was found dead in the Kyiv region on 1 April 2022. He had gone missing on 13 March while documenting hostilities near the village of Huta-Mezhyhirska. Levin leaves behind his partner, 4 children and elderly parents. He was 41. 
A few days before he went missing, Levin's ex-wife Inna Varenytsia told the Committee to Protect Journalists that Ukrainian forces had granted him permission to report from that area. She said his phone last appeared online at 11:23 a.m. on the day he disappeared. Soldiers with the Russian 106th Airborne Division were fighting in the area at that time. 
Levin was born on 7 July 7 1981 in the Kyiv region. He studied computer engineering, but he dreamed of becoming a photographer from the age of 15. He worked for Ukrainian news site LB.ua. and collaborated with Reuters, BBC and the Associated Press. His pictures have been published by global news outlets such as the Wall Street Journal, TIME and Radio Liberty (RFE/RL). In addition of his journalistic work, Levin created dozens of photo and video projects for humanitarian organisations like WHO, UNICEF, OSCE and UN Women.
Levin first came to conflict photography during the Maidan Revolution in 2013, and he went on to cover the annexation of Crimea and the occupation of the Donbass region.
"I never wanted to be a war photographer," he said in an interview with Anna Akage for the website LensCulture. "When the war in Georgia started, lots of famous war photographers from Ukraine and Russia rushed over there to make stories. But I thought, 'That has nothing to do with me, why should I go there and risk my life?' These photographers have shot war for years, all over the world, but nothing really changes…war goes on. But when war came to Ukraine, it was not a matter of choice anymore—I became a war photographer."
In 2014 he survived the battle of Ilovaisk, in which Russian and separatist forces took this city from the Ukrainian army. Together with his friend and colleague Markiyan Lyseyko, he established the documentary project After Ilovaisk to collect photos, videos, and audio recordings of the fighters and volunteers who died in the city.
"War influenced my understanding of the photographic profession," Levin said in his interview with Anna Akage. "I cannot understand why 50 reporters are shooting the same political stand-up show, the same mindless press conferences, when there are so many social themes of vital importance that are waiting to be shown. They end to blind themselves fighting for the next scoop. Meanwhile, they are avoiding complicated but important themes that deserve long-term attention."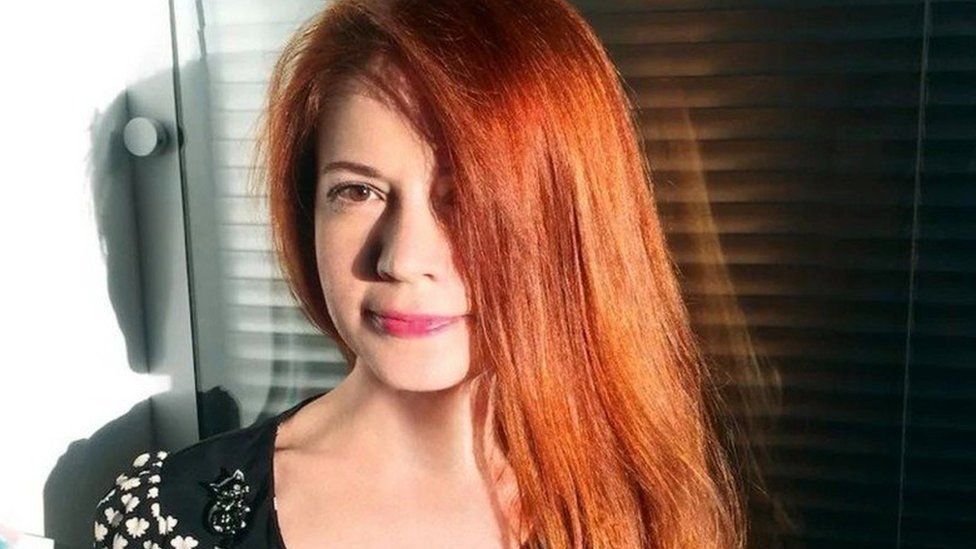 Oksana Baulina
Russian journalist Oksana Baulina, 42,  was killed by a rocket strike while on assignment in Kyiv on 23 March 2022, according to her employer, independent news site The Insider. This picture from Spanish photographer Ricardo García Vilanova suggests Oksana may have been the victim of a targeted attack. 
Early in her career, Baulina worked for lifestyle magazines such as Time Out Moscow and In Style. In 2013, she left the sector for a lower-paying job as a producer for Alexei Navalny's Anti-Corruption Foundation. She left Russia after the foundation was declared illegal by Vladímir Putin's regime. Navalny saluted her work in this Twitter thread.
1/6 Oksana Baulina used to work in a high position in glossy magazines, but in 2013 she moved to work at our headquarters for a noticeably lower salary. "I can't do fashion when thieves and bandits have seized power in my country. I want to fight," she said. pic.twitter.com/orbqJIoOxN

— Alexey Navalny (@navalny) March 24, 2022
Before the war, Baulina reported on corruption and activism in Russia for Russian investigative outlet The Insider. She was also a producer for online news outlet Coda Story's documentary series Generation Gulag. The Russian name she chose for the series translates to: 'The Repressions Don't End.' 
After the invasion began, Baulina reported from Kyiv and Lviv for The Insider before she was killed while filming damage to a shopping centre in Kyiv. Her last dispatch from Kyiv reports on the position of the Russian army outside the city and on the Ukrainian forces' efforts to cut off their fuel and ammunition supply. Her colleague Alexey Kovalev remembered her work in these tweets.
And now it's someone I've known for 16 years and worked with at several independent outlets. Oksana Baulina, a Russian journalist with phenomenal sense of moral clarity, killed by Russian rocket fire on a reporting mission in Kyiv today. I'm yet to process this. pic.twitter.com/eUPuMoUw54

— Alexey Kovalyov (@Alexey__Kovalev) March 23, 2022
Pierre Zakrzewski
Pierre Zakrzewski, also known as Zak, was a 55-year-old Irish cameraman and photojournalist working for US broadcaster Fox News. He was killed along with his colleague Oleksandra Kuvshynova as their vehicle was struck by gunfire outside Kyiv on 14 March. With them was Fox News correspondent Benjamin Hall, who was severely injured during the attack. 
Zak had a passion for travel, photography and videography. His colleagues remember Zakrzewski as a multitalented journalist, shooting video, fixing equipment, producing and editing pieces. He had previously worked in Afghanistan, Iraq and Syria. Fox News correspondent Steve Harrigan said: "He had so much joy. He was a guy who went to horrible places but never lost that childlike joy."
Read our tibute to Past Pupil Pierre Zakrzewski (Class of 1984) on https://t.co/dsrL0QViFe pic.twitter.com/ziYFPPzXrx

— Stconleths (@Saintconleths) March 18, 2022
Zakrzewski's family said in a statement: "He touched so many people's lives, he will never be forgotten and his legacy will live on."
Oleksandra Kuvshynova. | INSTAGRAM FUSION
Oleksandra Kuvshynova
Oleksandra Kuvshynova, also known as Sasha, was a 24-year-old Ukrainian journalist, producer and creative. Before the war, she had worked as a photographer as well as a DJ. She wrote poetry and founded a jazz festival.
Former colleague Akim Karpach told CNN, "She did everything to the fullest — she was 100% immersed into every friendship, hobby, job, etc. She was never indifferent. She loved every day of her life and was happy every time I saw her."
When the war broke out, Sasha founded an organisation to coordinate volunteers delivering humanitarian aid. She was working with a Fox News team covering Russia's invasion of Ukraine when she was killed on 14 March near Kyiv. 
In yesterday's attack near Kyiv, we have lost a beautiful brave woman - Oleksandra Kuvshinova - Sasha. She loved music and she was funny and kind. she was 24 years old. She worked with our team for the past month and did a brilliant job.
May her memory be a blessing pic.twitter.com/QGzqV3Fy5D

— Yonat Friling (Frühling) (@Foxyonat) March 15, 2022
Fox News senior field producer Yonat Friling said: "She kept talking about what's going to happen after the war ends, how beautiful Kyiv is and how we are going to go and walk around, go and have coffee, go listen to music, the arts, everything that she adored and wanted. I think that's part of the tragedy. The people of Ukraine have so many plans, then within a brief moment, Russians invaded and the war started, and many of them such as Sasha and other young people lost their lives."
Brent Renaud
Born in Memphis in 1971, Brent Renaud was an American journalist, documentary filmmaker, and photojournalist. He worked with his brother Craig to produce films, aired on major outlets, and was a former contributor to the New York Times. 
Brent and Craig's films focused on humanitarian issues across the world, including the wars in Iraq and Afghanistan, drug addiction in the US and the 2010 earthquake in Haiti. In 2005, they filmed Off to War, a documentary series about Arkansas National Guard reservists going to fight in Iraq. In 2017, they released Meth Storm, a documentary about drug addiction in rural America. These works were widely acclaimed and won many awards, including the prestigious Peabody Award for the VICE series Last Chance High, two DuPont Awards, two Overseas Press Club Awards, and multiple Emmy nominations.
Brent and Craig also founded the Little Rock Film Festival and the Arkansas Motion Picture Institute. From August 2018 to May 2019, Brent was a Nieman Fellow at Harvard University.
The 2022 Nieman Fellows held a memorial for Brent Renaud from the Nieman class of 2019:
"As a class, we are honoring Brent's work by doing what drove him as a journalist: shining light on the marginalized, the oppressed, and the overlooked."https://t.co/HQ6ez4FXAP

— Nieman Foundation (@niemanfdn) March 24, 2022
Nieman Foundation curator Anne Marie Lipinski said: "He was one of the kindest humans I've ever met. He was generous, a little bit shy, and I think that helped him make a very compelling figure out in the field. He didn't come at you, he waited for you to come to him. He was genuinely interested in everybody and in their stories."
According to the Ukrainian army, Renaud was killed by Russian soldiers as he documented the invasion of Ukraine in Irpin, near Kyiv on 13 March. He was working on a documentary for Time Studios focusing in part on refugees fleeing Ukraine. His colleague Juan Arredondo, also a former Nieman fellow, was injured in the attack.
"He's been shot and left behind": U.S. journalist Juan Arredondo describes the moment he and Brent Renaud came under attack by Russian forces at a checkpoint in Irpin, Ukraine, on Sunday. Renaud was shot and killed. https://t.co/BmzIVT54TR pic.twitter.com/NvtYZ1lgM4

— CBS News (@CBSNews) March 13, 2022
Yevhenii Sakun
Yevhenii Sakun, 49, was a cameraman for the Ukrainian television channel LIVE. He had also worked for the Spanish news agency EFE, covering the war, as well as politics, business, and culture.
Sakun was killed on 1 March 2022 in Kyiv as a result of the bombing of the TV transmission tower in Kyiv by the Russian military. Head of the National Union of Journalists of Ukraine Sergiy Tomilenko told the Committee to Protect Journalists that Yevhenii was working at the time of the attack.
The first person I know died in this war. My former colleague, TV cameraman Yevhenii Sakun, was killed yesterday as a result of Russian missile strike on Kyiv's Babyn Yar, along with 4 other people. It was a pleasure working with him. I'm devastated by this news. Eternal memory pic.twitter.com/3NEK5fN9rD

— Olga Tokariuk (@olgatokariuk) March 2, 2022
IFJ General Secretary Anthony Bellanger said: "We are deeply saddened by the death of our colleague Yevhenii Sakun, killed in a reckless Russian attack on a civilian infrastructure in Kiev. All parties to the conflict must protect local and international journalists and stop targeting media workers who are risking their life to inform the world about the war."
Shakirov Dilerbek Shukurovych
Shakirov Dilerbek Shukurovych was a journalist for the information weekly Around You. 
#UkraineWar @IFJGlobal we condemn murder of Ukrainian journalist Shakirov Dilerbek Shukurovych, shot dead near the village of Zelenivka near Kherson.
He worked for the information weekly "Around You" (Navkolo Tebe). Solidarity with NUJU and IMTUU - @nsju_org@Stommedia pic.twitter.com/uhfse0fgTF

— IFJ (@IFJGlobal) February 27, 2022
Ukrainian Prosecutor General Iryna Venediktova said Shukurovych was shot from a car with an automatic weapon on 26 February near the village of Zelenivka in the south of Ukraine.