Lessons in visual journalism from Paraguay's El Surtidor
Five tips from our global journalism seminar with Paraguayan journalist Jazmín Acuña, co-founder of El Surtidor.
18th May 2022
13:00 - 14:00
Zoom
The speaker
Award-winning innovator Jazmín Acuña is the co-founder and editor-in-chief of El Surtidor, often known as El Surti. The Paraguayan outlet, founded in 2016, started as a Facebook page and is celebrated for its unique use of visual journalism. Brightly coloured graphics illustrate stories of high impact to communities, covering topics such as climate change and public health issues. Jazmín is also a Global Investigative Journalism Network scholar. 

Watch the video of Jazmín's talk
Part of our Global Journalism Seminars series.
Read an automated transcript.
Why visual journalism matters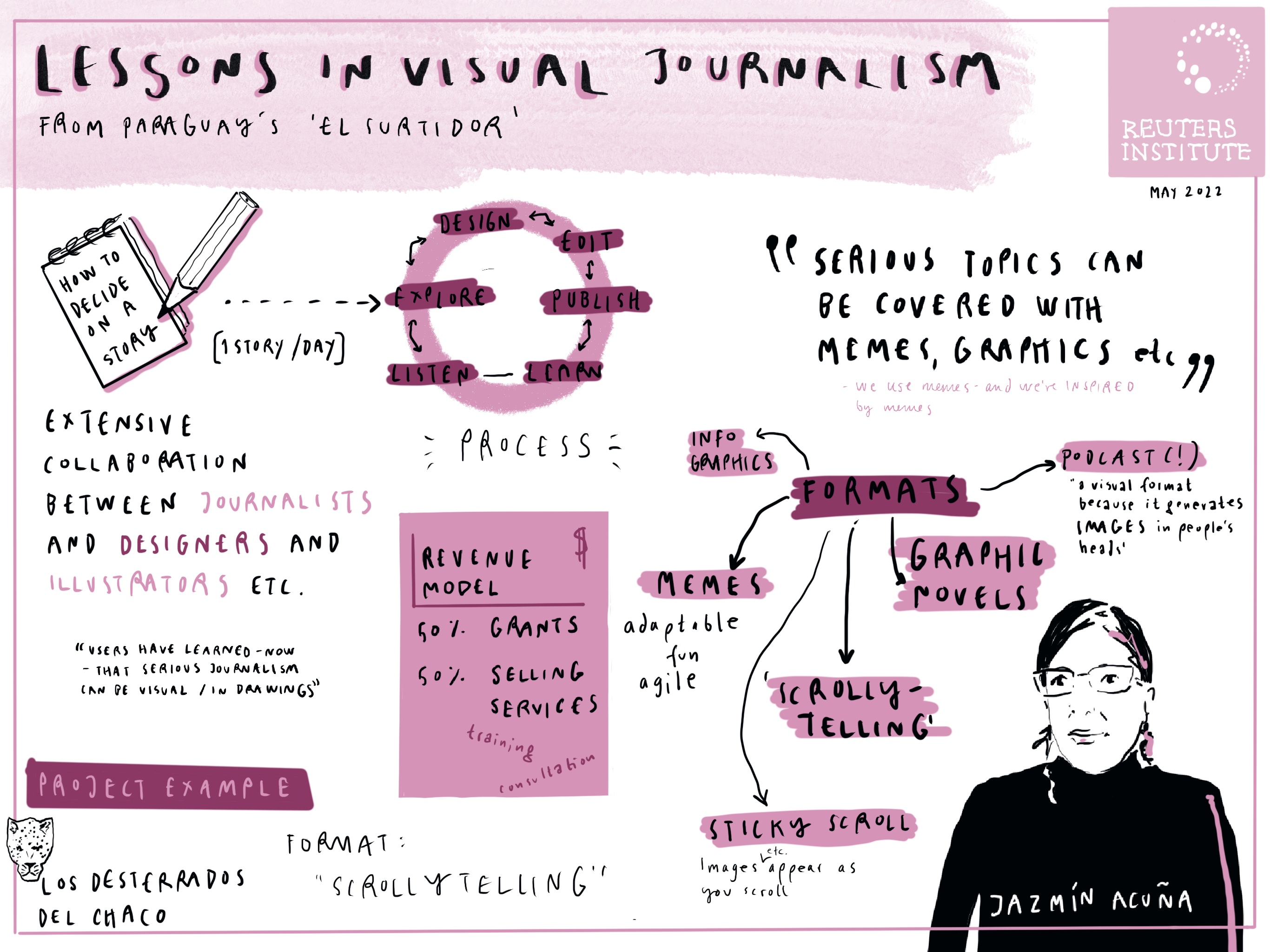 Five tips from Jazmín's talk
1. Create a diverse team and collaborate at every stage. "In every step of the way we evaluate and decide collectively," Jazmín said. The illustrators are integrated within the whole process of working on a story, not just called upon at the end. Jazmín explained how "reporters have to work very, very closely with the designers and the illustrators. Our designers and illustrators attend all of our meetings. They discuss with us the themes and the topics that we're going to cover. Once a topic is chosen, sometimes we discuss what kind of images we're going to use at the editorial meetings."
2. Pay attention to what your audience likes and use it. Jazmín and her team use popular culture references and memes to relate to their young audience and build a connection. Memes allow El Surti not only to attract young people's attention but also to inform this audience about important news topics they may otherwise not engage with, such as the annual speech by the President of Paraguay, which the outlet fact-checks. 
"We make a lot of use of pop references from graphic novels, comics, movies and so on in order to establish a deeper connection with our readers. We try to publish in a contemporary language that they can relate to. Well, memes are just great for that and we have more reach, engagement, than other news outlets on social media by doing this," Jazmín explained. "We believe that no topic should be boring to audiences and serious coverage can be done with memes, with graphics, with images, that's for sure," she said.
"We also think that we sort of should be more like memes, memes as a framework for approaching journalistic innovation. What do we mean by this? We found that they have qualities that journalism should emulate, to get closer to new audiences, to compete with all the information that's out there, and to also improve the effective use of our resources," Jazmín said, adding that these desirable qualities are that memes are adaptive and community-driven.
3. Interact and collaborate with your audience. El Surti goes beyond listening to and trying to appeal to their chosen audience, they work with them too.
"We involve audience members as collaborators along the way. We made sure to provide our audience members with ways of participating and something that's quite unusual, locally," Jazmín said. An example of a time El Surti has done this is by opening their newsroom to selected audience members to collaborate with reporters as they fact-checked the annual president's speech.
4. Visuals can be a new revenue stream. From the very beginning, El Surti's team decided not to pursue advertising. Right now around 50% of their revenue comes from grants. A sizable part of the other 50% comes from selling services. "We have learned that our skills in visual journalism could be in high demand. So we're now trying to market this expertise," Jazmín said. 
Around 18% of their revenue is now coming from this communications consulting work. An additional 17% stems mostly from sponsors which fund their regional training program: "We have a training program called Latinográficas. Our goal there is to foster visual journalism throughout the region by training other newsrooms in our methodology. We select our illustrators, reporters, designers from countries in Latin America."
5. Format matters. Audience consideration for El Surti also extends to the format of their visual work. Due to the cost of mobile phone data and low bandwidth, "despite the growing trend of recording with video and live streaming, we chose a format that's a bit less data heavy, the JPEG file," Jazmín said. 
Thoughtful consideration of the best format to present their work extends to their development of 'scroll' and 'sticky scroll' stories that present visuals and text as the user scrolls down the page, and to their podcast. "We decided to do a podcast to register stories that are just mesmerising or fascinating or moving. But these are stories that usually don't make the headlines or are not part of our official account of history in Paraguay," Jazmín said. 
These are stories that don't usually involve big public figures. And instead they're about common people. "They all have a story to tell that can actually wade into a larger story that comments on our collective desires, troubles, fears and hopes," she said. "We thought that podcasting was the best way to share these sorts of stories because we're a pretty oral society. Guarani, which is one of our native languages, is widely spoken, but it's not necessarily written. And this tradition permeates all of us, even Spanish speakers. So it made a lot of sense to us to keep an oral record of memories that are mainly transmitted, passed on orally."
The bottom line
To appeal to a specific audience, publishers need to get to know them, what they enjoy and what they need, and craft the format of their product with this in mind. Jazmín and El Surti show that it is possible to engage young people in journalism, but it requires effort to meet them where they are. They also show that graphics and creative formats can be used to tell serious, impactful stories and to make them more accessible. 
If you want to know more…
Explore El Surti's visual journalism with these pieces (in Spanish):
Read this International Press Institute case study about El Surti. | Read