Brazil's press underestimated Bolsonaro. Here's what went wrong and how to fix it
Job cuts and political attacks have created a tough environment for journalists. Three experts discuss what can be done to improve coverage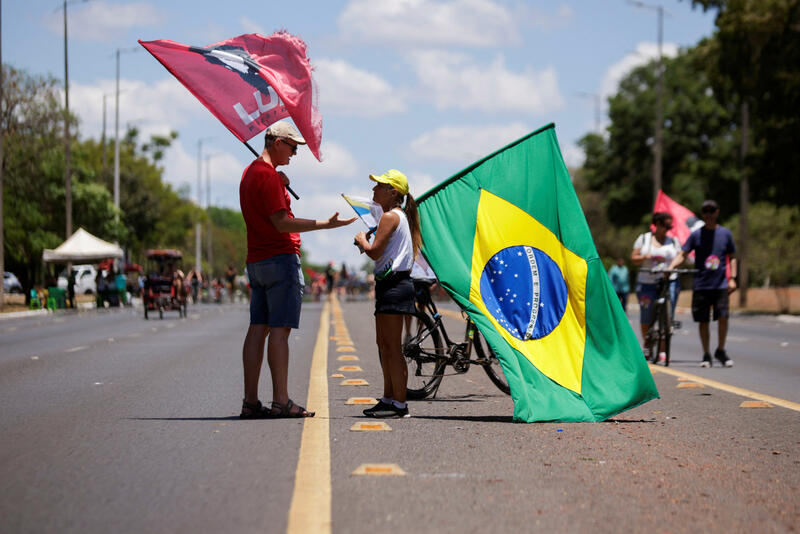 To the surprise of many journalists and despite most pollsters' predictions, Brazil's far-right President Jair Bolsonaro scored higher than expected in the first round of the presidential election. He also won 20 of the 27 Senate seats at stake, an overwhelming majority in the House of Representatives and many state governorships that didn't look competitive until then. Now Bolsonaro has a real chance of being reelected in the runoff vote, which will be held on 30 October. 
The day after the first-round vote, much of the Brazilian press was forced to rethink its approach, applying more caution to polls and paying more attention to the strength of the popular movement behind Bolsonaro's success.  
But this might not be enough to redress the structural crisis in Brazilian journalism. Newspapers taking reporters off the streets and placing more emphasis on opinion may have contributed to these failures. Bolsonaro's repeated attacks against the independent press may have also fuelled a climate of animosity that has affected both media coverage and the accurate gauging of what is going on in society. 
I asked three experts what Brazilian news organisations should do to improve political coverage in such a challenging environment. Their answers suggest a few things the press can do differently in the future. 
A more shallow coverage?
"In Brazil, we historically have what we call 'ticks', the reporters who follow a presidential candidate on a daily basis throughout the campaign. These professionals, who were very important to understand what is happening in the campaign, no longer exist", says journalist and consultant Thomas Traumann, who writes for key Brazilian media outlets such as Veja and O Globo and was Brazil's Minister of Social Communication between 2014 and 2015, under former president Dilma Rousseff. 
According to a now defunct research project, up to 2,327 journalists were fired in Brazil from 2012 to 2018. Traumann suggests that these cuts, along with the work of the candidates' communication teams, have altered the quality and the independence of media coverage in Brazil. "Today the parties' press offices deliver ready-made photos, edited videos and even written text. Since there are no reporters on the ground, this is what we have and news audiences are the ones who suffer," he says. 
Right before the first round, many pieces focused on the likely early victory of former President Lula da Silva. Leading commentators spent hours addressing Lula's future ministers and the challenges he would face in parliament, while downplaying any alternative scenario.
These opinions were based on the pollsters' predictions, which suggested a real chance of a Lula outright victory but also showed signs of gradual and consistent growth in Bolsonaro's support. Despite these signs, Brazilian mainstream media didn't report so much on Bolonaro's quiet rise or on the movements propelling it. "Surveys showed Lula in the lead in regions where he faces historic rejection," Traumann says. "If there is something strange, journalists have an obligation to question it."
Eugênio Bucci, Professor at the University of São Paulo (USP) and former President of Radiobras, Brazil's state-owned broadcaster, acknowledges the press has struggled to capture Bolsonaro's rise but thinks this is not the main issue. 
"It's not just business problems and technological lag," he says. "Journalism has the duty to reflect on what it reports. Newsrooms were essentially centres of thought before evolving into fact-finding activities. Intelligent newsrooms realise that some signals deserve attention."
As a known enthusiast of the military dictatorship that ruled Brazil between 1964 and 1985, Bolsonaro has never disguised his authoritarian ambitions and has strongly criticised the electoral process. He has even said he will not accept eventual defeat at the polls, following Donald Trump's example in the US. He has also indicated that, if re-elected, he may change the composition of the Supreme Court, with the aim of expanding his influence and undermining any checks and balances. Despite all this, Bolsonaro has managed to keep the support of a sizable portion of the Brazilian population. 
Impactful investigations 
Despite the increasing lack of reporting, Brazilian journalism has produced pieces that have played an important role in this election. One of the best examples was the unveiling of a secret budget that allows members of Parliament to use public funds without any transparency or accountability. Another case was the revelation that Bolsonaro's family bought 51 properties in cash, a type of transaction normally used as a money-laundering device. 
Felipe Moura Brasil, a right-leaning commentator for CNN Brasil and UOL, recognises these reporting efforts but stresses that many journalists have "lost touch with reality". In his view, this is one of the reasons why journalists haven't captured the size and strength of the movement behind Bolsonaro's unexpected rise.
"Journalists struggle to accept that Bolsonaro voi es legitimate demands from society. Denying this strengthens Bolsonaro's movement," he says. "Almost everyone in the press was happy with the possibility of Lula's victory in the first round and did not pay enough attention to what was going on around them." 
Moura Brasil, who is keen to stress that his conservative ideas are not aligned at all with what Bolsonaro represents, thinks that this attitude among journalists harms the quality of their journalistic work and helps Bolsonaro in his permanent campaign against the press. 
"Many people in the press joined Lula's campaign. Most of the columnists of the more traditional press are in the left-wing camp. That's why many of these people end up omitting or minimising the corruption scandals of the Lula government, which are still alive in the memory of the population," he says.
In Moura Brasil's view, journalists shouldn't minimise Lula's unpopularity as this helps Bolsonaro instigate his followers against their work. "The President portrays the press as an unreliable source of information and thus protects himself from the terrible accusations against his government," he says.
Traumann agrees that Bolsonaro's war against the media has fuelled an atmosphere of animosity that is making things difficult for journalists and sometimes polluting coverage too. An example was the celebration of Brazil's 200th anniversary of Independence last September, which Bolsonaro hijacked in gigantic campaign rallies rightly criticised by the press. 
In Traumann's view, the problem is that the criticism was not accompanied by the observation that this was the largest political movement of the election, with hundreds of thousands of people on the streets. He pointed out another mistake: ignoring that Bolsonaro's rallies are not only appealing to white middle-class fanatics but also to members of the working class. 
It is in this complex context that the Brazilian public has been turning away from the news. According to the latest version of the Digital News Report, Brazil leads the index of news avoidance, with 54% of people admitting this habit in the current year. The figure is twice as high as the one recorded in 2017, one year before Bolsonaro's election.  
In addition to Bolsonaro's attacks, this rise in news avoidance might be fed by other factors, such as the effects of the news on people's mental health. Traumann points to the excesses of "ill-tempered" journalism but stresses that simply satisfying audience demands might also be a dangerous choice. "These most-read news rankings are terrible. They diminish journalism," he says. 
While rejecting news published by independent news outlets, Brazilians build a curious relationship of trust with content they find on platforms such as WhatsApp and YouTube. According to the Trust in News Project, 53% of Brazilians say they believe news encountered via WhatsApp – the main breeding ground for fake news – and 46% trust the content found on YouTube. Only in India are numbers higher than in Brazil. 
Another consequence of this process is the erosion of the reputation of journalists in the eyes of the audience. Survey data from the Trust in News Project also show that half of Brazilians see journalists as people who manipulate the public to serve the agendas of powerful politicians. Another 47% think reporters focus more on getting attention than on reporting the facts. 
According to Traumann, the reason for these figures might be the partisan environment journalists operate in:  "In the opinion of the Brazilian public," he says, "journalism has ceased to be an impartial observer of the facts to become part of the political contest, taking sides and interpreting the facts according to partisan prejudice."
Murillo Camarotto is a former Journalist Fellow of the Reuters Institute for the Study of Journalism. You can read his paper on local news in Brazil here.
If you want to know more...
Read this piece by Murillo on the fight against misinformation during Brazil's election campaign. 
Explore the latest report from our Trust in News Project, with survey data from Brazil, India, the UK and the US. 
Catch up with our recent seminar with Brazilian journalist Natalia Viana, founder and editor of digital news outlet Agência Pública. You'll find a video and summary in this link.