Our global journalism seminar series will be held online from April to June 2021
Speakers for the events, chaired by Meera Selva, include Manisha Pande, Gustavo Faleiros, Aye Min Thant and Robert Moore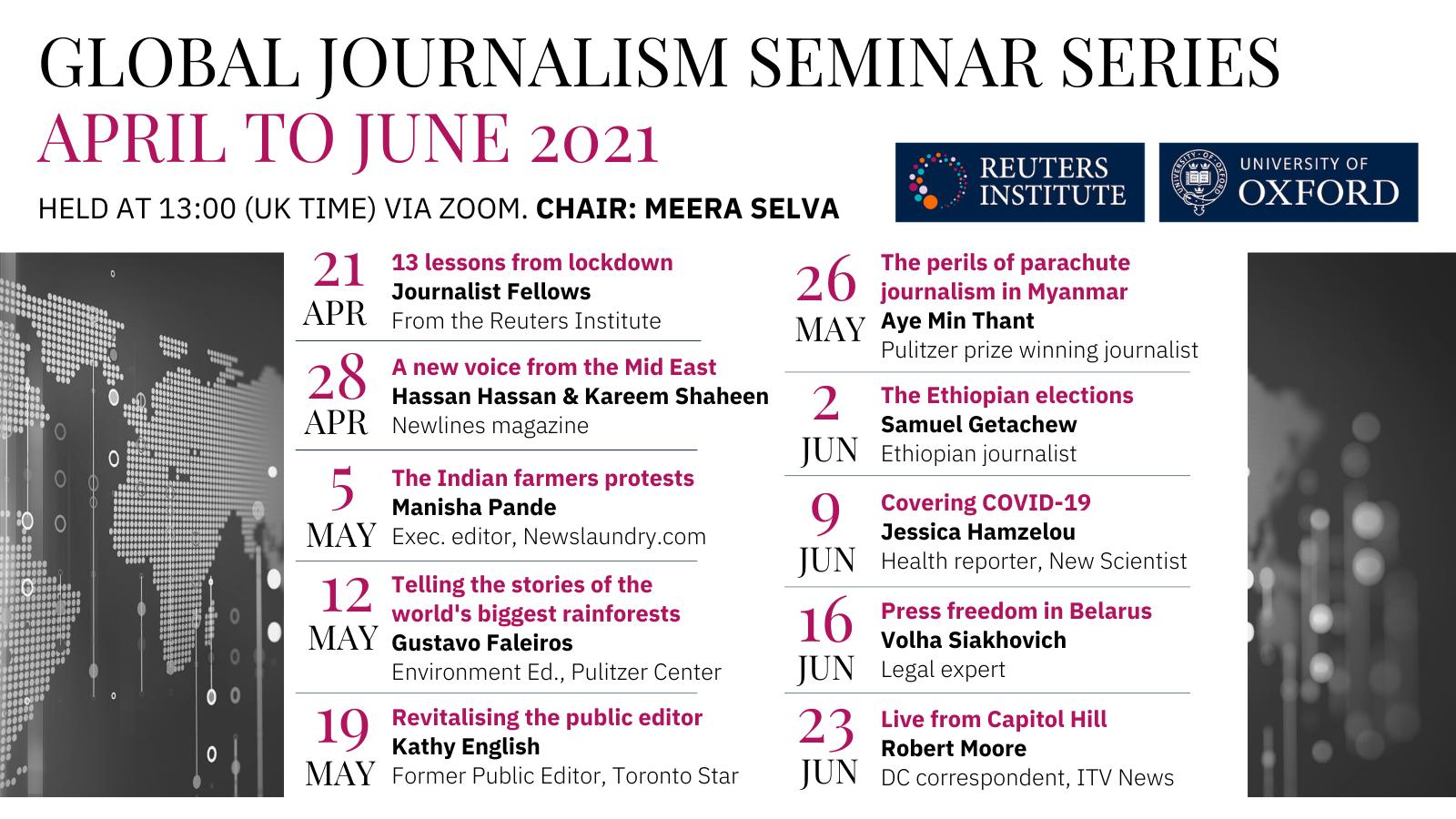 The Reuters Institute's series of weekly seminars on global journalism will be held online from April to June 2021. Among the speakers will be Manisha Pande from Newslaundry.com, Gustavo Faleiros from InfoAmazonia, Pulitzer prize-winning journalist Aye Min Thant, and Robert Moore from ITV News.
The seminar series is a centrepiece of the Journalist Fellowship Programme, which welcomes high-profile journalists from around the world to share their experiences, thoughts and findings on the big issues facing the profession right now. The seminars give our Journalist Fellows the chance to engage with reporters, editors and innovators who are driving the industry forward and addressing the many challenges it faces.
For years, the seminars have been held at Green Templeton College, part of the University of Oxford, every Wednesday afternoon during the university term. This term's seminars will take place on video platform Zoom. As usual, the seminars are open to the public, and you are very much welcome to join us by signing up through our events pages. Every seminar will be held at 13:00 UK time. 
Director of the Journalist Fellowship Programme Meera Selva, who hosts the series, said: "This term's seminars focus on the heart of journalism. On investigations, storytelling, and free speech. The speakers are talented journalists and editors who have reported on some of the most important stories of the year."
🙋🏻‍♀️ A word from our Journalist Fellows. Our unique group of Journalist Fellows from Kyrgyzstan, India, Hungary, Norway, Finland, Indonesia, Pakistan, Kenya, Egypt, Nicaragua and Brazil will present 13 lessons learnt during their time in Oxford. | 21 April: register here 
🖋 A fresh voice from the Middle East. Hassan Hassan and Kareem Shaheen will speak about Newlinesmag.com, a forum for long-form essays, reportage, arguments and memoirs about politics, culture, and history in the Middle East. Here you can read a wonderful piece by Anna Zacharias on the forgotten sea shanties of the Persian Gulf. | 28 April: register here
🇮🇳 Press freedom in India. Newslaundry.com's executive editor Manisha Pande will discuss her outlet's coverage of the farmers' protests in India, and Narendra Modi's efforts to silence critical voices. Here you can read an interview with an independent journalist who founded a bilingual publication to cover the protests. | 5 May: register here 
🌳 Covering the world's biggest rainforests. In 2012 journalist Gustavo Faleiros founded InfoAmazonia, a digital news platform that monitors information from the Amazon rainforest. Gustavo will speak about a new project he's now spearheading with a new team of investigative journalists, sponsored by the Pulitzer Center, to collaborate on stories from the rainforests of Congo, South East Asia and the Amazon. | 12 May: register here
👩‍⚖️ Revitalising the public editor's role. Our Journalist Fellow Kathy English was the longest serving public editor of the Toronto Star, a Canadian newspaper. Kathy will explain how the revival of this position in newsrooms could help restore trust in news and improve the diversity of content and staff. Here you can read the paper she recently published on this topic. | 19 May: register here
🪂 The perils of parachute journalism in Myanmar. Aye Min Thant is a Pulitzer prize-winning journalist who has covered business, politics, and conflict in Myanmar, Thailand and the US. She will discuss how foreign news brands which work with the military in Myanmar to gain access to the country are endangering lives of local citizens. | 26 May: register here
🗳 Reporting on the Ethiopian elections. Samuel Getachew is a freelance journalist based in Addis Ababa with bylines in Quartz, CNN and HuffPost. Ahead of the Ethiopian general election on 5 June, he'll be talking to us about press freedom in the country. Here you can read a long piece on how Ethiopian news media are becoming dangerously polarised along ethnic fault lines. | 2 June: register here
🦠 A health reporter on covering COVID-19. Jessica Hamzelou reports on health and medical science for the New Scientist. As the news about the pandemic broke, she found out she was expecting a baby. She'll discuss how the story evolved for her, what it was like stepping back from it, and how she expects the coverage will evolve in 2021. | 9 June
🇧🇾 Press freedom in Belarus. Volha Siakhovich is a legal expert and human rights campaigner for the Belarusian Association of Journalists. She will speak about the current climate against independent journalism, and what the international community can do to bring attention to the threats to press freedom in the country. | 16 June: register here
🏛 Covering the Capitol Hill insurrection. Robert Moore, DC Correspondent for ITV News, was the only journalist who was inside the Capitol rotunda when protestors breached the buildings on 6 January. He'll speak about his experiences on that historic day. | 23 June: register here
If you don't want to miss anything about what we do... subscribe to our weekly newsletter in here and join our Telegram channel here.