How Russian journalists in Latvia navigate life in exile
In May 2022 we spoke to five Russian reporters based in Latvia. One year on, they are facing a distrustful public and stricter immigration laws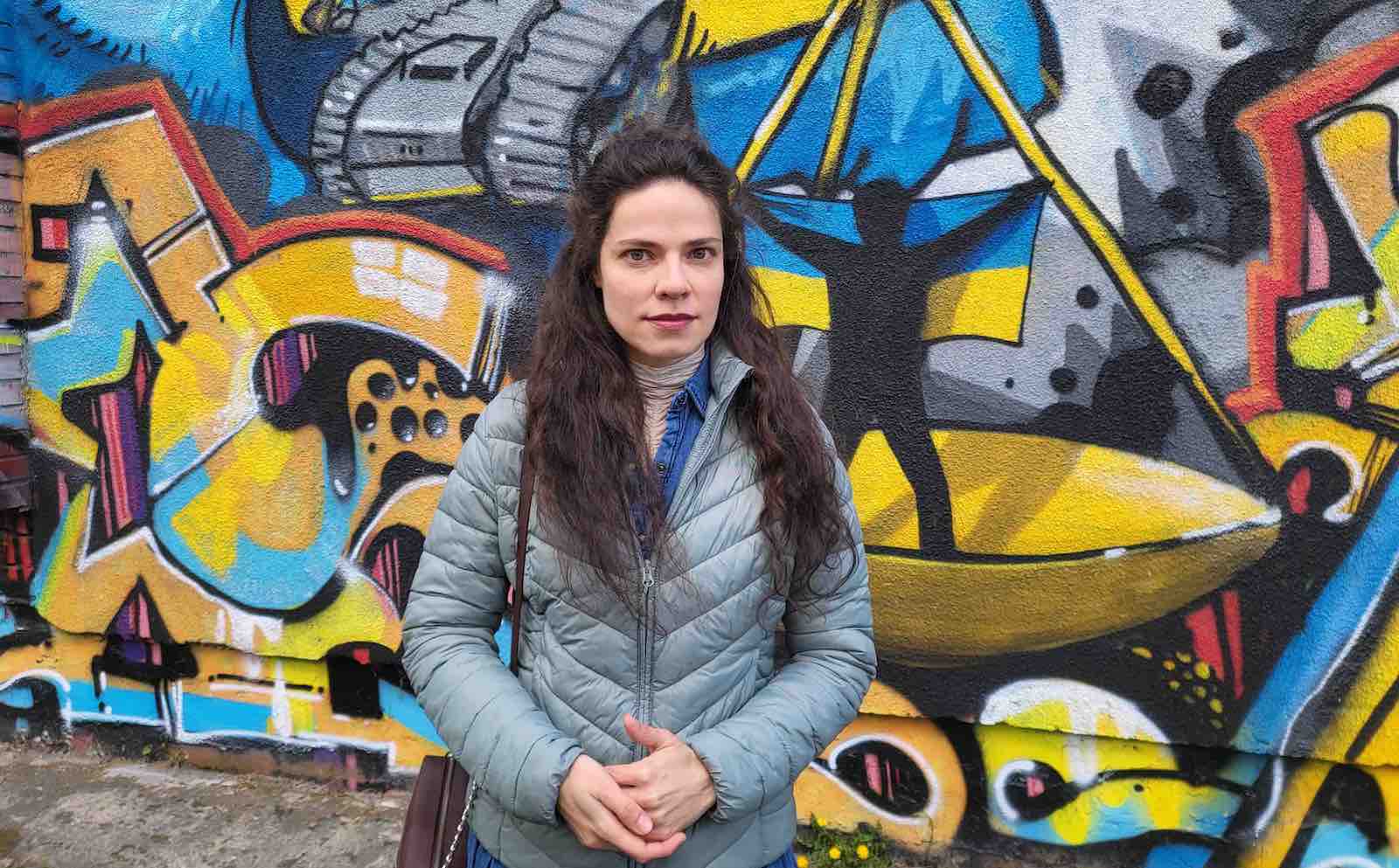 Thousands of journalists fled Russia after Vladimir Putin launched a full-scale invasion of Ukraine in February 2022. Over their first few weeks in exile, they spent most of their time finding accommodation and schools for their children, and adjusting to their new life. More than a year later, they spend almost every waking hour reporting on Russia and the war in Ukraine.
"There's so much to do now. I work 18 hours a day," says Aleksandra Ageeva, the founder and CEO of Sota.vision [Sota] and one of the journalists I spoke to for the piece I published in May 2022. 
Hundreds of Russian journalists sought refuge in Riga, Latvia's capital city. One year on, they are now facing a distrustful public, stricter immigration laws, mental health issues connected to traumatic events and difficulties adapting as well as other challenges they discuss in this piece. 
Life in exile, one year on
The last year has been very difficult for Russian independent news organisations. A good example is independent news site Sota. Its staff count in Russia currently stands at 50 journalists, up from 40 last year. But Its reporters are frequently harassed and assaulted, at times temporarily jailed, and in three cases forced to flee the country.
Despite these challenges or perhaps because of them, Sota's team has managed to increase its subscribers across its Telegram, Twitter, Instagram, TikTok and YouTube channels from 300,000 in early 2022 to around 400,000 now.
According to founder and CEO Ageeva, Russia's unprovoked war of aggression against Ukraine has been Sota's focal topic since February 2022. "We cover tons of court hearings, verdicts and anti-war protests. We try to follow everything," she says.
While it's difficult to cover events in Ukraine itself due to a lack of correspondents, Ageeva says, her staff have been trying to show the scale of the protests in support of Ukraine. On the one-year anniversary of the war, Sota did a live, 11-hour broadcast showing anti-war protests in 30 countries including South Korea, New Zealand, Brazil, the US, Turkey, Kazakhstan, Lavia and the UK. "We wanted to show that the whole world is coming out in support of Ukraine," Ageeva says. 
According to Ageeva, Sota's reporters also conduct weekly surveys of Russians' attitude towards the war and try to give those who are "not afraid to speak out" a voice.
Donations from subscribers were by far Sota's most important source of income in 2022, but many viewers don't subscribe or donate now out of fear of reprisals. This makes paying her staff in Russia extremely difficult. 
Both the future of Sota and Ageeva's personal situation are highly uncertain. As she is unlikely to receive a temporary residence permit in Riga, she recently applied for an extension of her long-stay visa, which allows her to travel within the European Union, but not to be employed by a Latvian legal entity.
Another Russian based in Riga is Kirill Kojemyakin, a 49-year-old journalist with independent news outlet Pskov Gubernija Media, whose newsroom was raided by Russian authorities in early 2022.
A sense of guilt for not having done more to prevent the war weighs heavily on Kojemyakin and many of his colleagues in exile. Some suffer from insomnia and burnout, while others have suicidal thoughts or grapple with symptoms of PTSD. Many join a walk through a forest in Riga's outskirts every week as a way to disconnect from the challenges posed by life in exile on the advise of experts on crisis intervention and psychosocial support.   
"We've been recommended [by mental health professionals] to stop news production and news analysis for two hours every day, but it's impossible," he says. "We need to know all about the war in Ukraine and tell our audience in Russia at all times that it's a crime. I feel tired every day."
Kojemyakin has had a hard time reporting on the war in Ukraine and speaking with sources inside his own country. "We face a number of ethical issues," he tells me. "Contacts with independent press can lead to a real prison sentence. We use secret chats, non-named accounts for communication. And many of our interviewees only agree to speak on the condition of anonymity."
When asked how they cover Ukrainians' suffering, Kojemyakin says they do so on their website as well as on Telegram and TikTok to "influence different audiences," and by referencing investigations into Russian atrocities in places like Bucha and Mariupol.
A film critic in exile 
Another person I spoke to in the spring of 2022 was film critic Anton Dolin. When we met back then, he had been in Riga for a few weeks and told me he was struggling. After spending over a year in Latvia, he says he's doing better. "Everything and nothing" has changed over the past 13 months, Dolin says matter-of-factly. Nothing "because the war is still here," he says. Everything because Russia slapped him with the dreaded "foreign agent" label in December 2022. 
"In theory, every time I write anything on my social networks, I must add a disclaimer: 'This material is produced by Foreign Agent Anton Dolin.' Many people oblige, but I refuse to do it. However, this could mean a criminal fee every time, and the third criminal fee is already a criminal case, which could land me in prison," says Dolin.
In late April, Latvian authorities extended Dolin's long-stay visa. Like many other Russian journalists in Latvia, he had unsuccessfully applied for a temporary residence permit. This means, among other things, that his wife cannot work, which is a big burden for her and for the whole family, Dolin says.
When I ask him about his financial situation, he shares a joke from Soviet journalist Sergei Dovlatov's books: "'Do they pay good money? Yeah, very good money, but not enough.' That's my situation. I have good money, but that's not enough for a family of four and the dog. So I have to travel all over the world giving all kinds of lectures and screenings."
When he's not travelling, he splits his time between his YouTube channel and writing film reviews and festival reports for independent news site Meduza. Although some of his videos get viewed hundreds of thousands of times, most advertisers stopped collaborating after he became a 'foreign agent'.
"The biggest problem for me psychologically is the situation in Ukraine," Dolin says. "I'm trying not to pity myself and my family too much. We are together and we are surviving. I can still watch films and work in my profession, and my global audience is growing. So I have good hopes for myself and for my family. But not for Russia and not for the situation in Europe in general."
In January, Dolin's employer Meduza was labelled an 'undesirable organisation,' a sanction which puts its staff and its donors at risk of significant jail time. "It's much, much worse than the foreign agent status. If I were to step on the soil of Russia now, I could go to prison for four years just for the fact that I published an article with Meduza about John Wick 4. Being part of an 'undesirable organisation' was one of the accusations against Kara-Murza," Dolin said, referring to Kremlin critic Vladimir Kara-Murza, who was sentenced to 25 years in jail last month. 
Aside from Meduza, around two dozen other Russian media organisations and their staff went into exile in Latvia, including Novaya Gazeta, The Moscow Times, TV Rain and Echo of Moscow.
A place where exiles gather
One of the few constants in the life of Russian journalists living in Latvia is a co-working space in central Riga with desks, computers, meeting rooms, recording studios and a kitchen. With free lunches and networking events, this bright space functions as a meeting place for this community of exiles.
Russian journalist Elena Kuznetsova works there a couple of times a week. "People here are really friendly and quite creative," Kuznetsova said during a recent visit. "It's like working in a team consisting of journalists from different media outlets and different regions of Russia. In another situation, we wouldn't have had a chance to meet."
Running the co-working space is one of four Latvian media NGOs that came together last year to create the Media Hub Riga to better support exiled journalists and news organisations. In the beginning, the organisations helped these journalists and their families with immediate needs such as language classes, short-term accommodation, food and visas.
Since then, they have added a tech support programme, mentoring on topics such as fundraising, media management and fighting Russian censorship as well as podcasting and mobile journalism training. According to Gunta Sloga, executive director of the Baltic Centre for Media Excellence (BCME), the visa situation is the most challenging issue for Russian exiles.
"The immigration process has been much slower than anybody expected," Sloga explained. "Another issue is mental health: These journalists had to leave their home country in just a few hours or days, and they had to start their lives from scratch here. And then there are challenges around media viability – how do you launch a new publication, or try to bring back to life your old one which existed in Russia?"
A rare opportunity
Launching a new publication is exactly what Kuznetsova has been tasked with. At the outset of the Russian full-scale invasion, this 35-year-old journalist was working as a culture editor for Fontanka.ru, one of the largest news sites in Russia.
For the first nine months, she and her husband barely made ends meet by freelancing for different Russian-language media outlets in Russia and Latvia while looking after their two-year-old son. Then, in March 2023, somebody from the Media Hub shared a job opening in the media workers' group chat. It was for the editor-in-chief position of a new, Russian-language version of Neatkarīgā Rīta Avīze [Independent Morning Newspaper], a Latvian legacy publication known for its conservative and at times nationalistic stance, especially when reporting on Russia.
Kuznetsova got the job and she expects the site to go live in late May. She says it will feature a mix of culture and business reporting catering to the large Russian-speaking audiences in the Baltics and Poland. When asked about Neatkarīgā Rīta Avīze's new owner Anastasija Udalova, a Latvian businesswoman reportedly engaged to Oleg Ossinovski, one of Estonia's wealthiest businessmen who got caught up in a major bribery scandal but was acquitted, Kuznetsova said she first had to "think for a while" before accepting Udalova's offer.
"I have full editorial independence," Kuznetsova says. "Sometimes the managing director and the owner share their ideas, but that's actually a good thing because I am not a local. If there are any issues, I can resign."
Despite getting hired by a local publication, Kuznetsova and her husband's applications for temporary residence permits have been pending for more than four months now, which is why they are now hoping to get their one-year visas extended. According to a Media Hub Riga representative, only five of 99 applications for temporary residence permits submitted through the hub by April 2023 have been approved, with the rest still pending.
Riga, a growing media hub
In 2022 a number of major Western media outlets also relocated their staff and operations from Moscow to Riga. Ten months after announcing that it would open offices in Riga and the Lithuanian capital Vilnius for its Russian and Belarus Services, respectively, Radio Free Europe/Radio Liberty's (RFE/RL) "large reporting hub" started to operate in central Riga in early 2023.
Today, @RFERL launches a new office in Riga, Latvia!

The reporting hub is part of RFE/RL's efforts to counter Kremlin disinformation and provide Russian speaking audiences with objective reporting.

RFE/RL President & CEO @JamieMFly's statement. ⬇️https://t.co/015XxtcWJG pic.twitter.com/qhUHytZgYT

— RFE/RL Pressroom (@RFERLPress) January 12, 2023
Aside from housing teams of its Russian Service and its 24/7 Russian-language TV and digital network Current Time, the office will also house a "Russian investigative unit" and a "digital innovation hub designed to counter Kremlin disinformation and develop strategies to circumvent online censorship in Russia," Current Time Director Pavel Butorin told me.
Once they finish the recruitment process, says Butorin, around 150 staff will be working out of the hub in central Riga, around one third of them Russian nationals. While some of RFE/RL's Russian Service and Current Time staff is now in Riga, the Prague-based US public broadcaster still works with an undisclosed number of contributors in Russia.
Other Western media outlets that relocated staff from Russia to Riga include German international broadcaster Deutsche Welle (DW), Canada's CBC, the BBC, the Washington Post, Financial Times, Radio France International (RFI) and Sky News.
'No need for exiled media'
Public sentiment in Latvia has become more nationalistic and anti-Russian since Russia launched its full-scale invasion of Ukraine in February 2022. It moved Latvia's political centre to the right and mainstreamed many of the core policy positions of the right-wing populist National Alliance (NA) party, which has been in power since 2011.
"That is why some people said 'We don't need those exiled media'," BCME's Sloga says. "As a result, immigration services, which were very slow even before those sentiments became louder, have become even slower." Moreover, the last government tightened the immigration law last fall to "strengthen national security," which has made it harder for Russian and Belarusian citizens to obtain temporary residence permits and employment.
Under NA's leadership, the coalition in government also squeezed the Russian language from the public sphere, including the school system. The Ministry of Culture even recently drafted a proposal to shut down the Latvian public broadcaster's Russian-language service. As of last week, Russian language audio tracks are no longer allowed on television in Latvia. 
According to a survey from July 2022, less than half of Latvia's ethnic Russians, who account for about a quarter of the Baltic country's population of 1.9 million, condemned Russia's war in Ukraine. These numbers reflect the growing rift between the country's Latvian majority and the Russian-speaking minority. 
The distrust among a majority of Latvians towards all things Russian came to a head last December, when Latvia's media watchdog accused Russia's last independent television channel TV Rain of breaking the law and revoked its broadcasting licence. After less than five months on air, TV Rain (or Dozhd, as it's known among Russian speakers) had accrued thousands of euros in fines and harsh criticism for, among other things, displaying a map in which occupied Crimea was shown as part of Russia's territory.
Liberal Russian media network TV Rain has recently had its license revoked in Latvia where the outlet has been broadcasting from in exile.

Navalny adviser @v_milov says the decision is a mistake and that the anti Kremlin outlet is the "most important independent media outlet" pic.twitter.com/l1VTAkByLl

— Christiane Amanpour (@amanpour) December 7, 2022
The backlash against TV Rain, which has long been critical of Putin and the Russian government, reverberated through the small Russian-speaking media community in Latvian exile. "Everybody was shocked," remembers Kuznetsova. "We really had this feeling that we would be deported soon from Latvia. We didn't understand what would happen with our humanitarian visas or residence permits."
What may come next
Over the past 14 months, the Media Hub Riga has supported around 380 mostly Russian media workers. While a steady stream of them arrived from the onset of the war, their number gradually dwindled after last September. A few still arrive each week, especially those relocating from other hubs for media in exile like Georgia, whose pro-Russian government has reportedly been denying independent Russian journalists permission to re-enter the country of late.
Roughly 35 media workers, including Meduza's investigative editor Alexey Kovalev and Holod's special correspondent Victoria Lee, left Latvia after our visit in April last year. Many of the Russian reporters currently in Latvia have felt compelled to come up with a contingency plan due to the ongoing uncertainty, both in their homeland and in exile.
"I cannot go back to Russia, it's out of the question," Ageeva says. "My mother and my son are here with me, but if I cannot stay here, we'll work out somewhere else. I'll find a way." Ageeva says she's currently discussing the possibility of relocating to another EU country not too far from Russia's 11 time zones with Reporters without Borders.
Dolin's plan B is to become a citizen of Israel, which he says would be a mere formality given his Jewish heritage. "Living in Israel, getting a school for my son, earning money there – a solid backup plan is really important for me right now, especially psychologically. The country where I was born doesn't want me anymore. Every Jewish person is an eternal fugitive, but at least in Israel I'd belong to a larger community of fugitives."
As for Kuznetsova, the rare opportunity of getting hired by a local media outlet has hardly stabilised her situation, she says. "It's my first job as editor-in-chief, so I've never experienced some challenges I'm facing now. There is no stability job-wise, nor in terms of my visa status. My husband and I really want to understand the options we actually have at this point."
One way she's better able to deal with the uncertainty, Kuznetsova says, is using a coping strategy a Media Hub Riga mentor taught her: perceiving herself not as an immigrant with nostalgia for her home country but as someone who can be successful in different locations.
"I am neither an immigrant nor a journalist in exile," she says. "I'm just a reporter who moved from Russia to Latvia and tries hard to do her job."