Pivot! A 5-step plan for evaluating newsroom technology experiments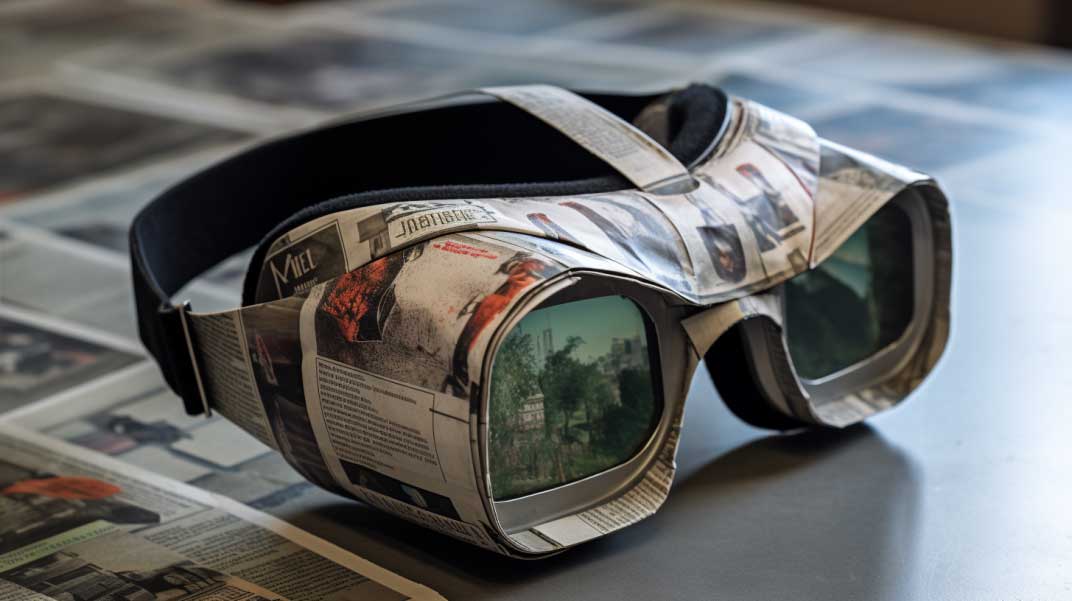 In the autumn of 2022, I embarked on a journey to explore news innovation opportunities in the metaverse during my fellowship at the Reuters Institute for the Study of Journalism.
The metaverse was being touted as the next revolutionary frontier, backed by Mark Zuckerberg's bold rebranding of Facebook to Meta, and significant investments into the development of a virtual world. Predictions about its potential were staggering, with estimates suggesting a market value of trillions of dollars.
However, as the summer of 2023 arrived, the fervour around the metaverse had diminished, and many were quick to proclaim its untimely demise. In its place, people were now gushing about generative AI and Chat GPT instead.
This is a great example of the conundrum newsrooms face when embracing technology: dive in too soon and risk resources on fleeting trends; wait too long and play catch-up with competitors.
To address this challenge, I've proposed a five-step plan that I hope will help newsrooms identify which tech opportunities are worth their time and resources.
This framework is the result of an examination of existing literature (see full PDF), in-depth interviews with seasoned news veterans from media outlets like the Guardian, BBC and GMA TV, as well as consultations with media innovation researchers like Arne H. Krumsvik and Ragnhild Kr. Olsen.
Step 1: Identify the nature of the opportunity
Innovation in newsrooms is often nebulous and undefined, leading to confusion among staff about its purpose and target audience. To address this, the first step is a clear-eyed assessment of how a new technology can usher in change and whether it aligns with the overall newsroom strategy. To aid in this process, two typologies have proven invaluable:
The first typology, Making (Sense of) Media Innovations, developed by Krumsvik and colleagues, categorises innovations into six types:
Product Innovation: Involves changes in products and services, such as the introduction of news apps.

Process Innovation: Refers to changes in the ways products and services are created and delivered, like adopting agile newsroom workflows.

Position Innovation: Involves repositioning brands, products or services, for example, redefining target audiences.

Paradigmatic Innovation: Encompasses changes in mindset, values, and business models, potentially shifting entire industry models (e.g., print to online-only).

Genre Innovation: Emergence of new categorizations of media products (e.g., live blogging).

Social Innovation: Innovative use of media and communication services to meet social needs and improve lives (e.g., community forums or local business support).
The second typology, the "Journalism Innovation Wheel," devised by Julie Posetti, explores eight spokes of journalistic innovation:
Storytelling & Reporting: Experimentation with storytelling formats.

Audience Engagement: Moving beyond clicks and shares to foster audience participation in journalism.

Distribution: Employing new strategies to distribute content.

Technology & Products: Developing in-house tools and solutions.

People & Culture: Encouraging an agile adoption culture through talent acquisition and development.

Organisation & Structure: Innovations in workflows and collaboration.

Leadership & Management: Strategic focus and dedication to change.

Business: Exploring new revenue streams.
Using the language provided by these typologies, newsrooms can first categorise, then communicate how a tech opportunity complements their overall strategy. Honesty is paramount during the assessment to determine whether the innovation is genuinely necessary or merely desirable.
Step 2: Understanding audience wants and needs
As the Spice Girls sang in their iconic 90s hit sang; "Tell me what you want, what you really, really want." This should be the newsroom soundtrack when it comes to understanding audience needs concerning innovation, according to Krumsvik. To make strategic decisions, nothing surpasses a thorough understanding of the audience and how an innovation can cater to their specific wants and needs.
The case of GMA News, a leading television network in the Philippines, venturing onto TikTok in 2021, illustrates this principle perfectly.
Jaemark Tordecilla, head of Digital Media at GMA, and his team studied young viewers and recognised TikTok's potential as a platform to engage with them. Since about 40% of TikTok's users were aged 18-24 at the time, they conceived the #24OrasChallenge. The challenge invited netizens to join their favourite news anchors in reporting on COVID-19, entertainment news, or viral social media news for the company's flagship Kapuso newscast by duetting a video of the newsroom autocue. The campaign garnered a staggering 55.5 million views on TikTok.
The experiment highlighted an unexpected demand for news content from the young audience on TikTok, as well as the significance of mobile phones as their primary connected device. Recognising this, GMA News capitalised on the buzz, ensuring that the audience could access the news they needed alongside their entertainment content. Understanding audience needs played a crucial role in the account's success.
Step 3: Pinpoint the problem
True innovation arises when a new way of doing things brings value by solving a specific problem. According to Ragnhild Kr. Olsen, an associate professor in journalism and media studies at Oslo Metropolitan University, value is often embedded in solutions that address problems. Her research on how local news media responded to the COVID-19 crisis demonstrates this.
During the pandemic, news outlets had to abandon their physical offices and transition to remote work. They adopted various technology tools like Teams, Zoom, Slack, and Trello to keep their newsrooms operational. These changes, which in some cases had been met with years of resistance prior to the pandemic, were made simpler and faster because of a clear problem that demanded a solution.
Newsrooms can apply the same principle when considering technology adoption. By identifying the problems they want to solve, they can navigate the innovation landscape with purpose and direction. The BBC's journey towards offering radio online and later as podcasts during the early 2000s exemplifies this approach.
Crucially, if a new technology solves a problem for both your newsroom and your audience, you have found the innovation sweet spot.
Simon Nelson, who was heading BBC's radio and online offerings at that time, realised the inefficiencies of broadcasting original radio content once. Despite investing significantly in content creation, much of it remained buried in archives after airing only once. Nelson's team sought to revitalise archive content by making it available online. The BBC Radio Player, launched in 2002, allowed on-demand streaming services.
As the popularity of Apple's iPod soared, Nelson explored the idea of making BBC's radio programmes available for download. Despite facing opposition due to rights concerns, they offered the Reith Lectures as a trial in 2004. The success of this experiment laid the groundwork for the BBC's podcasting services launched in 2005, leading to over 1.48 billion plays of radio, music, and podcasts on BBC Sounds in 2022.
This journey exemplifies how pinpointing a problem and applying technology to solve it can lead to significant audience growth.
Step 4: Look to the future
While crystal-ball gazing is not recommended, a technique from the Blue Ocean Strategy by Professors Chan Kim and Renée Mauborgne offers insights into unlocking new markets. This strategy suggests examining external trends to determine if they are decisive, irreversible, and have a clear trajectory.
The Guardian's decisive move into the online world in the 1990s provides a noteworthy example. Before making the leap, editor Alan Rusbridger embarked on an exploratory mission to the US to "see the internet".
In Chicago, he saw videos of a house on a rudimentary computer screen – a new way to advertise property for sale. In Boulder, Colorado, he saw a block of wood with a "front page" glued to it, a kind of iPad imagined for a group working for media company Knight Ridder. And in New York, he visited the New York Times, where he heard they did not think that news would work well on the internet, and just planned to push some restaurant reviews.
Recounting the trip, Rusbridger explained why it was necessary: "Sitting in the Guardian office with only one computer attached to the internet, it was difficult to imagine that. So you really needed [...] to jump on a plane to see what it looked like," he said.
Rusbridger also met with futurists who had been looking at the internet, through a partnership that the Guardian had with Wired magazine.
"If you're not a technologist, just keep talking to people who are. If you want to either future-proof yourself or imagine the opportunities that lie in the future, then you obviously have to understand people who are excited about the future – and understand that they're probably not within your staff," he said.
Having done the legwork, he was convinced that digital would be the future.
"So I get back and tell my editor there's this thing called the internet and we have to be on it; if we're not, we're stuffed," he told me. The rest is history.
Step 5: Define your goals and strategies for managing change
With paradigmatic innovation in particular, the process is not easy to manage. Even after having peered into the future, newsrooms will need to keep everyone on the same journey to successfully navigate to the "blue oceans" of innovation.
When Rusbridger set up his product development unit, the rest of the organisation dismissively referred to it as "the playpen". Journalists felt those in the team were "not proper journalists" and would not know how to "do the news," said Rusbridger.
At the BBC, Nelson faced similar pushback trying to offer radio programmes online. At every step of the way, he and his team had to overcome pushback from within the BBC, as well as the commercial sector and the government. "I very strongly argued back that if the BBC did not adapt in a variety of manners, [it] would die. This was where the market was going. And we needed a public service offer in that market," Nelson said.
Disagreements often involved people arguing about what would happen in the next six to 12 months, he said, and missed the perspective of what was going to happen in the next five to 10 years. "This leads to short-term actions and underfunded short-term projects, rather than appreciation of where the market is going over the longer-term," he said.
We've spoken a lot about overall newsroom strategy: without a clear direction and goals, newsrooms will continue to act upon new technology ideas in a haphazard way that can be both costly and distracting from overall value.
You can identify an opportunity, define your audience, pinpoint the problem the innovation will solve with a keen visionary insight for the future… and still fail in the rollout if you do not complete step five.
Successful long-term innovation hinges on having a plan that outlines how you will test, innovate, and adapt if key goals are not met.
That plan should be clearly communicated by top leadership in a way that outlines both how it fits into the overall newsroom strategy and what the measures of success will be.
All of that should be well documented, so that you can refer the newsroom back to the intended goals and illustrate successes when necessary.
Note that goals and measures of success are likely to shift as you continue to test, innovate, and adapt your new technology plan.
Why we do this
We may not be ahead of the curve all the time, or even successful in our experiments, but I agree with Rusbridger, who told me: "It seems more important to be trying stuff and failing, rather than sitting with your arms crossed saying – as lots of people did – that this is all nonsense and it's never going to work."
I hope this framework will start a conversation about how we assess the "bright, shiny things" so that we can decide which ones to embrace and which ones to ignore, and maximise our chances of innovating successfully.
Ultimately, what's most important amid all this talk on innovation is to remember why we are doing so. As we tap into data, social media and generative AI to enhance our storytelling abilities, connect with wider audiences, streamline our workflows and even build new business models, our mission remains the same: to empower the public with the information they need to make informed decisions about their lives, communities and societies.
In this sense, technology will change but traditional news values should not.