"Younger audiences are quite unforgiving when it comes to poor quality content"
Njoki Chege, who heads a pioneering Media Innovation Centre in Kenya, speaks about the future of journalism in East Africa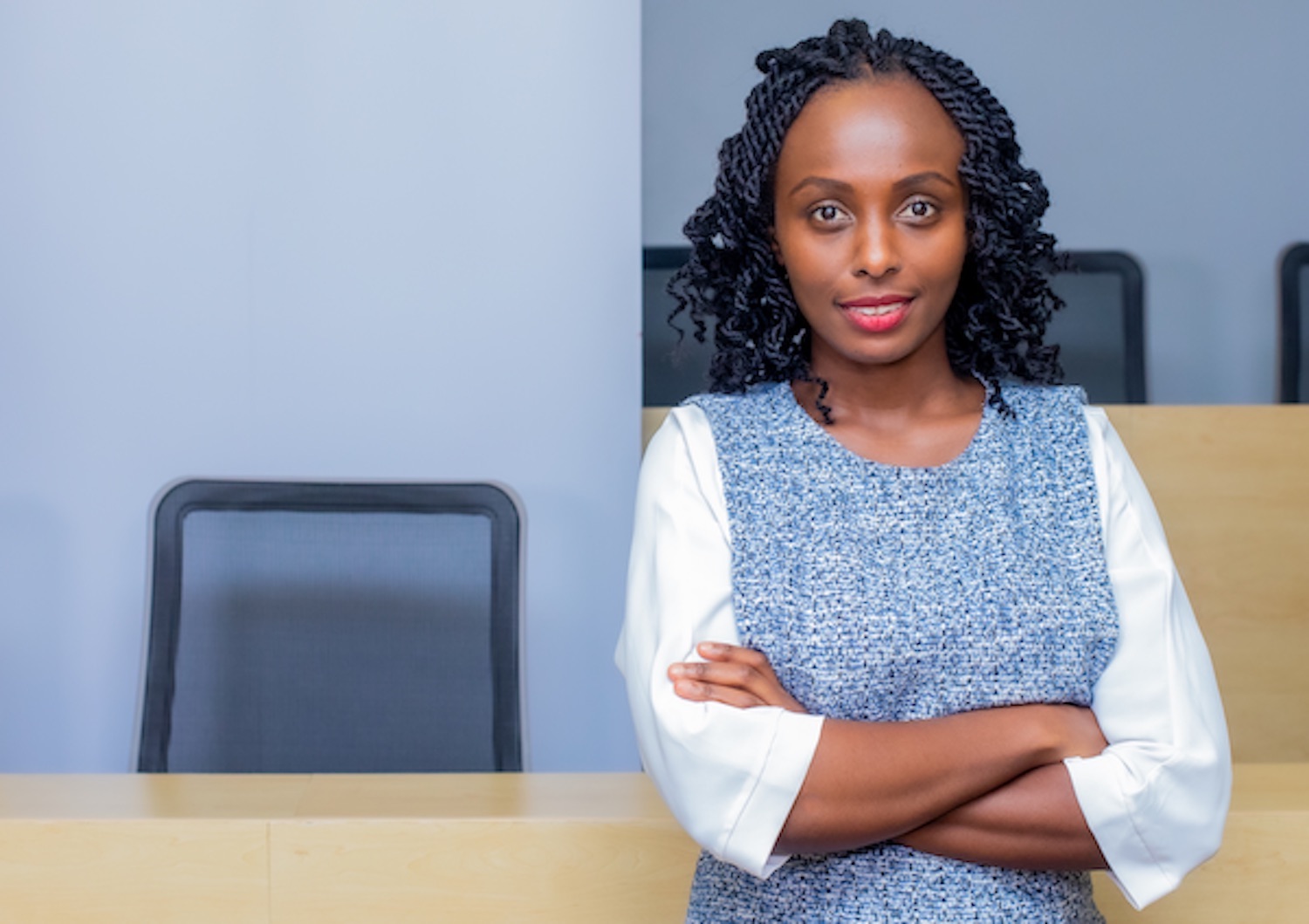 In 2019, the Graduate School of Media and Communications at The Aga Khan University (Kenya) in partnership with DW Akademie set up a Media Innovation Centre, led by Dr Njoki Chege. The project is fully funded by the German Development Bank (KfW). In this interview, Njoki speaks about the goals they set for their hub, the work they have done so far, and future prospects. She also offers her assessment of the status of journalism in East Africa.
Q. Why did you set up the Media Innovation Centre? What targets and goals have you set for the centre?
A. Our purpose was to support media viability across East Africa. At the centre, we support media innovators from Kenya, Uganda and Tanzania through training, coaching and mentorship. Our flagship project is the innovators-in-residence programme in which we invite media innovators from those countries to pitch their ideas before a panel of judges drawn from different fields (academia, tech, media and business). We support three ideas (one from Kenya, one from Uganda and one from Tanzania) every year through training, coaching and start-up grants of up to $20,000. This is a competitive and equal opportunity process open to innovators working in community media as well as those in urban areas.
We want to build a community of media innovators across East Africa. We are putting together an ecosystem of print journalists, broadcast journalists, digital-native journalists, media innovators, mentors, academics, trainers and coaches in an environment where they can draw from each other's experiences and challenge each other in their innovation journey.
Q. What are the criteria to enter the innovators-in-residence programme?
A. We do not require our innovators to have journalism experience or training to apply for our programme, although it is encouraged. What we need is for you to have a really good idea, be open to learning, mentorship and coaching and be willing to experiment with a lot of stuff you'll be learning from our coaches and mentors. We just need them to be passionate and persistent with their ideas. You may be already working on your idea, gained some traction or even earned some revenue or you could be at the idea level seeking guidance and mentorship to begin. Some innovators are quite advanced in their start-ups and so we come in to play the accelerator role.
Q. How are you able to ensure that journalists in other countries in the region gain as much as those who are based in Kenya?
A. We have an East African mandate spanning Kenya, Uganda and Tanzania. We operate in a "hub-and-spoke" model and work with partners from Uganda and Tanzania to achieve this. Our partner in Uganda is the Media Challenge Initiative, headed by Abaas Mpindi. In Tanzania, we work in close partnership with the Tanzania Media Foundation currently headed by Interim Executive Director Fausta Musokwa. Through these partnerships, we ensure that innovators in Tanzania and Uganda have equal access to the same services like their Kenyan counterparts in Nairobi. Our regional partners play a crucial role in not only hosting our innovators-in-residence but also supporting them through mentoring and ensuring our innovators are comfortable.
Q. Do tell us more about the recent programme, the kind of entries you got and the process you followed to select them.
A. We started the programme in August 2019, when we went public with the first call for applications and selected the first cohort. Because it was a pilot project, we only had innovators from Kenya. We selected two teams of innovators-in-residence; Debunk media, which offers explainer journalism to young people in Africa [using] visual storytelling methods like video, data and graphics, and Ludique Works, which leverages on augmented reality (AR) for storytelling.
Our second cohort of innovators-in-residence was much broader. We opened it up to innovators from Uganda and Tanzania. In four weeks, we received 250 applications from the three countries. We got all sorts of interesting and impressive ideas. 
East African media innovators want to use digital technology for storytelling and they want to tell the stories that are often ignored by legacy media. Yes, we saw a lot of that. Start-ups that wanted to address chronically under-served markets by telling those untold stories. It was really humbling to see all these young people put in so much effort in pitching their stories.  Last year's process was much more elaborate than the 2019 process because we had learnt a lot of lessons from the first cohort. [Eventually], the jury selected the top idea in each country, and those became our innovators-in-residence.
Q. What things are the innovative ideas bringing into the game so far?
A. The first that comes to mind is the use of technology; the new start-ups are not afraid of experimenting with technology and using the likes of AR and sometimes VR [Virtual Reality].
Their storytelling formats are also quite different. It is a bit more personal compared to the legacy media and the target audience is also different. The one thing that legacy media will tell you is that they have been having a problem with reaching out to the younger audiences; that is the under 35s, mostly Millennials and Generation Z. However, for these start-ups, that is exactly the audience that they feel comfortable around.
The second issue is risk-taking. The new start-ups have a very high appetite for risk. They are fearless. They will really go hard at anyone as long as the story is factual.
Third, is the decision-making process. Because these are small start-ups, the decision-making process is much faster, and things will move faster. Whether it is in terms of new ideas or onboarding new members to the start-up team, that will bring in fresh ideas or new skills. That kind of nimbleness works very well in an innovative environment.
Finally, I would mention the diversity of skills and the diversity of personnel. Teams are made up of video editors, a photographer, a data person and a medical doctor. The diversity of ideas, the diversification of skills and the collaborative effects of the new start-up is amazing to witness.
Q. You have done some research into Kenyan media trends and got some experts to make some predictions. From where you sit, what should media managers in East Africa be thinking about in terms of new ideas?
A. Based on what we have seen, media managers need to understand their audiences more, especially people under 35. As it is now, most content that you see in legacy media is targeting older audiences. That is why start-ups like Debunk become very relevant. They became an instant hit because they break down critical issues that affect East African citizens to young people in the language and storytelling format that they understand and appreciate.
The median age in East Africa is estimated at 18 years.  East Africa has a very youthful population and if you are thinking about a sustainable media, there is no way you can succeed without including young people as audiences, as newsmakers and as storytellers.
Q. When you look at the traditional media organisations across East Africa, which products do you see as innovative enough, and in tune, with the needs of the region's young population?
A. I appreciate what Nation Africa is doing with Nation Prime. They recently launched a paywall. I think that is a step in the right direction. Internationally, we have seen that reader revenue is a viable business model. Whether it is viable this side of Africa is a wait-and-see situation, but I think Nation will learn a lot of important lessons on how to build a successful subscription business from success stories in the US, UK, Spain and South Africa.
Nation Africa's Newsplex is one of the brilliant ideas that they are seamlessly executing, where they put a story in a picture format. I think that is the future of journalism, and I like the fact that it is often paired up with the long reads because you must not forget that in as much as there are possibly younger people who might appreciate the video and the visual and the graphics storytelling, there are also some people who appreciate a long, good read. I think Newsplex is very versatile. It can be executed on text and on digital, so it has a lot of potential. I am just wondering why they haven't made it much bigger in Kiswahili and other local languages that Nation broadcasts in.
In terms of youth-targeted content, I am not sure there is any traditional media that is doing something that I would particularly call "ground-breaking." Standard Group has tried with their entertainment beats. But I think there is still much more to be done. Standard Group are trying with the Farmers' content and the Farmers' TV. They have some radio programmes targeting younger people, but for me the general feeling is that they need to do much more to include young people as storytellers, decision makers and audiences.
Q. Could you provide a cheat-sheet for anyone who is an innovator and looking into the future? What do you think the East African ecosystem needs in the next few years?
A. If you are an innovator looking to be successful in the media industry, you need to make your product appealing to young people. The second issue is the storytelling technique. You need to be versatile, don't rule out the long reads, don't rule out video, don't rule out visualization and audio. Your storytelling needs to be adaptable and inclusive of the different tastes of audiences. 
Sometimes this might mean converting your most read stories into audio to reach out to that section of your audience that appreciates audio. Lastly, content needs to be high quality, well researched, and well done. You can never get away with poorly done, bottom shelf content. Younger audiences are quite intolerant and unforgiving when it comes to poor quality content.  
Content on young people, women, lifestyle issues will work very well in East Africa. Don't just limit yourself to news. News is great. Analysis is fantastic. But we have to realise that the audiences that we speak to also have lives. They are parents, they are trying to live and eat healthy. They want to exercise more. They want to learn how to cook healthy meals for their families. They want to read more. They want to be financially independent. They want to know which gadgets and cars to buy  and so on. If you are able to answer those questions and solve those problems, then that is going to be a game-changer.
Q. What would you count as success for the innovation centre?
A. For us, success is supporting more innovators through our residency program or our free training. We might not fund every idea due to our resource constraints, but if we could train and mentor more start-ups in East Africa, that would be really impactful work. I am not just talking about numbers. 
The sheer knowledge that even one start-up in Tanzania or Uganda or Kenya that passed through our innovation centre went on to do some great journalism that changed their community would also count as a deep impact for us. Quantity is great, the numbers look good on a report, but it is the quality of the support and the impact that we leave behind that really matters to us.
Most importantly in the next two years, we need to encourage other institutions to set up similar innovation centres in East Africa. It is good to be the first in East Africa, but it is not that great to be the only one. If our work could inspire other institutions to set up similar centres, that would count as massive success.
Benon Herbert Oluka is an Ugandan multimedia journalist, a co-founder of The Watchdog, a centre for investigative journalism in his home country, and a member of the African Investigative Publishing Collective. Oluka's work has been recognised three times on the African continent as winner of the 2008 Akintola Fatoyinbo Africa Education Journalism Award (First Prize, English category), the 2011 CNN-MultiChoice African Journalist of the Year Award (Tourism category) and the Thomson Reuters' 2011 Niall FitzGerald Prize for Young African Journalists.