Unpacking the history of 13 Norham Gardens
The Reuters Institute building has a very special place in the hearts of Journalism Fellows. But what is her story?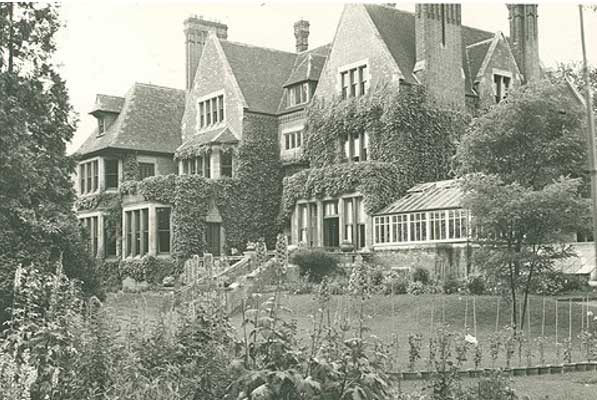 Is it true that 13NG was once a Dolls' House?
Yep – it was the home of the regius professor of medicine at Oxford. The last occupants were the Doll family (Sir Richard and Lady Joan). Doll was the key figure in setting up Green College in 1979 which merged with Templeton in 2008.
So, who was the first occupant?
The Osler family (Sir William and Lady Grace) and their young son, Revere. They came over from Johns Hopkins in Baltimore in 1905. They lived first at 7 Norham Gardens, whilst renovations were carried out at number 13.
What renovations were needed?
Plumbing. Edwardian Oxford wasn't quite ready for them. For a start, they liked to bathe so new plumbing was installed at Norham Gardens along with four bathrooms.
Wiliam was born in Canada and Grace in the United States. So they didn't hold for any of that prissy British class nonsense either – tables were laid out on the back lawn for a party for the workers and their families who had carried out the renovations.
24-hour party people?
Kind of. This family group shows Osler at the front and Revere directly behind him.
13 NG became known as "The Open Arms" because of the generous hospitality on offer to all and sundry, from impecunious visiting scholars to literary luminaries like Rudyard Kipling and Mark Twain.
(Thus, the precedent was established for the great parties Reuters Institute fellows were to have later on.)
House of Fun?
Definitely. Osler had a terrific sense of humour, playing practical jokes with Revere. He had a great rapport with kids. He'd ignore adults and join in their games like leaping over a table or lying down on the carpet in the middle of a tea party.
Osler was also an early petrolhead. He bought a new Renault motor and the family (Revere is in the front with the chauffeur) would head out on family trips.
Any other servants?
Yep. The 1911 Census lists 19 rooms (excluding bathrooms) for 13NG with five servants living with them: a butler, cook, housemaid, parlourmaid, and kitchen maid.
What did Osler do for medicine?
He was the first medical international superstar. At Johns Hopkins in Baltimore, he pioneered ward rounds where medical students learned that patients weren't just a collection of symptoms. His books were published around the world.
In Oxford he managed to indulge is his passion for books at the Bodleian and take on many roles. He still treated patients – which is why those who attended the 2023 Reunion's Sunday brunch left their bags in the "consulting room".
What was the first major writing award associated with the house?
You might have thought this would have been one of us super bright Reuters Institute fellows. But alas, no. Neurosurgeon and author Harvey Cushing won the 1926 Pulitzer Prize for biography for his two-volume work on Osler.
The Great War cast a gloomy shadow over Oxford, but Norham Gardens remained a busy place welcoming Canadian and American medical officers. Osler was very concerned about Revere serving in the trenches. He was killed in 1917 and his father never really got over it. Osler died in 1919.