Too much jargon and no proper training: Why East African journalists struggle to cover climate change
A new report from Internews, based on a survey of journalists from the region, calls for more access to experts and climate data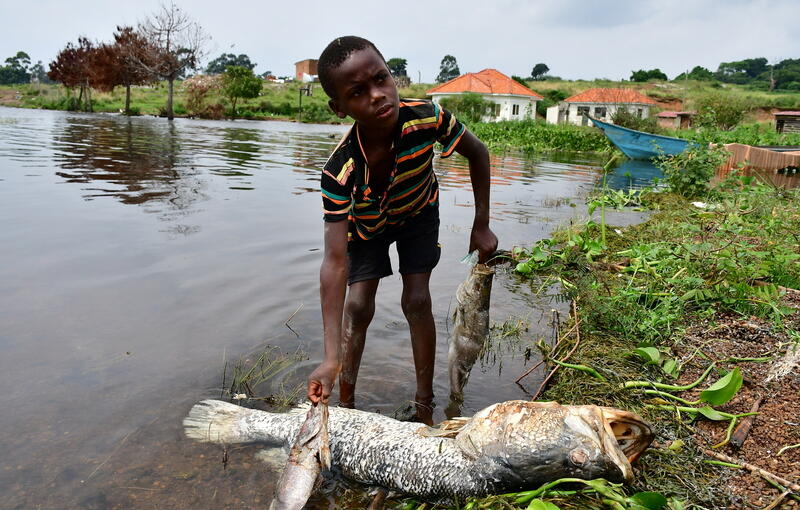 Warmer sea surface temperatures leading to increased droughts, less rainfall during the dry season, the potential for malaria incidences to increase, more frequent and extreme weather events. These are all climate impacts experienced by East Africa. 
For journalists in the region, reporting on climate change means understanding these issues while navigating climate misinformation and disinformation fuelled by politically motivated campaigns, a lack of public awareness and conflicts between scientific and traditional knowledge systems.
Much research into climate misinformation is focused on the Global North, says new research from independent media nonprofit Internews. "There is little empirical evidence from African journalists' perspectives on the topic," says the report, which is based on a literature review, focus group discussions, interviews, and survey responses from 468 journalists in Ethiopia, Uganda, Kenya and Tanzania.
"The climate debate has been going on for years globally, but there was this question: is East Africa participating and what is the level of involvement?" says Jackie Lidubwi, who led this research for Internews. "We have a data gap on climate misinformation in East Africa."
The report Climate journalism in East Africa in an era of misinformation looks at the climate change reporting habits of journalists in the region, as well as their perceptions and understanding of the subject. According to the report, the biggest obstacles to effective climate change reporting in East Africa include insufficient coverage, generic stories with a global perspective rather than local focus, a lack of access to climate experts and a lack of training and specialisation in climate and environment reporting amongst journalists and newsrooms.
The starkest finding, however, suggests that two-thirds of the journalists surveyed in East Africa feel the need to include climate change sceptics or deniers to provide "balance" in their reporting, which can lead to the amplification of false or misleading information.
This discovery was initially alarming, says Lidubwi, but links back to traditional journalism training in East Africa and a lack of understanding of climate change and climate misinformation. "For a journalist who is not aware of climate misinformation or even climate change," she says, "if you don't know if what you're saying is true or not you will always bring in both perspectives."
Understanding low coverage
Internews' survey of journalists suggests that a lack of understanding of basic climate change issues is a central factor in whether the subject is reported (or not) and the potential for misinformation to spread in East Africa. Most respondents said they were not sure what climate misinformation means. There was also uncertainty about the basic principles of climate change and terms including net zero and climate finance.
"If a journalist can get confused about jargon and they are the ones supposed to disseminate information, what information do we give to the public?" says Lidubwi.
Despite this uncertainty, 45% of the journalists surveyed fully agreed and 36% mostly agreed that they could confidently spot inaccurate climate change information. "Journalists in the region are confidently reporting on a matter that they lack knowledge on and thus are highly susceptible to both misinformation and disinformation," states the report.
Recent reporting of weather events provides a perfect example, explains Lidubwi. Mainstream media has overemphasised the rainfall that El Niño will bring to the region, predicting loss of life and livelihoods. But the effects of El Niño and La Niña in Sub-Saharan Africa have been sensationalised and at times confused with the normal annual wet and dry seasons, says Lidubwi.
At present, the ability of journalism to counter climate misinformation in the region is hindered by insufficient coverage of the topic. Financing more climate journalism is a challenge, she acknowledges– media houses fear these stories won't generate income, so they are reluctant to invest, especially in deeper investigative work.
Lack of localisation
The lack of credible climate data for the region, especially at a local, community level, is also highlighted in the report. Again, international agendas or national perspectives tend to dominate what information is available and these narratives shape reporting on climate in East Africa. The report recommends greater localisation of stories by journalists in East Africa, including in local languages.
Kenya recently hosted the African Climate Summit, which was a step in the right direction, but there was criticism that the event's agenda was still set by the West, says Lidubwi. "There's a lack of resources to organise such conferences to share our knowledge," she points out. "There's a lack of researchers and experts to break down whatever they've found to the level where journalists can understand. It's easier to get stories from international media and re-broadcast them."
The report interrogates the role governments play in climate reporting in East Africa, whether through control of data (governments run meteorological departments, for example) or state ownership or shareholdings in media houses. There are credible climate experts within government institutions, but many are "unwilling to talk to journalists", the report suggests before adding: "They treat climate reporting with suspicion, and they think journalists do such stories for money."
Journalists may get research and data from NGOs in the region but there's a lack of motivation for the private sector to collect climate change data, leaving the government as a central source, Lidubwi says.
The need for training
The report includes a series of recommendations for journalists, journalist networks, media houses and funders to boost climate change reporting and handling of climate misinformation and disinformation in East Africa. These include the integration of climate reporting into day-to-day news operations in media houses or the creation of specialist desks, the foundation of expert networks on climate change with good relationships with journalists and more climate change reporting grants.
Increased funding is needed for "ambitious investigative, collaborative or data-based efforts", but that is not enough. The report stresses audiences also basic, daily coverage: "[Funders] cannot rely on the market to provide these public information services."
The most pressing need, however, is training, says Lidubwi: "We need training in climate change, before even [training in] misinformation and disinformation, so that journalists can understand what this monster we are talking about is." 
The appetite is there: 97% of those surveyed said they would be interested in receiving training on how to identify and report on climate misinformation and disinformation; almost everyone wants training on improving climate reporting in general.
Funding for climate reporting is similarly crucial or newly climate-trained journalists will be left "stranded". Media houses in East Africa are suffering from shrinking revenues, says Lidubwi, which exacerbates the already inadequate funding available for climate reporting.
There are other positives to be taken from Internews' survey, says Lidubwi: approximately 64% of the journalists surveyed were reporting on climate change on at least a monthly basis. But further capacity building and chances to collaborate or form networks with other journalists in East Africa are huge opportunities.
Not to be overlooked is the emergence of a cohort of young journalists in East Africa boldly reporting on climate change, she says: "It doesn't matter if they're balancing or not balancing; if they know or don't know climate change. They are excited and taking up climate journalism."