How Ripples Nigeria aims to create a fertile ecosystem for geo-journalism in Africa
Founding editor Samuel Ibemere discusses how their signature project Eco-Nai+ can help improve the climate coverage in the continent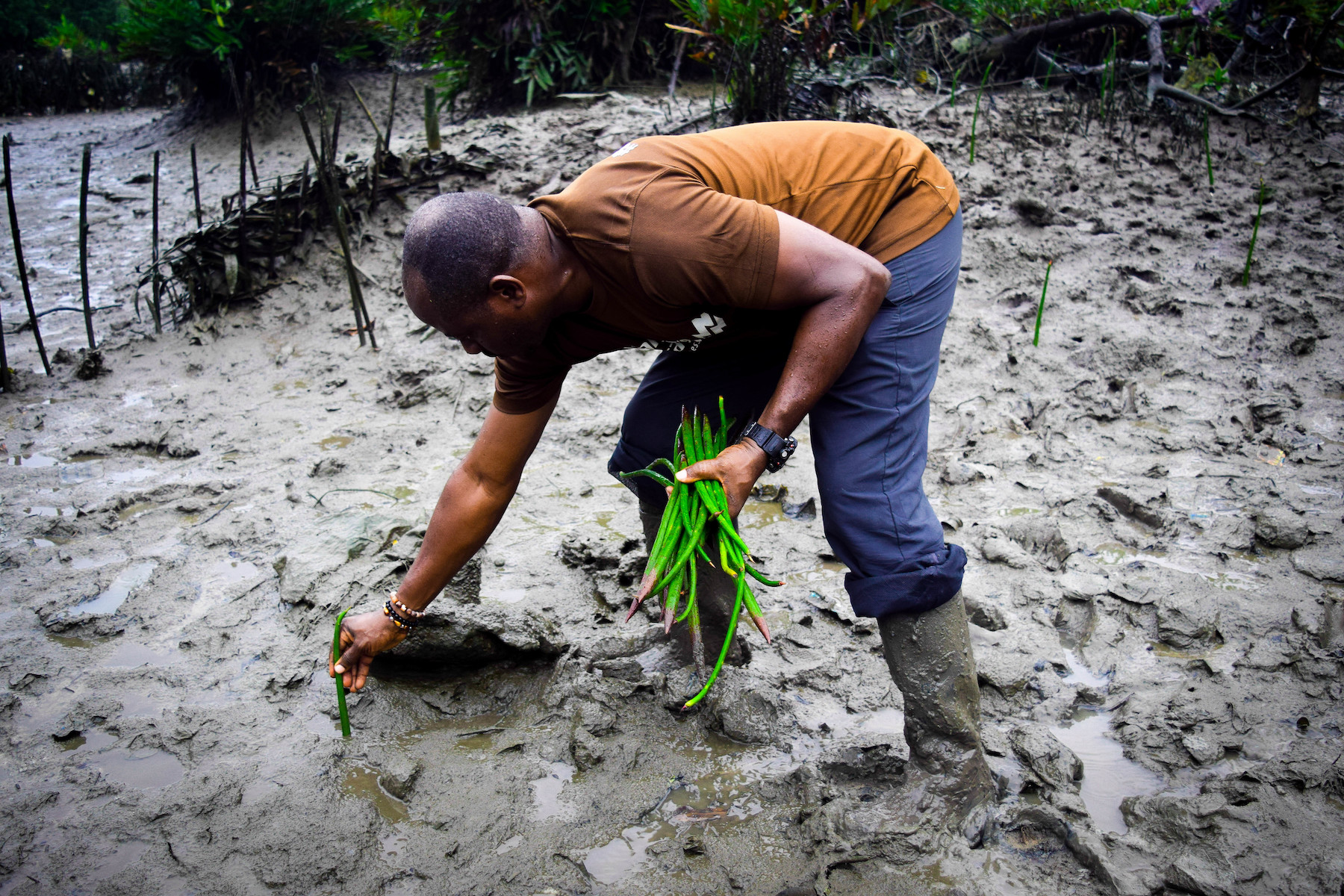 Samuel Ibemere leads a team of 20 journalists at Ripples Nigeria, an online media organisation with a focus on investigations and data journalism. With the Ripples Centre for Data and Investigative Journalism (RCDIJ), the organisation's nonprofit arm, he also oversees a team working across content development, digital media production, digital marketing and social media management. Before joining Ripples Nigeria in 2015, Ibemere was the executive director of Champion Newspapers, which publishes a national English-language newspaper in Nigeria. 
In this conversation, Ibemere discusses leading Ripples since its launch in 2015, its ongoing donor-funded projects, the future for the publication and Nigeria's challenging media landscape more generally. His responses have been edited for brevity and clarity.
Q. How would you define Ripples Nigeria?
A. Ripples Nigeria is one of Africa's foremost online news platforms. It was established in 2015 as a way to create a unique and innovative media outlet with a focus on solutions journalism and far-reaching and impactful reporting.
In keeping with this original vision, the platform has grown to represent a reference point for investigative and data journalism, with a long list of stories ranging from areas like corruption, democracy and human rights to climate and development. With its efforts, Ripples has won several awards, locally and internationally. The latest is the Google News Initiative (GNI) Innovation Challenge for Africa, Turkey and the Middle East. 
As editor-in-chief, guiding it from its humble beginnings to its present state has been demanding, requiring consistent mobilisation of human and material resources, sustained team supervision, and creation of a functional, adaptive result-oriented system. It's been challenging but rewarding.
Q. What would you say are the key challenges you've faced?
A. The African media environment is bedevilled by limited access to financing, a noticeable talent gap and in many cases a repressive system. Navigating these issues to build a brand of international repute has taken grit, strategic collaboration and devotion to the ideals of responsible journalism. 
Q. The project that won you the GNI Innovation Challenge aims to establish a geo-journalism project in Nigeria which will provide access to interactive geo-data through web and mobile applications. What does this project matter?
A. Eco-Nai+ is Nigeria's first dedicated digital geo-journalism platform. Its core focus is tracking changes to the environment occasioned by climate change. With built-in advanced geo-journalism tools, user-generated geo-spatial data can be investigated, processed, analysed, visualised and reported. Simply put, using geographical data and visualisation tools, the initiative is designed to host environmental data on drought, rainfall and erosion, while monitoring natural disasters to help track the progression of climate change. 
Our vision is the creation of a far-reaching geo-journalism ecosystem for Africa. Winning the award enabled us to build the platform, which will serve as a launchpad for one of the most ambitious solutions to one of the biggest challenges of our time. 
Q. What informed the decision to set up RCDI, your company's nonprofit arm, and what are some of your ongoing projects?
A. Our nonprofit was created as a dedicated vehicle to support journalism and the media ecosystem in Africa. RCDIJ is in its fifth year now and has grown tremendously. Its programmes have helped journalists from far and wide, and its projects have had a lasting impact. Notable programmes include the RCDIJ Data Journalism Masterclass and Ripples Dialogue, organised in conjunction with Ripples Nigeria. Through this masterclass, journalists from across Africa have been empowered in data and investigative journalism, geo-journalism, solutions journalism, public sector procurement and project tracking. These projects have been carried out with the help of partners such as Google, Code for Africa, Climate Home News, Open Contracting Partnership, BudgIT and Tracka. 
We have recently launched an alumni network and a fellowship, new vehicles that will help African journalists access the resources they need to do public interest journalism. 
Q. Tell us more about Ripples Dialogue and how it has fared since it was launched. 
A. Ripples Dialogue is an annual gathering of leading voices in Africa to discuss some of the most pressing issues on the continent. The dialogue seeks to provide insights into solutions to some of the huge challenges plaguing the continent. Jointly organised by Ripples Nigeria and RCDIJ, the dialogue has been graced by some of the notable personalities in Africa, including Nobel Laureate Wole Soyinka, serving and past state governors and legislators and civil society leaders.
Q. Nigeria's media landscape is thriving but also faces some challenges. What are some of the ones you've faced since launching Ripples Nigeria and how are you tackling them?
A. The common challenges revolve around financing and talent. So we've adopted a plan based on three principles.
The first principle is responsible monetisation. We've always been committed to independent journalism. When revenue generation is done without firm safeguards to ensure independence, an organisation loses its essence and damages journalism. With this in mind, we decided to adopt only sustainable monetisation efforts that do not compromise our standards. Our revenue model revolves around advertising, grants and investments. Each of these streams is closely regulated. So far, we have made substantial earnings from advertising, grants and, to a lesser degree, investments. 
The second principle is strategic collaboration. In a climate of limited access to finance and relative shortage of skilled personnel, combining resources with platforms with shared principles is key. This way, we keep resources while optimising the output. This has been a cost-saving, impact-compounding and relevance-broadening strategy for us.
The third principle is our innovative appeal. In this kind of environment, competing for talents and investments requires smart thinking. Appreciating our financial limitations, we believe that offering an innovative work culture and an innovative approach to project execution confer a unique edge. And this is what we have been doing. 
We were one of the very first media organisations to entrench flexible work for staff in Nigeria. Today almost all our staff work remotely and our efficiency and output have significantly increased. More so, we provide technology support for newer and more efficient ways of doing journalism. These have helped us become quite attractive to some of the best talents in the industry. 
Q. What's in store for Ripples Nigeria?
A. We are about innovation, impact and the future. For both platforms, we are investing in ideas and strategies that show the most promise for impact today and relevance tomorrow. These revolve around innovation, mediatech, climate change, flexible international collaboration and user-driven journalism.
As part of our vision, we are deepening our commitment to innovation, which will involve the adoption of new technologies.  A core part of this vision is tied to the fight against climate change. We believe a user-driven and technology-enabled approach holds much promise for climate reporting and geo-journalism. Our long-term plans in this regard revolve around Eco-Nai+, which has been designed to run on user-generated data and geo-technology. International collaboration is also key. To expand our reach and influence, we would need partners from far and wide. 
Patrick Egwu is a Nigerian freelance investigative journalist based in Toronto, Canada where he is currently a William Southam Journalism Fellow at Massey College, University of Toronto. Formerly based in Johannesburg as an Open Society Foundation Fellow, his reporting is at the intersection of human rights, social justice, global health, migration, conflict and development in sub-Saharan Africa, and has been published by Foreign Policy, NPR, Daily Maverick, African Arguments, Rest of World, World Politics Review, Global Investigative Journalism Network and elsewhere. You can find his work here.