A Mile Wide, an Inch Deep: Online News and Media Use in the 2019 UK General Election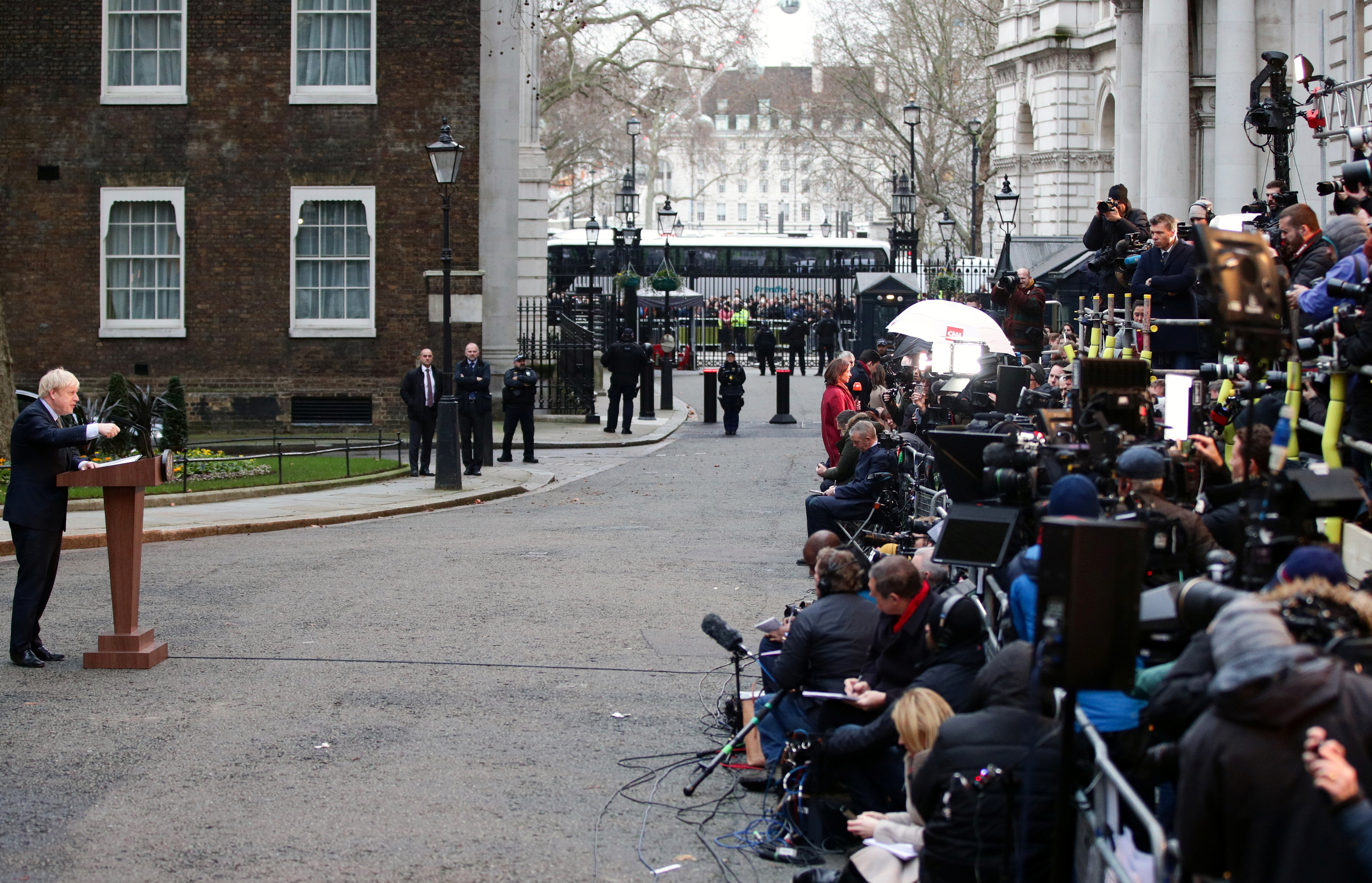 Young people (18-34s) spent an average of just eight minutes a week with news websites during the recent UK election campaign and showed little inclination to consume traditional news sources either. By contrast, older people (35-65) accessed almost three times as much online news (22 minutes a week) and consumed more TV, radio and print as part of their media diets. 
This is one of the key findings from the most detailed and comprehensive analysis to date of news use during the 2019 UK election, based on a unique tracking study of the online news consumption of 1,711 people throughout the six-week campaign, combined with surveys before and after the vote.
Across the whole online population, news websites had wide reach (72%) but relatively little engagement. Despite the critical importance of the election in defining the Brexit outcome, interest fell over the course of the campaign and visits to news websites over the period accounted for just 3% of all internet time.
"Much elite and public debate before, during, and after the election focused on the risks of political polarisation (especially around Brexit) but our analysis suggests that the bigger issue may be that many people do not engage much with news at all. Evidence that younger voters spent just a few minutes a day with online news sites will be of considerable concern for those who worry about political engagement and the health of democracy," co-author Nic Newman says.


BBC News accounts for 28% of all news usage
BBC News was by far the most widely used source for election news. Its website was accessed by more than four-in-ten of our online sample (44%) during the course of the election and was the main destination for election results. Its news app attracted 10% of mobile users, three times as many users as its nearest rival, Sky News.
The BBC News site accounted for more than a quarter (28%) of all the time spent reading news stories during the election period ahead of the MailOnline (21%), whose website included more stories that were not election related such as sport and entertainment. The top five news websites (including The Guardian, The Sun, and the Mirror) accounted for two-thirds of the time spent with news online. 

While election news made up around half (51%) of the most viewed stories in the first week of the campaign, the proportion declined to just 24% later by week 5. (Interest picked up again when the results were announced, with the election accounting for around 61% of top stories during that week.) BBC News online was the clear choice for those looking for election results with traffic around four times higher than its nearest competitors (Guardian and Mail Online) as the first results came through and again the following morning.
Mix of politically neutral and partisan news 
Much of the online news that people were exposed to during the election came from broadcast brands committed to impartial coverage or national newspapers that made no party endorsement (33%), but almost as much came from news media that formally endorsed the Conservative party (31%). These were more widely read than those supporting Labour (12%) by a ratio of around 3:1. Websites of alternative brands such as the Canary, Novara Media on the left and Breitbart on the right – along with foreign sites like Russia Today (RT) and Sputnik – played a relatively small part. RT's reach was roughly equivalent to that of the Brighton Argus, a popular local title, at around 1% of our sample. 
During the campaign, the BBC's coverage was heavily criticised on social media and by both main political parties and their supporters. There was concern that TV footage had been edited in a misleading way and that top correspondents had sent inappropriate tweets. Despite this, far more of our survey respondents felt the BBC had done a good job with its election coverage (43%) than a bad job (14%). This was also true of the other broadcast brands with obligations around impartiality such as ITV News, Channel 4 News, and Sky News. 
"This is a reminder that the concerns of the highly politically engaged – often expressed on networks like Twitter – can sometimes give a misleading impression of wider public opinion," co-author Richard Fletcher points out.
But the report also notes that attitudes towards the news media diverged considerably during the campaign, with Labour voters in particular expressing lower trust and less favourable evaluations of the media's ability to explain policies. At the start of the campaign there was no difference in news trust between Labour and Conservative voters, but by the end of the campaign, the trust gap had grown to 11 percentage points.
Other key findings 
Despite hundreds of thousands of pounds spent on social media advertising by political parties, only around one in seven (14%) of our survey respondents said they had seen one of these political ads online. This compared with almost two-thirds (63%) who had seen a political leaflet and one in ten who had received a visit from a political representative at home (9%).

People who use social media for news accessed more online news sources during the campaign than those who did not, despite reading a similar number of news stories. Similarly, those who say they use search engines to search for news topics were also found to access more different sources of news on average. 

Voters who used social media for news had higher levels of cross-cutting news exposure on average than people who did not. In other words, people who use social media for news consumed more news from the opposing camp rather than less.

Our survey data remind us that television continues to play an important role, both in reaching diverse audiences and helping to define choices. Around a third (35%) of those who watched the TV debates said these had helped inform their eventual voting decision. But only around 20% of our sample watched any of these directly on TV. The rest caught up via news bulletins, online websites, or social media.
More about the study and the methodology
This study was commissioned by the Reuters Institute for the Study of Journalism to understand how news was consumed during the 2019 UK General Election campaign. The data was collected by Netquest using a combination of passive tracking and two online questionnaires.
Netquest tracked the computer and mobile use of 1,711 people aged 18 to 65 from 4 November to 15 December 2019. A subset of these panellists was also invited to complete an online survey shortly after the official start of the election campaign (fieldwork 13–19 November), and again immediately after polling day (fieldwork 13–19 December): 840 panellists completed the first survey, and 752 of these also completed the second survey (retention rate: 90%).
For most of the statistics we present here, the base is everyone in the panel that accessed a website at least once during the campaign from either a computer or mobile device (1,666 people). Where we refer to the use of apps, the base is everyone that accessed the internet using an app during the campaign (758).
The tracking data were weighted to be representative of the British population aged 18 to 65 in terms of age, gender, and region, based on the latest population estimates from the Office for National Statistics.  The survey data were weighted to be representative of the British population aged 18 to 65 in terms of age and gender. As the focus of the research was on the UK General Election, we excluded panellists from Northern Ireland due to differences in the political system.
The focus of this research is on the passive tracking of online media use. Limitations associated with panel recruitment and the practicalities of the tracking methodology meant that we were not able to recruit a sufficient number of people aged over 65 to make it representative of the entire British population. Therefore, we restricted the study to those aged 18 to 65. This is important to keep in mind here because age is an important predictor of both vote choice and news use. As such, the data will tend to under-represent Conservative voters. This means that our survey sample contained slightly more Labour voters than Conservative voters, but this is consistent with post-election polling from YouGov that also showed that Labour had a higher vote share than the Conservatives among the under-65s. 
The focus of this study is online news use. We tracked the use of 35 of the most popular mainstream national and international news websites for broadcast, newspaper, and digital-born outlets (e.g. bbc.co.uk/news, dailymail.co.uk, huffpost.co.uk), 879 local newspaper websites (e.g. birminghammail.co.uk, liverpoolecho.co.uk), 20 specialist, alternative, or partisan websites (e.g. thecanary.co, breitbart.com, newstatesman.co.uk), seven satirical news websites (e.g. thepoke.co.uk, thedailymash.co.uk), and 125 dedicated politics pages on Facebook (e.g. Leave.EU, EvolvePolitics). We also tracked the use of 16 dedicated mobile news apps (e.g. BBC News app, Sky News app). Unless otherwise specified we use 'news' to refer to the 35 most popular mainstream national and international news outlets. 
Passive tracking data are generally considered to be a more reliable way of measuring online news use than surveys. However, the tracking software is only designed to collect data on URLs accessed using computers running Windows and Mac OS X operating systems. The mobile tracking software can be installed on both Apple and Android smartphones and tablets, but only the top-level domain for each URL accessed (e.g. bbc.co.uk, theguardian.com) can be recorded, as well as which apps are shown on the main screen. As the passive tracking software records the URLs loaded by browsers, it is not possible to track what people 'see' on their screens but do not click on. As such, passive tracking does not record, for example, news snippets displayed on people's social media feeds or on apps that use their own in-built browsers. Panellists are able to turn off the tracking software for 15-minute periods at any time, and this is not recorded in the data.
As tracking software only measures online use, we supplement it with online survey data on people's attitudes and their offline news use. Online samples will tend to under-represent the consumption habits of people who are not online – typically those who are older, less affluent, and with lower levels of formal education. It is also important to note that online surveys rely on recall, which is often imperfect or subject to biases. We have tried to mitigate these risks through careful questionnaire design and testing. We have made particular use of survey questions from the British Election Study, and we are very grateful to them for making their survey questions publicly available. 
The report was published with the support of the Google News Initiative.

This report can be reproduced under the Creative Commons licence CC BY.  For more information please go to this link.