The Oxford Climate Journalism Network is a unique new opportunity for participating journalists and their organisations to strengthen their competences to cover climate change, not as an isolated topic, but as something that intersects with many other aspects of our lives and societies. The focus of the network is not on individual pieces of reporting, but on working with hundreds of journalists and editors from all over the world to help them rethink and develop how journalism and the news media approach one of the defining issues of our time.
Applications
Applications have now closed for the second intake of the network, running from July to December 2022.
Members of the network will participate in a six-month online programme with access to world-leading experts, dedicated workshops and a community of 100 journalists from all continents. It is a unique opportunity to join a global network, learn from peers and academics, while developing your own expertise and career. Successful applicants will be expected to:  
Join a mandatory 90-minute seminar held every two weeks
Join 60-minute thematic sessions whenever possible
Engage with the network's community, including discussion with colleagues on an online platform, and participating whenever possible in additional activities and events 
Complete brief questionnaires tracking their knowledge through the process  
Who should apply? 
The course is designed for reporters interested in improving their coverage of climate change. The course aims to broaden the scope of climate change journalism. As a result, journalists, multimedia reporters, photographers and editors from every beat and desk are encouraged to apply, including beats such as sports, business and politics.  
If you applied unsuccessfully for our first cohort and received a message from us asking to keep your information on file for the next course, you don't need to apply again.   
How do I apply? 
Applications for the second course are now closed. When applications open for future intakes, journalists will need to complete a form and provide a signed letter from your editor or newsroom manager confirming you have their support in applying for the Oxford Climate Journalism Network. This letter should explicitly state that your organisation will allocate time for you to participate in the Network activities. This should be in PDF form on company letterhead.
What is the Oxford Climate Journalism Network?
The Oxford Climate Journalism Network (OCJN) is a new programme at the Reuters Institute for the Study of Journalism at the University of Oxford. 
The mission of the Oxford Climate Journalism Network is to help journalists, editors, and media executives across the world develop their coverage of climate change, and support newsroom leaders in identifying and addressing the range of operational, cultural and ethical issues that can be involved in expanding their coverage of this issue. 
News media remain the most widely used source of information about climate change and how we might respond, and it is important that journalists and editors in all media organisations are equipped to cover the issue, what it means globally as well as for them and their communities, and help people understand how we might respond to it.
The network helps ensure this by providing members with a series of knowledge sessions with world-leading experts, professional forums and working groups, introductions to relevant scientists and research. 
The Oxford Climate Journalism Network was co-founded in 2021 by the Reuters Institute's Deputy Director Meera Selva and Visiting Fellow and Advisory Board Member Wolfgang Blau. It is funded for the first year by the European Climate Foundation. 
What's unique about the network?
The Oxford Climate Journalism Network has the unique ability to tap into the Reuters Institute's global network of journalists and journalism researchers as well as into Oxford University's global networks of scientists in all disciplines relevant to this programme. 
It is open not only to science, environmental or climate journalists but equally to journalists of any other vertical who are interested in adding the climate dimension to the topics they currently cover, as well as editors and news media executives. Our working assumption is that climate change is not only a topic but rather a systemic issue that affects all verticals of a typical news organisation, including its culture, lifestyle, health, technology, architecture, food, sports or travel journalism.
How the network is structured
The Oxford Climate Journalism Network addresses some of the challenges journalists find when reporting on climate change and help editors and news media executives develop their approach to these issues. It will look at how to expand coverage across different verticals, identify reliable data sources, understand complex issues and rethink beat reporting, to ensure that an understanding of environmental issues permeates all areas of the newsroom. It will be structured around four elements:
Free online courses for practising journalists that, over 6 months, will provide members with individual support in identifying relevant sources, sessions with world-leading experts, and connect them with colleagues at other news organisations.
Leadership programmes for senior editors and newsroom managers from around the world selected for breadth, diversity, impact and commitment to implementing change in newsrooms.
Journalist Fellowships for mid-career journalists to join us in Oxford to work on projects related to different aspects of how news media approach climate change. 
Original academic research to track how people access climate change news in a range of countries, how and whether they share it, what they think of it, and how much trust they have in it.
Our first cohort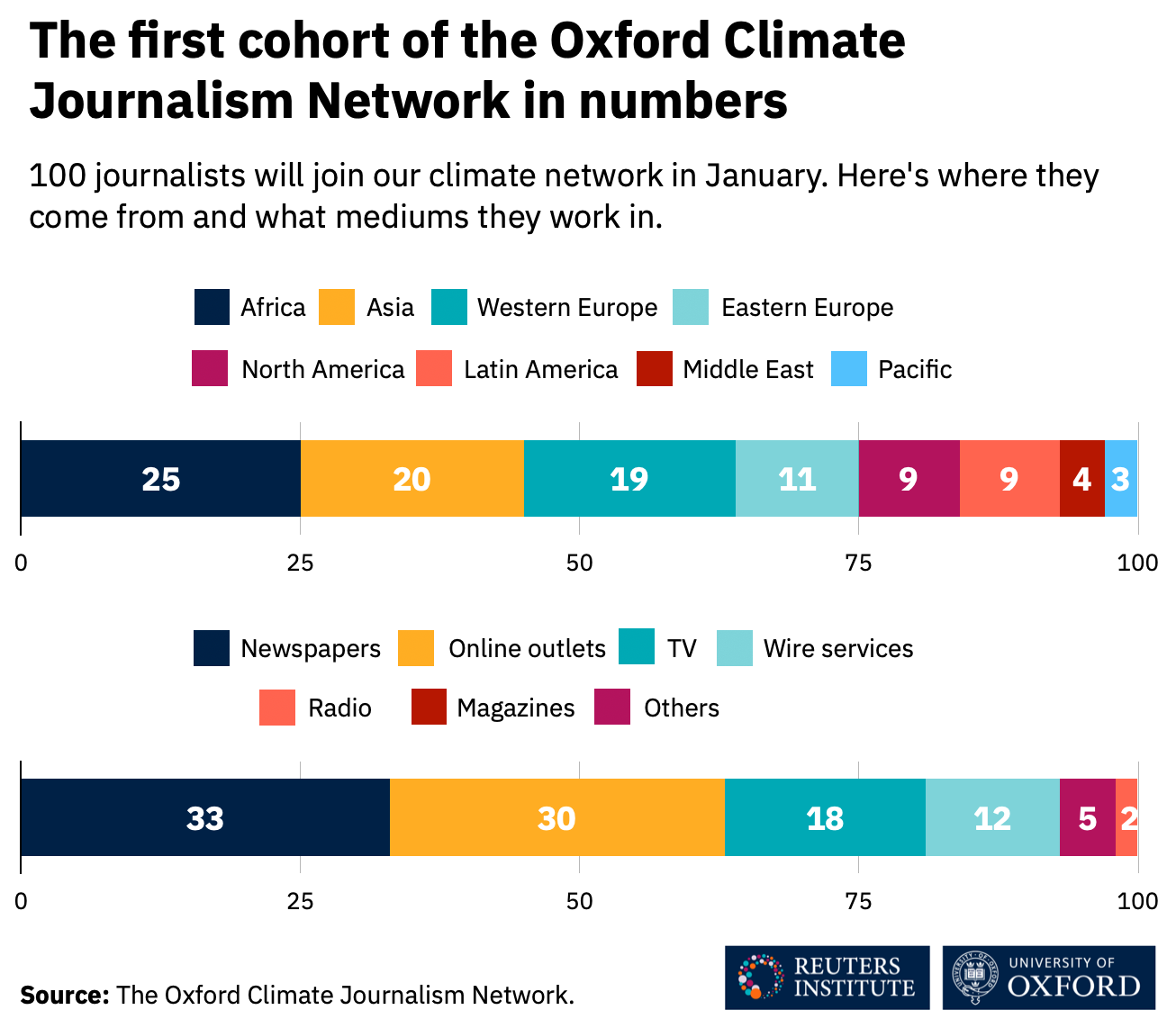 As the chart shows, the first cohort of the Oxford Climate Journalism Network is a group of 100 journalists that's truly diverse in terms of medium and geography. It also includes representatives from global news organisations as well as from niche publications and local news outlets from 61 countries around the world. This group participates in the first online course of the network, starting in January 2022. 
Bespoke courses for news organisations
If you want a bespoke course for your news organisation on how to develop your coverage of the climate crisis, please send an email to philippa.garson@politics.ox.ac.uk and we'll get back to you to discuss fees, details and possible dates. 
More on climate change from the Reuters Institute
Caption for the banner picture. An aerial view shows power-generating windmill turbines in a wind farm in Louverval, France in September 2021. REUTERS/Pascal Rossignol
If you want to know more about the Institute...