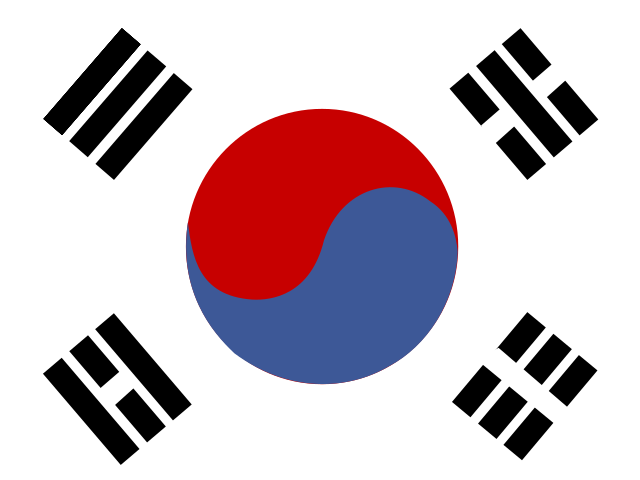 South Korea
Population: 51 million
Internet penetration: 96%
The media environment in South Korea is characterised by strong broadcasters, a newspaper sector struggling to adapt to digital change, along with powerful Korean-owned online portals, social networks, and messaging apps. Some news organisations have started to introduce digital subscriptions in the last year but worry about the dominant role of platforms and their algorithms.
The COVID-19 pandemic has accelerated concerns about sustainability of domestic news outlets. In a survey by the Korea Press Foundation conducted from July to August 2021, nine out of ten media companies (91%) responded that their business troubles were at a critical level.1 Total advertising expenditure for print media tumbled by 19 percentage points (pp) in 2020 and has been largely flat ever since, in contrast to TV and digital media, both of which fared relatively well.2 Print and digital advertising accounts for 64% of the total revenue of newspaper companies,3 and the government has injected emergency public funds into the embattled small and regional media for two years in a row – $8.2 million in 2020 and $5.8 million in 2021.
Media firms continue to experiment with new business models including subscription. Two major dailies, Chosun Ilbo and JoongAng Ilbo, introduced online registration in May and August 2021, respectively, an initial step towards a paywall. They offered exclusive content available only for logged-in readers and held promotional events with prizes to entice more online subscribers. Hankyoreh, a newspaper that has maintained a public ownership system based on individual shareholders for more than 30 years, introduced a membership model in May 2021. Although such attempts are yet to produce tangible results, media firms know they need to find new sources of funding quickly beyond advertising.
One notable trend is a renewed focus on email newsletters, as a way to better communicate with readers and drive more frequent usage. In the past three years, several media outlets, including Chosun Ilbo, JoongAng Ilbo, Maeil Business Newspaper, and SBS, either launched or overhauled their newsletter services, mainly targeting younger readers. This has been partly inspired by the email-driven success of local start-ups UPPITY and NEWNEEK. The latter attracted more than 400,000 subscribers. Meanwhile, Chosun Ilbo kicked off a paid newsletter service named Startup in March 2021. Even so, Digital News Report data show that the proportion of respondents who have used paid online news services (14%) remains lower than the average of other countries.
Major online portals Naver and Daum (run by Kakao), which aggregate multiple news sources via their webpages and apps, dominate the online news market in South Korea. A majority (69%) say they prefer to access news via these aggregators or via search engines, compared to just 5% who say they prefer to start their news journey directly with a specific news site or app – the lowest figure in our international survey.
One important point of contention between platforms and Korean media has been the fairness and transparency of algorithms that decide which news sources and stories to display. Kakao announced it would be ending this algorithm-based news layout system as well as the similar ranking-based news service for Daum, but the dependence on the platforms for audience reach remains. This outsize influence was further illustrated when a major news provider, Yonhap News, had its news articles suspended from both Naver and Daum in August 2021– after a dispute over the use of advertorials – causing their traffic to plummet. The service was restored after a court ruling but relations between publishers and platforms remain tense.
Our survey this year coincided with the run-up to a closely fought presidential election. With rampant mudslinging and corruption charges over the candidates and their family members, media firms came under fire for concentrating on these allegations rather than election pledges and related policies. Amid deepening political polarisation, the use of social media has increased, with YouTube (44%) becoming a much more important source of news4 as online users increasingly prefer to get information that matches their political allegiances. 3PRO TV, an economic YouTube channel, interviewed presidential candidates in a series that gained explosive popularity and positive reviews – providing voters with an opportunity to hear and compare the economic policies and ideas of major presidential contenders.
Jin-Ho Choi
Senior Researcher, Korea Press Foundation
Changing media
South Korea's 2022 presidential election was held amid the continued spread of COVID-19. During the period, news consumption via social media went up (+4pp), while the figure for TV and print media both went down.
Listen to podcast in the last month
52%
Trust in news overall
30%
(-2) 40/46
Trust in the news in general edged down (-2pp) in line with the average drop across the 46 surveyed markets. The most trusted media was YTN, a cable news channel, which has ranked first for two straight years. Trust in broadcasters is mostly higher than that of newspapers, but the relatively high levels of distrust for specific news brands point to a media that is deeply politically polarised.
% who think media are independent from undue political or government influence (change from 2017)
19%
(+7)
% who think media are independent from undue business or commercial influence (change from 2017)
18%
(+6)
Share news via social, messaging or email
28%