Founder of the journalist fellowship programme has died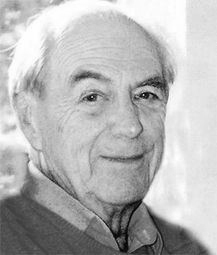 The founder of the fellowship programme which has brought hundreds of journalists from around the world to the University of Oxford has died at the age of 93. Neville Maxwell oversaw the programme for its first 10 years, initially awarding two fellowships to journalists in 1983 through the Institute of Commonwealth Studies. By the time Maxwell found a home for the journalist-focused programme at Oxford's Green College (now Green Templeton), in 1992/3, over a hundred journalists had been through its doors. The programme took various names over the years becoming, in 2006, the Journalist Fellowship Programme, currently under Meera Selva's leadership. A founding pillar of the Reuters Institute, it has seen over 650 journalists from all corners of the world spend one-to-three terms here researching, learning and discussing key issues in journalism.
Maxwell's vision for the programme, which he expressed in his essay How it Began, was that, "Not only would outstanding journalists from overseas benefit from a year in Oxford, but, by the fact of their direct knowledge of the political and social realities of their own countries, they would contribute to the University." Maxwell's ideals for the programme hold true to this day.
Several Journalist Fellows and others who were present under Maxwell's leadership, or who knew him, have paid tribute to him:
This is sad news indeed! My heartfelt condolences. 

I had the privilege of interacting with Mr Maxwell during two terms at Oxford in 1993 and had thoroughly enjoyed his presence at the Norham Gardens seminars and dinner-discussions. May his soul rest in peace.

Regards

Nerun Yakub (1993)
I am very sorry to hear this. He was a remarkable man and my heartfelt condolences to Neville's family.

On a personal note...Neville Maxwell changed my life. When I applied for a Fellowship in the late 1980s, Europe was churning with revolution, the world of journalism was responding to new technology, and I was ready for change, too. Neville interviewed me at his home just outside Oxford; I hoped to research the changing role of the media in revolutionary Eastern Europe, but I had never been to university before. Neville took a chance on me, found Leverhulme funding and had my newsroom sabbatical in Michaelmas term, 1990. Neville introduced me not just to the Oxford system, but to a different line of inquiry to that I'd learned in years of shoe-leather journalism in the UK. Seminars and lunches at Queen Elizabeth House were lively introductions to the research interests of Fellows, but also to the mind-sets of academic experts. Neville delighted in making introductions, then leaving us to follow up. My curiosity, however, got the better of me. I was inspired by an anthropologist to whom he introduced me, who taught me how to write my first academic essay. Two years after the Fellowship, I left the newsroom to return to Oxford, as a mature undergraduate in archaeology and anthropology. Neville was clearly not impressed, though there was a certain irony given his clearly successful introduction. And few more years, and a doctorate, later I was back reporting again. My - extended - sabbatical from journalism had only heightened my love of news and my belief in the role of the media, which Neville impressed on us so well. It was a joy - and a relief - to reassure Neville, and a delight to be in email contact with him in Australia. My gratitude to him is immense; not just for granting me that Fellowship, and trusting that someday I'd return to the fold, but for the network of Fellows he founded, who can experience both sides of the fence, and to better make sense of the latest churning times.

Best wishes,

Christine Finn (1990-91)

 
I am deeply saddened. I knew his son Ian. I wish I could be by his side to share my fond memories.    

I was a Reuters Fellow in the first batch (1983-84) at the Institute of Commonwealth Studies, Oxford and Neville was there to offer me guidance on any matter, academic or personal. He would never let his affections affect his judgement of my chapters for the book I was writing and rip apart bad writings. He helped me get the book published in London.

He was a brilliant journalist. Above all he valued independence of media. 

My love to Ian and the rest of the family.

Arun Sinha (1983-84)
Editor, The Navhind Times
Panaji, Goa, India 
So sad to learn of Neville's passing. Condolences to his family, friends & former colleagues at this time.

I have found memories of his stories on China which he shared with us as he made the 1992/93 cohort at home in Oxford. I saw him as the consummate intellectual & gentleman, a raconteur supreme & therefore an exemplar to us mid-career journalism professionals at the time. 

I know that we are better for having met & engaged him. May he rest in peace.

Maxie Cuffie (1992-1993)
Member of Parliament
Trinidad & Tobago
 

I will always be grateful to Neville for his work in creating the fellowship programme and for selecting me to participate (1991-92). It was one of the best periods of my life, both personally and professionally, and was crucial in helping me transition from being a local news reporter to a journalist covering national and international affairs.  I will remember Neville for his sharp intellect, his dry wit, and his commitment to the programme and to journalists and journalism from around the world.

Please share my condolences with Neville's family.

All the best,

Ken Guggenheim (1991-1992)
This is very sad news! I was lucky enough to have him as director of studies during my Reuters Fellowship in 1990/91 - and that was not all. Later he provided encouragement and support in my career as foreign correspondent for many years and then in my transition to life as an academic historian.

Please, do indeed send my condolences and feel free to pass on my details to his family.

And thank you for letting me know!

With warmest best wishes,

Dr Graciela Iglesias-Rogers (1990-1991)
I would like to send my condolences to Mr Maxwell´s dear family. He was my first contact and tutor at Oxford back in 1986 and I greatly value his orientation and his personal commitment.

Jorge Grunberg from Uruguay (1986)
I owe Neville so much: he invited me to be the first Reuter Fellow from Australia, before the formal path was set up through the ABC. I paid for myself, with Neville finding some funds as well from the British Council. And that spell with Reuter at agreeing College even led to a fellowship for me at Balliol.

He was always interested in current affairs and we talked about all manner of topics  - though it was a good idea to avoid '9/11'.

Australia can be a little neglected in some quarters and I was pleased and impressed that Neville Maxwell was able to make more than a niche for us in Oxford.

I hope his years latterly were serene.

Robyn Williams (1993)
I do not have any specific memories of Neville to share, but I do think it is worth remembering that the Oxford programme, which had now expanded into an important institution, was his idea and his creation. We should remember him and thank him for that.

Godfrey Hodgson (Maxwell's successor as Director of the programme)
I owe Neville a great debt of gratitude because of the many kindnesses he provided me and my family. I first met him in New Delhi, where I was station as bureau chief for Time magazine, and he invited me to join the Reuters Fellowship. I was overjoyed that I could participate because attending Oxford had been a lifelong dream for me. Upon arrival in Oxford with my wife and three young children, Neville very kindly helped us find a rental and event rented us (for a nominal fee) an extra car of his own. The class he assembled for Reuters that year were a great group, and my time at Oxford, including many wonderful sessions with Neville, was a complete joy I have always treasured. Thank you and bless you, Neville!

Ned Desmond 
I am very sorry to hear the about Neville Maxwell's passing.

He was funny and serious, insightful in so many different fields, had an abundance of energy and definitely seemed much younger to me than I now learn that he was.

He also was very generous. I met him in 1991 when I was a fellow at the program in Oxford. The Reuters Foundation had given me a grant which allowed me to take a couple of months off my work on the foreign desk of "tageszeitung" (www.taz.de) in Berlin.

Upon my arrival Neville gave me my first introduction into local manners. When we met in his corner office I stretched out my hand to him twice, but he would only take it once. For the good bye my hand remained unshaken in the air while Neville explained to me that in England there was only one handshake.

Later in the program I learnt all sorts of other things from him. I always appreciated the time he took with me - and all of us younger colleagues -  to discuss A) the world B) journalism and C) the UK.  I also appreciated when he let me know other details about English habits and rules through his assistant.

After I returned to Berlin Neville continued to show interest in how I fared professionally. Thanks to the break in Oxford and to Neville's guidances my career took off. I started travelling in Europe as a special envoy. A couple of years later I got the assignment as the permanent correspondent for the newspaper in France. And then was given the same job in the US, where I first worked out of Washington DC and now out of New York.

I will always be thankful for Neville's generosity.

I send my heartfelt condolences to his beloved.

Greetings, Dorothea Hahn (1991)
The team at Reuters Institute

Very distressing to hear this sad news.

I have tried in the last few months to get in touch with him via email to no avail!

He was one of those grand personalities who had a crucial impact on my life.

He definitely deserves a grand memorial service which I (as well as other friends/fellows) wish to be taking part in. 

My deepest condolences.

MKM
Dr Makram Khoury-Machool