Female journalists under-represented in European media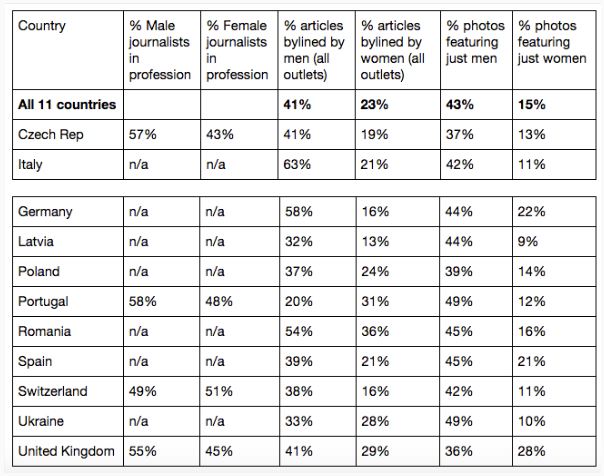 Women journalists are severely under-represented across Europe, a landmark study in the past year has revealed, despite a rough gender balance across the media. The research by the European Journalism Observatory (EJO), across 11 European countries, found just 23% of stories were written by women compared to 41% by men. The remainder were agency stories or were un-bylined.
The researchers found that male journalists also "spend much of their time writing about other men" and that photos of just men across the media outweigh those of just women by a factor of almost three. Germany and Italy were found to have the greatest imbalance in bylines while Portugal was the one country identified where stories by women outnumber those by men. A range of print titles, both quality and tabloid, and digital outlets were selected as part of the study.
Suzanne Franks, Professor of Journalism at London's City University, who has written extensively on female representation in the media, including in her book published by the Reuters Institute, Women and Journalism, told the EJO: "It is excellent that we have here such a wide-ranging and comprehensive study comparing gender disparities across so many countries. What is not so good is the persistence of the same disparities between who is being published and also who is featuring in news images. Let's hope that by highlighting once again these gender biases in journalism we will see concerted efforts for change."