Our seminar series on the business and practice of journalism goes virtual this term
Guests include Sarah Sands, Clara Jiménez Cruz, Dorothy Byrne, Matthew Caruana Galizia and Prashant Rao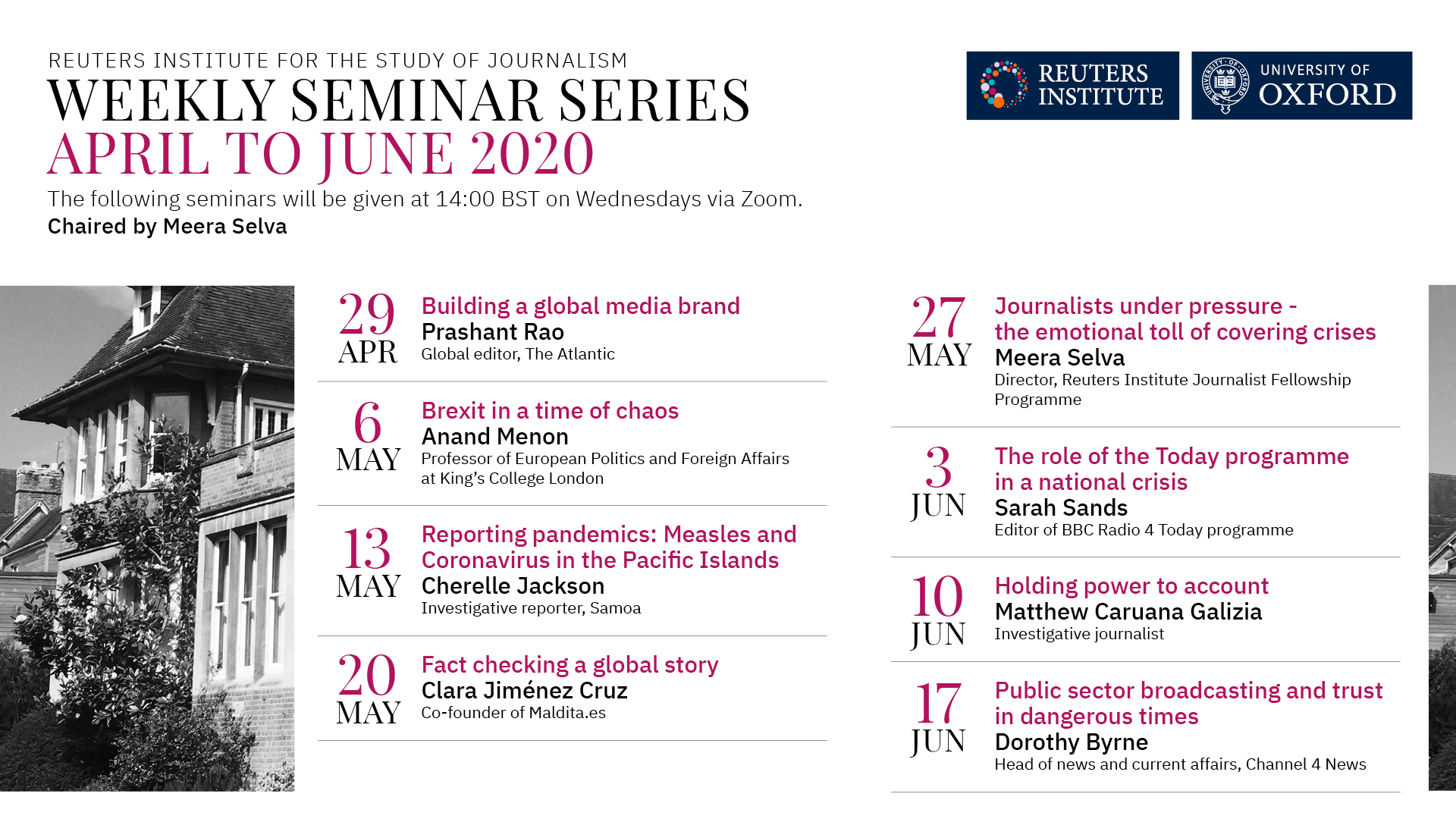 The Reuters Institute's series of weekly seminars on the business and practice of journalism will be held online from April to June 2020. Among the speakers will be Prashant Rao from The Atlantic, Dorothy Byrne from Channel 4 News, Sarah Sands from BBC Radio 4, investigative journalist Matthew Caruana Galizia and Clara Jiménez Cruz from Maldita.es. 
The seminar series is a centrepiece of the Journalist Fellowship Programme, which welcomes high-profile journalists from around the world to share their experiences, thoughts and findings on the big issues facing the profession right now. The seminars give our Journalist Fellows the chance to engage with reporters, editors and innovators who are driving the industry forward and addressing the many challenges it faces.
For years, the seminars have been held at Green Templeton College, part of the University of Oxford, every Wednesday afternoon during the university term. In light of the current restrictions, this term's seminars will take place on video platform Zoom. As usual, the seminars are open to the public, and you are very much welcome to join us by signing up through our events pages. 
Our line-up includes senior editors in public sector broadcasting and their vitally important roles during national emergencies; investigative journalists from across the world telling truth to power; journalists with truly global remits; and others looking at how journalism and politics can continue in troubled times.
Director of the Journalist Fellowship Programme Meera Selva, who hosts the series, said: "Wednesday seminars with leading editors and thinkers are the highlight of the Reuters Institute Journalist Fellowship Programme. Some of the most innovative people in journalism have come to Oxford to talk about how to reshape their industry, connect to new audiences, fight for a free press and make it financially viable. This term, we will continue these conversations on the business and practice of journalism but they will move online. I am delighted to host these amazing speakers on webinars, open to all. Join in." 
Registration is required. For full details of each seminar, see our events calendar.