The third Oxford Perspectives: Envisioning the Newsroom in 2020
Alexandra Borchardt, Director of Strategic Development, Reuters Institute
6:00pm, Wednesday 4 July 2018
Reuters Institute for the Study of Journalism, 13 Norham Gardens, Oxford OX2 6PS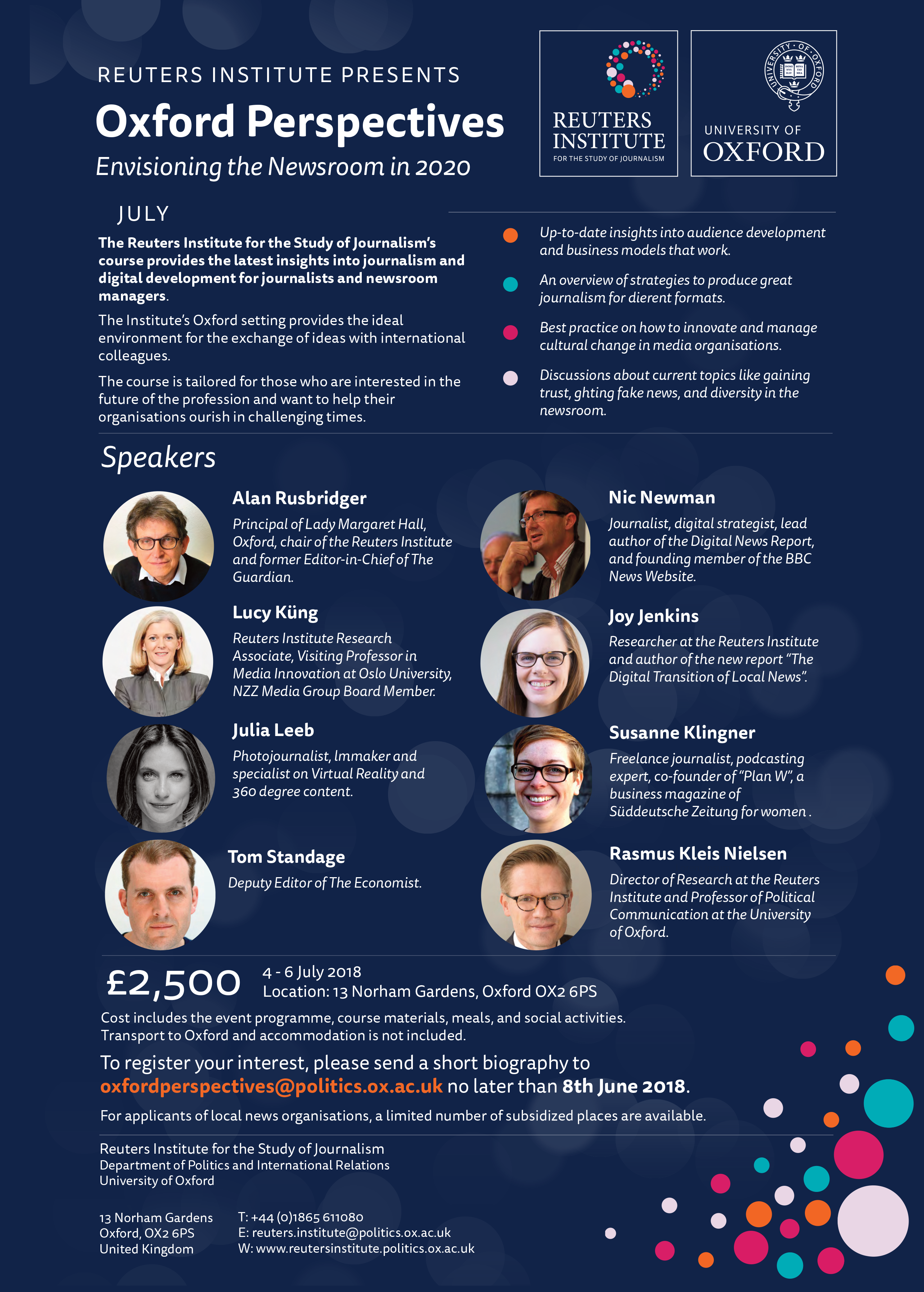 We are pleased to announce: Oxford Perspectives: Envisioning the Newsroom in 2020. This will be held at the Reuters Institute for the Study of Journalism on July 4 - 6.
The two-day seminar, on the latest journalism trends and current challenges faced by media organisations, is aimed at experienced journalists and media managers. The project is led by Alexandra Borchardt, Director of Strategic Development, who joined the Institute in 2017 from Sueddeutsche Zeitung.
Reuters Institute directors, associates and experienced practitioners will lead discussions on the most recent media research, tools and innovations, and how they can be applied in the newsroom. Guest speakers include Tom Standage, deputy editor of The Economist.
The programme includes an extra session on the particular challenges faced by local news organisations in the digital age. Joy Jenkins, researcher at the Institute, will present key findings of her latest report: The Digital Transition of Local News.
The course is designed to enable participants to develop strategies for their own organisations, to share experiences and broaden networks, inspired by the international yet intimate Oxford environment.
Participants from local media are invited to apply for a limited number of subsidised places.
More information is included in the flyer. Participants should apply no later than 8th June 2018 by emailing oxfordperspectives@politics.ox.ac.uk.
Click here to view the flyer.